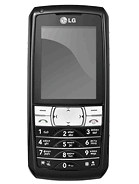 s
This is my dream mobile. The features and the price are really wonderful.The system is very fast than compare to other lg mobiles. I got this gizmo last week. Its really worth buy for me. Good picture, sound and video along with other best options within 10-k is worthful.I am really thankful to the LG people.If any body wants 90% to 100% featuristic mobile then go for this beautiful mobile gizmo
J
I think its worthy to pay 10K for this mobile, it has very good features inbuilt with less price, all the features are ultimate
A
F.U.N.T.A.S.T.I.C Phone ...no other words to define it,Gud sound,Gud clarity....and only below 10,000 bucks..Go 4 it.
T
Big screen
Inbuild pen drive memory
Mini card slot
2MP camera and
catch every ones intrest by looks
what else you want in 10k

i got one from mobile asia trust me
that was a right deal.
a
Nice and big screen but don't support 3GP, MPEG3,MPEG4.... and also Stereo FM....
?
The phones`s Mp3 player has a better sound systen than the ringtones..
I could not hear the phone ringing even at the highest volumn. That is quite odd. What do u all think? Yes the screen is big, but was not used and taken advantage of. Did you all see how small the battery bar and reception line was? That was a major waste of space..:(
D
The information given here is wrong.

It has got 2mp camera, fm recording,video caller id,intelligent call, inflight mode.......
M
This mobile has 2Mpx and not 1,3 Mpx camera... Thanks...
m
hi, i am planning to go for this phone...
can some one tell me about quality of music to speaker phone, output to handsfree and most imp. quality of sound recorded from FM.

AT 10K.. this is amezzing phone.
m
hey gsmarena guys what r u doing ..... ur information is wrong ...it has got 2mp camera not 1.3....
R

About Me
Member since: 13 October 2006
Total points: 8 (Level 1)
Points earned this week:
Total answers:
Best answers:



hey buddy i am r lg kg300.. i am from delhi and i had gone to mobile asia and used this set ... and man!! i just loved it... it has got the best display ever i have seen , soundquality and camera was too good....the best thing which i liked abt it is that it's screen is bigger then nokia phones which makes it so good to view videos and photos.... where as in in sony ericsson screen is so small... but one thing that pinches me is that it's maker is LG , obviously Sony and nokia is better then LG...
Total of 934 user reviews and opinions for LG KG300.