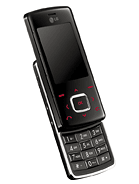 ?
i have this phone from korea, the chocolate phone. its great.
the sliding is very smooth, the front touch pad is responsive, and has loads of memory, mine came with a 512mb card as well, so i used it for an mp3 player. the only downside of this phone is its camera, while it is usable for the internet and viewing on phones screen, 1.3mp just doesnt cut it anymore. so, if camera isnt an issue (and it shouldnt be, its a phone, not a camera) this phone is great and possibly the most fashionable handset around.
K
LG has three CDMA versions of "chocolate" (LG-SV590/KV5900/LP5900). The GSM version KG800 will be released on 3rd May in Europe..and in US most probably by the end of the year. Not sure what features it will have. Accroding to LG it will be based on the market standard. So I hope it will have QVGA screen, 512mb card slot, bluthooth, as one of the CDMA verson has them.
?
Closed looks lke an mp3. The "chocolate" phone is gonna be popular among those that don't want a high featured phone but one that looks nice. The "white chocolate" is gorgeous tho. Google it. With 3g capability, better camera, bluetooth and xpandable memory, it would be the ultimate phone IMHO.
A
They say this phone selled well in the Korean networks,but LG are releasing it now in Europe but they have forgotten one thing we people in the U.k like our mobiles to have Bluetooth on them an LG should have made another model to sell in Europe with this function on it they did this for so long on its 3G phones an made a big mistake,i like the look of the phone lets see if it sells well at all
Total of 2249 user reviews and opinions for LG KG800.