Somebody we know?
Nothing special in the call records department. They are available as a separate item in the main menu and also can be accessed by pressing the call (receiver) key on the touch pad. In fact pressing the call key takes you to the general list of all dialed, received and missed calls. It has a capacity of 20 numbers. If you wish to see the separate registers you have to go to the abovementioned Call Register menu item. The GPRS data counter is also available in the Call Register menu.
Typing with style(s)
The phone supports the sending and receiving of SMS, EMS, MMS and email messages. Generally speaking, the LG messaging machine managed to surprise us with a few nice features.
The email client supports the POP3 and SMTP protocols and as regards sending and receiving text emails it successfully does it job as we managed to found out during the test period. As regards emails with file attachments it poses rather strict limitations. The maximum size for one sent message is 300 KB along with the attachments, and the maximum size for one received message is 100 KB. In case you have received message with more than 5 attachments, only 5 of them will be received. For each e-mail account you may save up to 50 messages (totally 150 for three accounts), while in the Inbox you can store up to 30 messages for each account. The other 20 slots are reserved for the Drafts and Outbox folders. A good thing is that there is an option to provide a separate username and password for the SMTP server.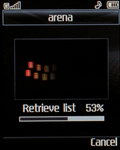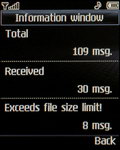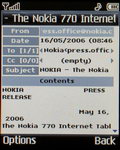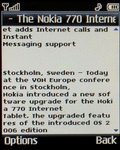 Retrieving emails • Reading an email
When you start a new message you are given the option of choosing among a text message, multimedia message and an email message. If you choose the text type further on you could easily change it by just attaching multimedia content to it and thus turn it into an EMS or MMS.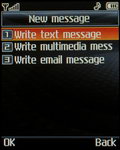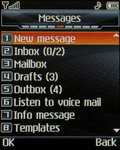 Messages menu • Starting a new message
The phone supports EMS release 5, so is capable of sending color pictures, sounds, text styles, etc. The message typing is assisted by T9. A thing we noticed is that in order to type a number in your message you need to change to numeric mode (123) and then when you are done, go back to the text mode (abc). That's really bugging if you have to enter frequently numbers in your messages. It would have been nicer if one could enter numbers by long press of the respective keys which is a standard feature in almost all contemporary phones.
One nice feature is that if you have started a new message and all of a sudden you have to cancel its typing, it's saved automatically as a draft and next time you decide to start a new message the phone not only stores it for you but offers you to continue it from where you left it last time.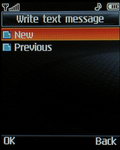 Previous draft readily available
Another nice feature is that the phone keeps a record of the last numbers you have sent messages to and when sending a new one you can choose among them instead of digging down in the full phonebook list. It's a feature we would like to see in more phones nowadays.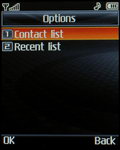 Recent recipients list is a favorite feature
Several interesting options here allows for typing of color highlighted text. Furthermore there are three available input text sizes as well as options for formatting the text in Italics, Bold, Underline, Strikethrough styles… You could also align the text in the left, right or center portion of the screen. Receiving that kind of formatted text depends on the EMS version support of the recipient's mobile device.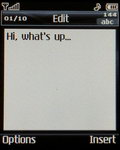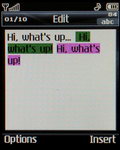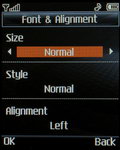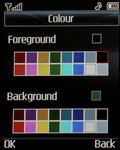 Typing a message • Text formatting options
File browsing and listening to music
The lack of memory card slot, an airplane mode, and playlist support clearly shows that this phone is not meant to be a music player. But don't get us wrong - that's not necessarily a bad thing. As we said in the beginning the phone should be reviewed in its own right having in mind its marketing specifics.
The File manager appears as a My stuff item in the main menu. It includes separate factory preset folders for different multimedia content. In fact these folders are the only one you will see since the file manager doesn't actually support user-created folders. There also aren't any options for marking, copying or moving files among the folders.
Generally speaking, the file browser provides basic functionality and is not really that user-friendly. In order to view picture files you should open and close them one by one. There is no thumbnail view and there is no zoom or fullscreen mode for detailed preview of the pictures.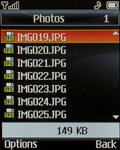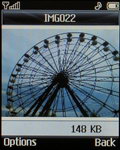 Browsing through stored images
The file browser offers a dedicated Text folder where you can save .txt files and read them later. The text reader is also mediocre. Otherwise, the maximum size of a .txt file you can open is 460 KB.
The MP3 player, the camera application, and the Photos album are kept into a dedicated Multimedia menu which can be started with the external camera/mp3 player shortcut key. Now, the Photo album is an interesting addition to the file manager and in a way makes up for its mediocre capabilities. It is organized as a picture gallery, allows for advancing to the next photo by pressing the navigation keys and supports thumbnail view. Zooming is again not present here.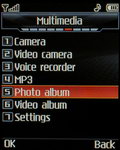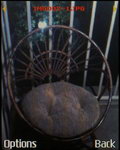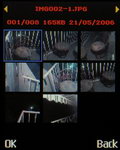 Browsing the photo album: single and multi view
The MP3 player is again on a mediocre level but we don't want you to get fed up with us saying that. We tried to make it clear form the very beginning that this phone is no multimedia device and also the fact that what it lacks in functionality it easily makes up for in sheer style and design. So it's back to the player… The player doesn't support playlists and it plays all the files you have saved in the MP3 folder. The supported file formats are MP3, AAC, AAC+, AAC++, WMA, MP4 (audio), and WAV. The AAC support is a good thing since AAC files tend to be smaller in size than MP3. The problem is that it doesn't read ID3 tags and the tracks in the file list are arranged by the respective file names - ordering by either artist or song name is impossible.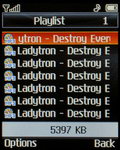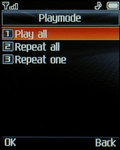 The one and only playlist • Playmode options
Otherwise, the MP3 player has only 5 volume levels besides MUTE which is insufficient. The player cannot work in the background. It has three different animated visualizations which have nothing to do with the music beat itself.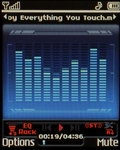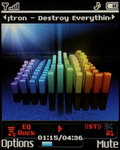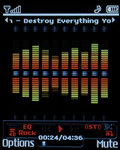 Dummy graphic music visualizations
If you receive a call while the MP3 player is playing the song gets stopped and when you end your call it starts playing from the very beginning. There are several equalizer presets that you can use in order to enhance the player sound.