Live at the arena
LG KM570 Cookie Gig review: Live at the arena

The usual phonebook
The phonebook capacity offered by the LG KM570 Cookie Gig is up to 1000 contacts, each with its full set of details. You can organize your contacts into caller groups, and you can also assign them a personal picture and a ringtone.
There is a bunch of available fields for each contact on your list. You start off with fourteen fields, but once you enter a number or an email address, an additional empty field of the same type becomes available.
You can also add a note to a contact and when you enter a birthday or anniversary date, you can also have the phone save it to the calendar as a reminder.
There is also an option to choose the contact's Livesquare icon so it can't be mistaken with somebody else.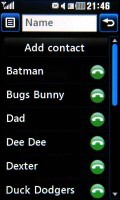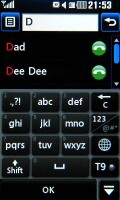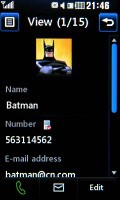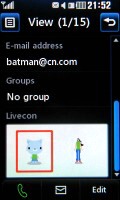 The phonebook • Livesquare integration
If you don't want to go through all the contacts to reach those starting with "Z" for example, you can either use the search box at the top or you can drag the side scrollbar. If you choose the search box option, you can have T9 turned on or off.
T9 might seem the quicker option but it has its disadvantages – for example, it leaves room for only one contact (with T9 off, there's room for two) and it's not particularly good at guessing names. For example, pressing the 3 key on the keypad (you're working with a standard 12-key pad here), types E and it doesn't find names starting with D or F (as it should have).
You can opt for displaying the SIM and phone contacts separately, as well as all together in a single list.
Advanced telephony features
The LG KM570 Cookie Gig handles phone calls very well – the voice quality is good and can be turned up really loud. The reception is mostly good, but in areas of quite poor coverage, there are some sound breakups, but we didn't experience dropped calls.
The dialer supports both smart dialing and fast dialing. When you enter the first digit, the dialer brings up the name of the contact associated with that speed dial number (if there is one). Type three digits, and if they match any part of a contact's phone number, their name will be offered.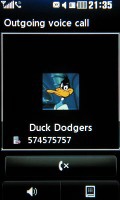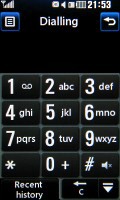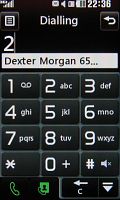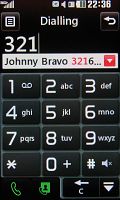 Calling Duck Dodgers • the onscreen dialing pad • quick dial • Smart dial
The Cookie Gig has a proximity sensor that automatically locks and unlocks the screen. Another sensor that helps the telephony features is the accelerometer, which enables turn to mute. You can reject a call with a preset text message (and compose new reject-call messages too).
From the Common settings menu, you can activate automatic call rejection – you can set up the Cookie Gig to reject all calls, without caller ID, contacts from specific groups and so on. This is a handy feature, similar to what Nokia Eseries have.
During a call, you can unlock the screen and take down a note, check your calendar or messages, even record a part of the conversation.
The call key takes you to the call log. It's pretty standard: there are four tabs for full call history, dialed, received or missed calls.
The LG KM570 Cookie Gig scored a Very Good mark in our loudspeaker performance test. More info on our test can be found here.
| | | | | |
| --- | --- | --- | --- | --- |
| Speakerphone test | Voice, dB | Pink noise/ Music, dB | Ringing phone, dB | Overall score |
| Apple iPhone 3G | 66.1 | 62.1 | 71.7 | Below Average |
| Nokia 5530 XpressMusic | 70.6 | 69.7 | 75.7 | Good |
| LG KM900 Arena | 70.9 | 68.2 | 78.3 | Good |
| LG KM570 Cookie Gig | 75.1 | 69.5 | 82.7 | Very Good |
| Samsung S5230 Star | 82.7 | 76.0 | 80.2 | Excellent |
| LG GD510 Pop | 76.6 | 76.2 | 85.0 | Excellent |
Messaging department does the job
The LG KM570 Cookie Gig handles the SMS, MMS, and email with ease. SMS and MMS share an editor, which is the normal state of affairs.
For text input you get the standard virtual alphanumeric keypad with T9 in portrait mode and in landscape there's the virtual QWERTY keyboard. Haptic feedback is enabled, which increases typing accuracy.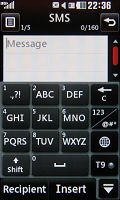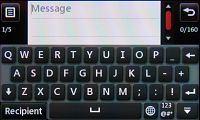 The Cookie Gig offers alphanumeric keypad and a full QWERTY keyboard
On a 3" screen, the QWERTY keys are not very big, and the KM 570 Cookie Gig hasn't got the most comfortable virtual QWERTY keyboard. But once you get used to it, it leaves the alphanumeric keypad in the dust in terms of typing speed.
The keyboard arrangement is questionable though – or LG thinks that people use some strange punctuation in their text messages. You get a dedicated "!" and "+" but no full stop, there's both colon and semicolon – but no comma. How about that?
Despite having a resistive screen, the LG KM570 doesn't support handwriting recognition.
The LG Cookie Gig has excellent support for email. Setting up an account is effortless – you just type in your user name and password and the Gig takes care of the rest. You can even set up a Microsoft Exchange mailbox, which should please corporate users.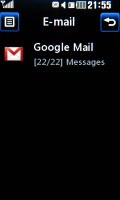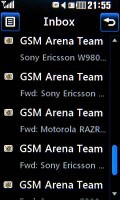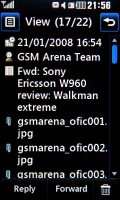 The email client is doing a great job
In case you have to setup your email account manually, there is a host of settings that you need to enter. Both POP3 and IMAP4 protocols are supported along with SSL. The email client can be set to auto retrieve new mail at a preset interval with a dedicated setting for roaming.
The maximum attachment size for both incoming and outgoing mail is 2.2MB. Such a limitation is nuisance in a modern email client and we suspect they're imposed to save network carriers the traffic hassle.
Microsoft Office files and PDF files are supported and can be viewed directly from the email client or saved to the internal memory. Unsupported file types, such as ZIP or RAR, for example, cannot be opened by the phone, but still you can save those to the phone memory if you get them with an email.
Once you've downloaded your messages, you can use the search feature to find specific emails or you can sort them by various filters such as date, sender, priority, read/unread, subject, size, etc. There is also an option for marking multiple emails as "read" or "unread.