Live at the arena
LG KM570 Cookie Gig review: Live at the arena

File browser hides what it doesn't understand
The LG KM570 Cookie Gig comes with 4GB of built-in memory and you can expand it up to a total of 20GB with a microSD card – enough to carry all your music, photos and videos. The file browser has all the needed connectivity – copying/moving/deleting files, sending over Bluetooth, both single and multiple file transfers.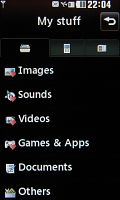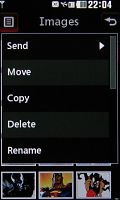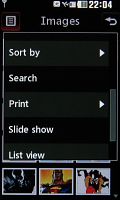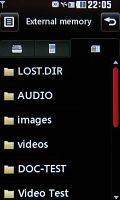 The My Stuff files browser hides unsupported files
File browsing is generally fast but when it comes to opening a folder with images, the Cookie Gig needs to refresh the thumbnails every time. Not much of a problem if you have a small picture gallery, but when photos start piling up, it could get annoying. But that's a common issue for most LG handsets.
The LG KM570 Cookie Gig file manager includes separate factory-preset folders for different file content. However, it has no problem handling user-created folders and the files in them.
One problem we spotted was that unsupported files are hidden – you can't copy them from one part of memory to another, you can't attach them to emails, nothing. That's annoying because you can save unsupported files (e.g. RAR), but you can't, say, copy them to the memory card.
Image gallery and file browser do the same thing in different screen modes
You can check your photos straight in the file manager or you can start the dedicated gallery. The viewer for single images is one and the same either way – the main difference is that the file manager shows the list of photos in portrait mode only, while the gallery works exclusively in landscape.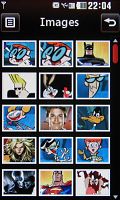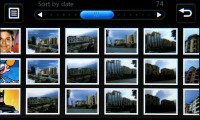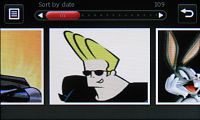 You can view photos inside the file manager or the Gallery application • larger thumbs are available
A much better solution would have been to switch between the two automatically – the KM570 Cookie Gig has the accelerometer for it. The Gallery app has the added ability to search photos by date using the scroller on top and you can switch to larger thumbnails.
Zooming is done only via the +/- buttons or the volume rocker, there's no support for double-tap zooming. You can zoom in up to 6x and even for 5MP images zooming and panning are fast, though not very smooth.
Regardless of the lack of accelerometer control while browsing the galleries, everything works just fine when viewing single images. They are rotated automatically as you turn the handset.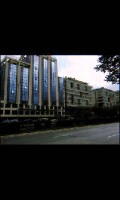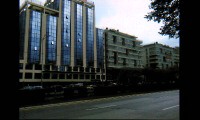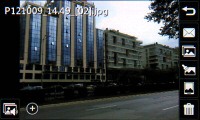 Images can be browsed in portrait or landscape mode, normal or fullscreen view
Music player does an iPod trick, has Dolby mobile
The LG KM570 Cookie Gig has a feature-full music player – it's one of the best we've seen. There is nice Album Art and lots of equalizer presets – the most important of which is the Dolby mobile mode, which noticeably improves the experience (headphones mainly).
With the LG Cookie Gig music player you can filter tracks as with any other modern music player: by artist, album, genre, and recently played or you can create custom playlists. There's also a track rating system, which in effect is an extra Top Rated filter.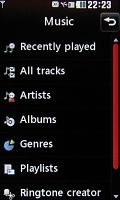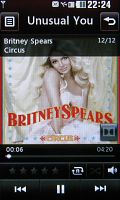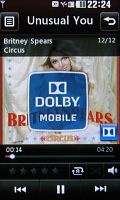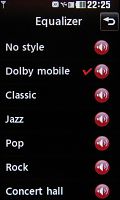 The music player looks and does well • Equalizer presets
The KM570 Cookie Gig player has a few more perks to offer (as if those weren't enough). It has the iPod-like feature to automatically pause music playback when you unplug the headphones. If you want to play music on the loudspeaker, you just hit "Play" again. However, the track doesn't automatically resume when you plug the headphones back in.
There's also a sleep mode that will automatically shut off the player after a set period of 5 to 60 minutes and there's even a ringtone creator – it lets you cut out a part of a song to use as a ringtone.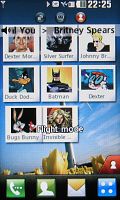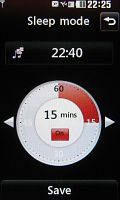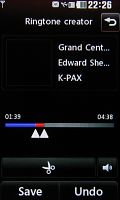 The music info strip • the sleep timer • you can create ringtones from songs
Naturally, the music player can run in the background. You can control the music straight on the home screen with the dedicated mini player widget. When you're not using the widget (that is, it's in the tray), a semitransparent strip appears near the top of the homescreen (all three of them) that shows the artist and track name. That strip just shows info, it cannot control the player.
FM radio has RDS, FM transmitter too
The LG KM570 Cookie Gig comes with an FM radio and you can enjoy it on either earphones or on the loudspeaker. In either case you've got to have the earphones plugged in as they serve as an antenna. The radio stores up to 48 stations and there is support for receiving two-line radio station info over RDS.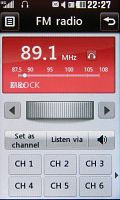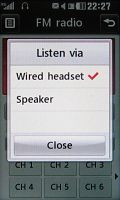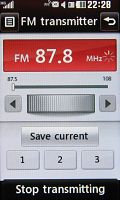 We like the old school skin of the FM radio
Much like with the music player, when you minimize the FM radio you can control it using the home screen widget, however there's no info strip like the music player if you put the widget away.
In the Tools section in the menu, you'll find the FM transmitter. It creates a personal mini FM radio station – a dead simple way to play music on your car stereo. It doesn't require the headphones to work, which minimizes the hassle of using this option.
You can save three channels, which are unused by local FM radio stations to quickly select a frequency that will offer minimum interference.
Video player is good, but no DivX/XviD support
The video player on the LG KM570 Cookie Gig has some pretty sweet functions – it handled nHD videos without a hitch, it has a Dolby mobile enhancement, just like the music player, plus some extra functionality. However, it doesn't support DivX/XviD videos and of course any video over QVGA won't run in full resolution.
Videos can run in both portrait and landscape mode. Alternating the two modes is automatic thanks to the accelerometer.
A nice feature lets you take screenshots of a running video and there is also a built-in video editor that can do a number of basic modifications on the source video. You have the option too to upload a video to YouTube straight in the video player.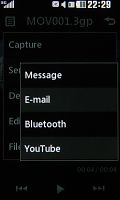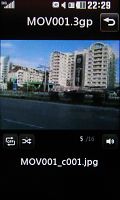 Capture and upload to YouTube options
Pretty good audio quality
The LG KM570 Cookie Gig has nice clean audio output, fairing pretty well in our audio quality test.
The fact that the handset is on the quiet side (in the headphones) takes some of the fun out but the readings are good (e.g., stereo crosstalk) to excellent (e.g, distortion levels, noise levels and dynamic range).
And here go the results so you can see for yourselves.
| | | | | | | |
| --- | --- | --- | --- | --- | --- | --- |
| Test | Frequency response | Noise level | Dynamic range | THD | IMD + Noise | Stereo crosstalk |
| LG KM570 Cookie Gig | +0.06 -0.33 | -87.8 | 87.1 | 0.025 | 0.055 | -73.9 |
| LG GT540 Optimus | +0.17 -1.56 | -85.8 | 87.7 | 0.029 | 0.196 | -83.1 |
| LG GW620 | +0.25 -2.92 | -86.3 | 87.7 | 0.035 | 0.165 | -83.2 |
| Motorola BACKFLIP | +0.11 -0.48 | -63.1 | 63.4 | 0.042 | 0.165 | -59.9 |
| Nokia N97 mini | +0.05, -0.32 | -90.5 | 90.4 | 0.0049 | 0.487 | -91.0 |
| HTC Magic | +0.21 -2.20 | -85.6 | 88.8 | 0.025 | 0.220 | -86.0 |
| Apple iPhone 3GS | +0.01, -0.05 | -92.1 | 92.1 | 0.0035 | 0.011 | -95.0 |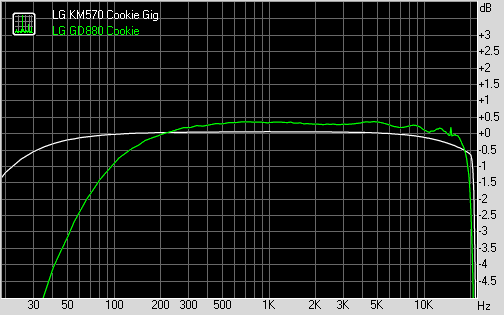 LG KM570 Cookie Gig vs LG GD880 Mini frequency response graphs
You can learn more about the whole testing process here.