Live at the arena
LG KM570 Cookie Gig review: Live at the arena

That's a nice camera you have there
The LG KM570 Cookie Gig boasts a 5 megapixel auto-focus camera for a maximum image resolution of 2592x1944 pixels. It has no flash of any kind, so low-light photography is not really an option.
The LG KM570 Cookie Gig camera interface is the same as the one on the LG GD510 Pop. You can access all camera settings via a toolbar in the viewfinder. There you get virtual buttons for zooming, exposure, macro, resolution along with an advanced settings key. This left toolbar auto hides when not used and you need to tap on the screen to bring it back on.
On the right hand-side of the LG Cookie Gig viewfinder is another bar with a virtual shutter key that also slides up and down to switch between still camera and camcorder. Alongside are the exit and gallery buttons.
By default, hiding the left column leaves a black strip, which is due to the aspect ratio difference between the screen and camera lens. If you don't like that you can opt for the full screen view, where a part of the image does get cropped but you see the center bit in more detail.
Going into the advanced settings, you can select shoot mode (Normal, Continuous and Panorama), add color effects, set ISO, white balance and image quality, as well as switch between cameras (front and back) and go into the More menu, for even more settings.
Aside from the Macro mode (which is accessible right in the viewfinder), in the advanced settings menu you can activate face detection.
The LG KM570 Cookie Gig image quality is good but it's not among the best 5MP shooters. Compared to the KM900 Arena, the Cookie Gig photos have less fine detail, though noise reduction still leaves enough of it in the photo.
Darker areas can get quite noisy and there's noticeable fringing and over-sharpening. In poor lighting, the Cookie Gig camera can mess up the white balance, giving the photos a visible reddish tint.







LG KM570 Cookie Gig camera samples
Synthetic resolution
We also snapped our resolution chart with the LG KM570 Cookie Gig. You can check out what that test is all about here.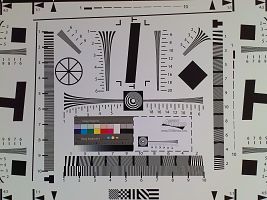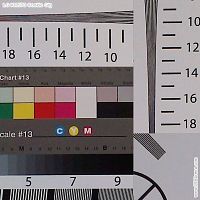 LG KM570 Cookie Gig resolution chart photo * 100% crops
Video recording is good on paper, not so in reality
Video recording on the LG KM570 Cookie Gig has some pretty exciting specs, considering the phone's price. The camera can capture video in D1 and VGA resolutions at 30fps and comes with slo-mo and time lapse modes as well.
In reality, video recording isn't as attractive – all videos are recorded in 3GP format, which has its limitations. Even in D1 videos @ 30fps, the rate is usually below 3Mbps. Although the video codec manages to preserve the smoothness of motion, there are so many compression artifacts that the video hardly looks it's 720x480 pixel resolution.
The situation with the slo-mo and time lapse modes isn't much better – they are both limited to QVGA resolution at low bitrates. Slo-mo videos play at 10fps and are quite compressed.
We can understand that shooting in slow-motion requires more processing power. Exactly the opposite is true for time-lapse though, so there's no excuse for the videos being stuck at QVGA resolution.
Overall, slo-mo and time lapse videos are not good enough for YouTube, perhaps MMS mostly. D1 videos are better, but the Cookie Gig is no camcorder to write home about.
Here come the video samples.
LG KM570 Cookie Gig, D1@30fps sample video
LG KM570 Cookie Gig, slo-mo video
LG KM570 Cookie Gig, time-lapse video
Mid-range connectivity
The LG KM570 Cookie Gig is middling in the connectivity section. It has quad-band GSM/EDGE, so you can use it with any GSM network around the world. The dual-band 3G with 7.2Mbps HSDPA kicks in for faster data transfers.
There is of course Bluetooth with A2DP and a microUSB port. When you connect the Cookie Gig to a computer and choose Mass Storage mode the internal memory and microSD card (if there's one in the slot), appear as two different storage drives.
While in Mass Storage mode, phone radios are inaccessible. If you're looking to fill up your brand new 16GB microSD card, you might want to consider using a card reader, which is still the fastest way to do bulk transfers.
Web browsing is ok
The LG KM570 Cookie Gig has a generally nice web browser, but it can become very sluggish, which spoils the overall experience. Zooming is done by double-taps or the virtual zoom keys. The double-tap zoom often failed to trigger, but the virtual keys were fairly responsive. Panning and scrolling is comparatively fast, but the Gig still needed a second to redraw the page content.
You can choose to browse with the controls visible or in Full Screen mode, which auto-hides controls after a few seconds until a tap on the screen brings them back.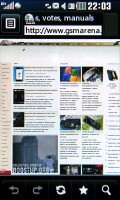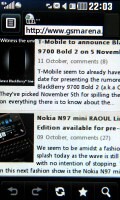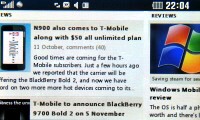 The web browser is really user friendly but lacks Flash support
Flipping the screen landscape is automatic thanks top the built-in accelerometer. You can choose between several rendering settings – the default mode mimics how a page would be rendered on a desktop computer, another mode formats the text so that it fits better on the screen (but it's not text reflow – text column width stays the same regardless of zoom level) and finally you can choose text-only mode.
If all that is not enough, the browser can work with up to two separate tabs and it can save web pages to be viewed offline. You can also search web pages for specific text strings. The browser supports history and bookmarks too, but those are text only – you don't get web page thumbnails like on the LG Pop.
Unfortunately, desktop YouTube watching is a no-go, as the browser lacks full Flash support. You can however go for the streaming mobile version of YouTube at m.youtube.com.
The browser often seemed unresponsive – when double-tap zooming, when clicking on a link, etc. – but there are some differences between this and the LG GD510 Pop browser, so it might be a firmware issue.
Well set organizer
LG KM570 Cookie Gig has a decent set of time-management applications. The Calendar is pretty straightforward, offering monthly, weekly and daily view modes and decently finger-optimized navigation. When you touch on a date, a pop-up appears so you can see what's under the tip of your finger.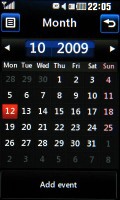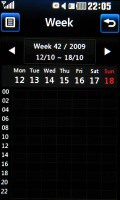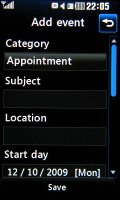 The LG KM570 Cookie Gig calendar
You can choose which day should be the first day of the week by default (the options are Monday or Sunday). You can also set the default view - weekly or monthly. Adding one of the three category events (appointment, anniversary, birthday) is as simple as it gets. The LG KM570 Cookie Gig can store up to 500 calendar events.
There's a separate To-Do application and it also has room for up to 500 tasks. A Memo feature allows storing some notes (up to 100). Another organizing app is the Date Finder, which can instantly tell you what day of the week any given date will be.
Finally, you can backup your calendar events and to-do's on the memory card and restore them later on if needed.
The Alarm clock has 5 alarm slots available. Each of them can have its own title, trigger time and repeat pattern (snooze time can also be customized), as well as tone and memo. The first alarm can be controlled with the Analog Clock widget on the homescreen.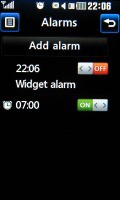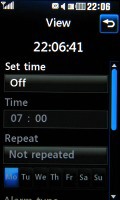 The alarms have a number of customizable options
The other organizing applications on the Cookie Gig are a calculator (which has advanced functions too), unit converter, stopwatch, world clock and a voice recorder.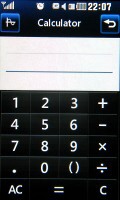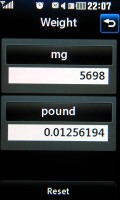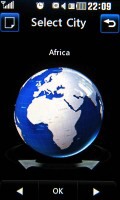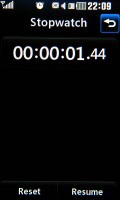 Some of the other time-managing applications
The LG KM570 Cookie Gig also offers office document viewing with the Picsel Document viewer. As we managed to confirm, the viewer supports DOC, XLS and PPT files, PDF files too. However, Office 2007 files (e.g. DOCX) files are not supported.
Zooming uses the +/- buttons as in the image gallery, and is quite fast. Scrolling and panning are another matter – they can be choppy and unresponsive.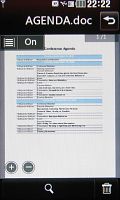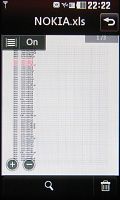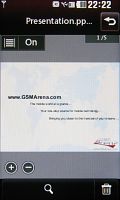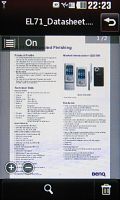 Viewing office documents is available out of the box
You can even view your documents in landscape mode – the rotation is automatic thanks to the built-in accelerometer. In most cases reading your documents in this mode is much more comfortable and natural.