Organize your life
Keeping a schedule is an important part of the LG Arena and it has several applications to help you. The nice Organizer combines a calendar with monthly and weekly views and a task list. Event alarms can be set to go off up to a week earlier to give you enough time to prepare.
The ability to choose whether Monday or Sunday is the first day of the week is also included. There's even an option to mark some days as holidays and set the Alarm not to ring on those days. 'Holidays' are not repeated annually so it's more useful to mark your vacation with them rather than national holidays.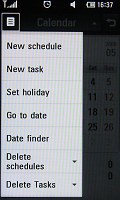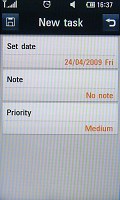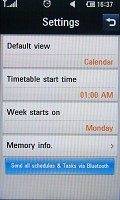 Options • New task • Orgaznier settings
A To-Do application lets you keep a list of tasks sorted by their importance. If those reminders aren't enough you can always jot down a Memo.
The LG KM900 Arena can store up to 500 calendar events, 500 To-Do notes and 100 memos and making a back up to external memory is just a few clicks away.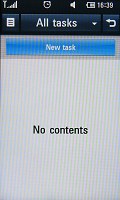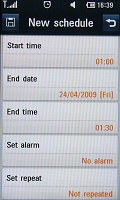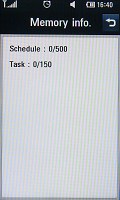 Tasks view • New shedule • Organizer memory
Another option in the Organizer menu is the Date Finder. It is useful if you need to know what day of the week it will be… let's say… five days from now.
Another visually-impressive option is selecting a month through the main calendar view. It opens a nice spinning wheel with two parts where you can choose the appropriate month and year by rotating the wheels. That can't help but ring our iPhone-copycat bell.
The alarm functions have been completely revised for the better. Forget the ugly old settings used on the previous LG flagship phones. Apart from the default widget alarm you can create as many alarms as you want. This gives you access to another eye-catching interface - an analog clock where you set the hand at the desired time. Of course there is a digital one for those who prefer it. The other available settings are alarm tone, vibration type and availability, while the snooze option makes sure you are not late for work.
Naturally, you also get Calculator with a new touch-optimized interface and a wide array of functions (basic and advanced mathematical functions), a Unit Converter, a World Clock and a Voice recorder. The Voice recorder does not have a limit for the maximum length of a voice note and once you are done recording them you can send them via MMS, email or Bluetooth.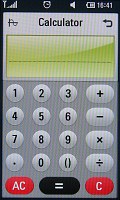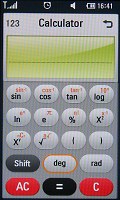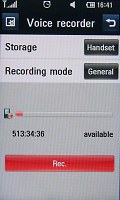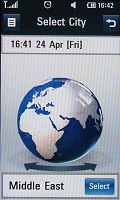 Calculator • Voice recorder • World Clock
GPS enabled
Google Maps is the most popular electronic map software for mobile phones. It comes preinstalled on the LG Arena and makes use of its built-in GPS receiver. Still the Java-powered version of the app wasn't meant for this screen resolution (480x800) and looks awkward on the phone.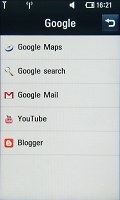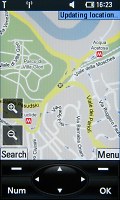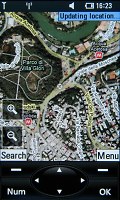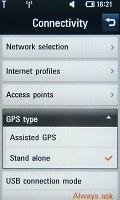 Google Maps • the GPS settings screen
Overall, the fact that the LG Arena is not a smartphone will be quite limiting when it comes to picking GPS voice-guided navigation software (or any third-party software for that matter) and the choice will be quite limited (if there are any options available at all).