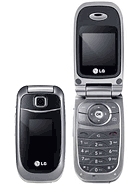 i
I have this phone well the body is the same but Reference MG230, speaker, 8 MB memory, Pc connection, and all the functions of this one above... Excelent
m
ma mum has a KP202 and on gsmarena and every wea else saes that it doesnt have a speaka fone but ma mums does so i dont no wots up with that
R
I just bought it and 8 days later it stopped working (just turned off by itself and that was all) ... My cellphone company had to give me a new one. Certainly it has a really good sound and signal reception, but after my experience, if i could, i wouldn't have bough it.
S
no you cannot transfer any sms from one phone to another unless you forward it to other one
k
It's a very unsuccessful telephone - no stable conversation and no support. You can't get the photos by any way except by MMS. I'v wrote a leter to LG but get no answer.
?
Nice and elegant phone but very unconfortable to answer to the phone when driving.
Total of 32 user reviews and opinions for LG KP202.