It almost feels unfair of LG to give the KP500 a name that's so hard to say no to. The Cookie scent seems to have inspired a craving already and LG are hoping to have you coming back for more. A genuinely affordable touchscreen, a very decent specs sheet, and fun and friendly interface can turn out quite a treat if baked right. Our light and crunchy review is hot out of the oven, so let's crack the fortune cookie, shall we.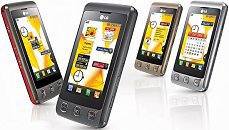 LG KP500 Cookie official photos
The LG KP500 Cookie seems to have every reason to chill out and cash in on the kept promise of making touch-operated phones so sweetly inexpensive. Available for a mere 200 euro (contract-free) it might enjoy a decent run, pretty much owning the lower end of touchscreens at this point. So much so, that it's tempting to speculate whether the Cookie could've been the right kind of response to the first iPhone, with the proper timing of course. OK, this maybe taking it too far but don't go blaming us. It's the Cookie.
Key features:
3" 256K-color TFT touchscreen (240 x 400 pixels)
Quad-band GSM support
3 megapixel fixed focus camera
Bluetooth 2.1 with A2DP
50MB internal memory
Hot-swappable microSD card slot (supporting card with capacity of up to 16GB)
Accelerometer for auto screen rotate
Virtual QWERTY keyboard
FM radio with RDS
Widgets interface
Multi-tasking with a real task manager
Excellent touch optimized image gallery
Handwriting recognition
Smart dialing
Office document viewer (no PowerPoint)
Simple, yet stylish design
Relatively inexpensive price
Main disadvantages:
No 3G support
No Wi-Fi
Video recording no good at QVGA@12fps
Camera has no auto focus and flash
No DivX/Xvid support
No standard 3.5mm audio jack
By the way, LG have seen to it that the jar is full of Cookies of various icing. The KP500 comes in black, brown, silver and gold. Just released and exclusive to Orange, LG KP 501 is the very same Cookie (with minor changes to the exterior) in two new paintjobs: pink and silver (black will also be available).
Now then, Cookies will pour down on the market in all shapes and flavors, but let's see what they're up against.
The hot (as in heatedly debated) Nokia 5800 XpressMusic is perhaps comparable to the Cookie pricewise. Well, if 80 euro does not sound close enough, the complimentary stuff you get with the Nokia 5800 is well likely to justify the price premium.
The 5800 XpressMusic is by no means as user-friendly and fun to use but its spec sheet is almost scary in comparison: GPS receiver, Wi-Fi, smartphone OS and screen resolution are all out of the Cookie reach.
Another alternative among recent touch phones is the HTC Touch Viva, which retails for about 210 euro. The as-basic-as-it-gets WinMo device carries a trimmed-down version of the TouchFLO UI but the not too friendly underlying OS will hardly lure too many potential buyers away from the Cookie. It's only fair to note though that basic in WinMo terms includes Wi-Fi, and that's the ace up Touch Viva's sleeve.
Both devices we just lined up the closest Cookie's competitors in terms of pricing and touchscreen functionality. But they are smartphones and their targeting is different. A couple of non-OS touch phones by Samsung might also count here but none comes close enough to the Cookie concept.
Both Samsung F480 and F490 outdo the LG KP500 in terms of data transfer speed and imaging, but are old enough to have lost some appeal. Plus, their price is still not competitive enough.
Well, that pretty much leaves the Cookie unchallenged in its price bracket. Not a bad way to start really, but it's about time we checked the real deal. The rest of LG KP500 Cookie is this small jump away. You know the drill - exterior and ergonomics coming up.
S
(1) What TYPE of USB charging Port does KP500 Phone have? (2) I need the charging cable for my old KP500 Elegant Gold phone. Where can I get this online? Thanks
D
The grammar in every comment is so off, it hurts. On-topic, there were too many puns.
s
I expet brosing is speed but no,camera was not zoom,no wifi