Phonebook is doing fine
The phonebook capacity offered by the LG KP500 Cookie is up to 1000 contacts, each with its full set of details. You can organize your contacts into caller groups, and you can also assign them a personal picture and a ringtone.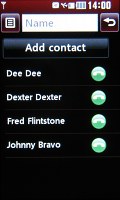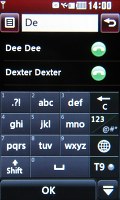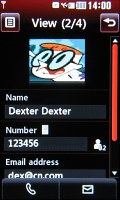 The phonebook has decent functionality but the 1000 entries capacity might be a problem to some
There is a bunch of available fields for each contact on your list - you start off with fourteen fields, but once you enter a number or an email address, an additional field of the same type becomes available.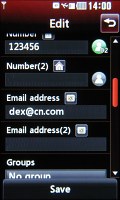 Editing a contact on the LG KP500 Cookie
You can also add a note to a contact and when you enter the birthday field, you can also have the phone save the date as a reminder to the calendar.
Scrolling the contacts list is fluid and friendly. In fact, LG have done a great job with scrolling throughout the user interface so it's almost as enjoyable as on the iPhone.
If you don't want to go through all the contacts to reach those starting with "Z" for example, you can either use the search box at the top or you can drag the side scrollbar, which seems the quicker option.
You can opt for displaying the SIM and phone contacts separately, as well as all together in a single list.
Telephony
The LG Cookie handles phone calls trouble-free, no voice quality or reception issues.There is Smart Dialing, and Speed dials are supported. When you hit a key, which has been assigned, you get hinted of the contact in question.
However the Smart Dial is quite useless as it only searches for contacts whose numbers contain the digits you typed. This just isn't of much use since most people don't bother to remember the numbers of their contacts as long as they got their names.
The LG Cookie scored an Excellent mark in our loudspeaker performance test. More info on our test can be found here.
| | | | | |
| --- | --- | --- | --- | --- |
| Speakerphone test | Voice, dB | Pink noise/ Music, dB | Ringing phone, dB | Overall score |
| Apple iPhone 3G | 66.1 | 62.1 | 71.7 | Below Average |
| Nokia 5800 XpressMusic | 75.7 | 66.5 | 68.5 | Good |
| LG KC910 Renoir | 71.9 | 65.6 | 72.0 | Good |
| Samsung M8800 Pixon | 75.7 | 69.6 | 82.1 | Very Good |
| LG KP500 Cookie | 78.1 | 75.7 | 82.7 | Excellent |
Messaging's good to go
The LG KP500 Cookie handles SMS, MMS, and email. Much like most other handsets by LG, SMS and MMS share the same editor.
For typing you can use either the multi-tap alphanumeric keypad, or you can rotate the Cookie and go for the landscape QWERTY keyboard. There is touch feedback either way, which certainly assists typing accuracy.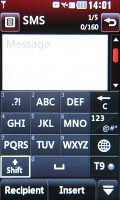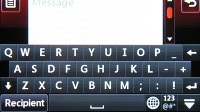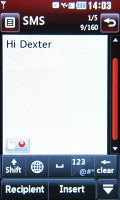 The Cookie offers alphanumeric keypad, full QWERTY keyboard and handwriting recognition
However the QWERTY keyboard is not much of a treat as the 3" widescreen display simply isn't large enough to fit all those buttons. As a result, keys are rather small. Furthermore, the character keys don't make much sense either. There seem to be some pointless buttons like the Plus sign (strangely enough there is no full stop) that just take space. As much as we hate to admit it - stylus seems to be the right way to go here. Well, the rather unusual placement of the stylus compartment doesn't seem so strange now, does it?
While we're at it - there is also handwriting recognition (two types of it actually) if that's how you roll.
When it comes to emails, the LG Cookie deals with them hasslefree. Setting up an email account is a breeze thanks to the clever setup. For a Gmail account for example, all we had to do was fill in the account and password fields - the connection settings were retrieved automatically. Furthermore, we were prompted to select between POP and IMAP setup.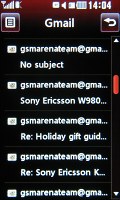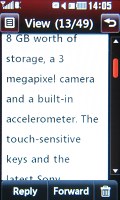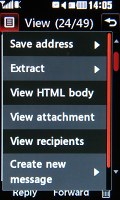 The email client is doing a great job
In case you have to setup your email account manually, there is a host of settings that you need to enter. Both POP3 and IMAP4 protocols are supported. You can set the handset to auto retrieve new mail at a preset interval with a dedicated setting for roaming. The email client supports SSL too.
The maximum attachment size for outgoing mail is now 1MB instead of the 300KB in previous models, and the maximum size of incoming mail attachments has also been increased to 1MB. Still, such limitations are a nuisance in a modern email client and we suspect they're imposed to save network carriers the traffic hassle.
Quite naturally, archive files such as ZIP or RAR are not among the supported file types for attachments, but still you can save those to the phone memory when you receive them. MS Office and PDF files can be opened and previewed directly via the email client.
Once you've downloaded your messages, you can use the search feature to find specific emails or you can sort them by various filters such as date, sender, priority, read/unread, subject, size, etc. There is also an option for marking multiple emails as "Read".