Organizer has all the essentials covered
LG KP500 Cookie has a decent set of time-management applications. It's obviously not pitched at business people and its target audience should be quite happy with the features offered.
The Calendar is pretty straightforward, offering monthly, weekly and daily view modes and decently finger-optimized browsing. When you touch on a date, a pop-up appears so you can see what's under the tip of your finger.
You can choose which day should be the first day of the week by default (options are Monday or Sunday). You can also choose the default view - weekly or monthly. Adding one of the three category events (appointment, anniversary, birthday) is as simple as it gets. The LG KP500 Cookie can store up to 500 calendar events.
There's a separate To-Do application and it also has room for up to 500 tasks. A Memo feature allows storing some notes (up to 100). Another organizing app is the Date Finder, which can instantly tell you what day of the week any given date will be.
Finally, you can backup your calendar events and to-do's on the memory card and restore them later on if needed.
The Alarm clock has 5 alarm slots available. Each of them can have its own title, trigger time and repeat pattern (snooze time can also be customized), as well as tone and memo.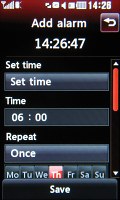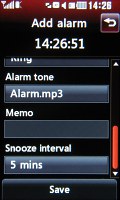 The alarms have a number of customizable options
The other organizing applications on the Cookie are calculator, unit converter, stopwatch, world clock and voice recorder.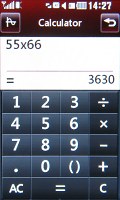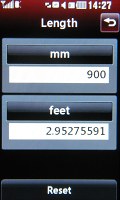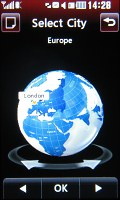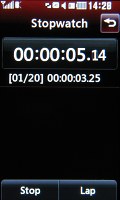 Some of the other time-managing applications
The LG KP500 Cookie also offers office document viewing courtesy of the built-in Picsel viewer. As we managed to confirm, the viewer supports DOC, XLS and PDF files. The phone couldn't handle a PPT file we uploaded for a quick test.
Scrolling and zooming in documents is very fast and fluid, except on extremely close zoom levels. This seems to be the case with most LG handsets in fact but we don't think it's that important. No one actually needs to zoom in that close. Text searching is also available.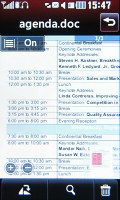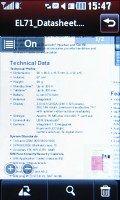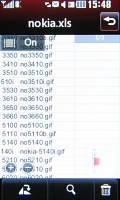 Viewing office documents is available out of the box
You can even view your documents in landscape mode. However the viewer doesn't switch to it automatically when you tilt the handset. Instead you have to press the onscreen virtual key.
In most cases reading your documents in this mode is much more comfortable and natural. The Cookie doesn't have support for editing documents but let's be honest - no one actually expected it to.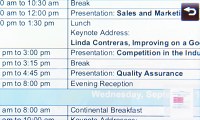 Viewing files in landscape mode is also available
Some games add to the fun
Quite in line with its market positioning, the LG KP500 Cookie comes with a bunch of preinstalled games.
We start with the two accelerometer based titles. While not exactly games they are a nice way to demonstrate the sensitivity and precision of the built-in sensor.
The first one (Flying Dices) allows you to roll a pair of dices by shaking the handset while the second is a Wheel of fortune (called Wheel Mania). The Flying Dices also offer a set of really simple mini games, including a drinking game. Maybe this is the right handset to get a party off the ground.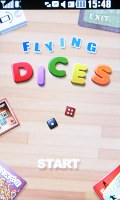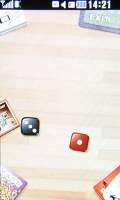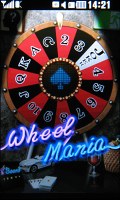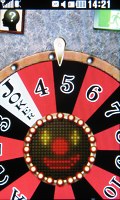 Rolling Dice and Wheel Mania are accelerometer-based games
Then we also have the Pipe game where you have to put together different shapes to complete the pipe system and get water running. Thomsons and Touch is a set of six mini touch-controlled games. So generally, from all the recent touch handsets by LG, the Cookie has the biggest selection of games for your leisure time.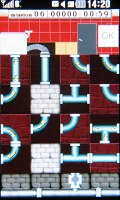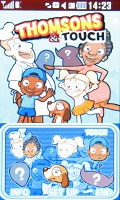 Pipe and Thomsons & Touch touch-based games
Of course, you are free to install other games of your choice without worrying about the unconventional resolution - titles for QVGA screens run just as fine on the Cookie, taking only the upper two thirds of the screen. The unused space is occupied by virtual controls that make up for the lack of a D-pad and context keys.
There are programs such as Opera Mini that don't need the virtual controls as they support touch operation, while there are others such as the unofficial Google Talk for Mobile that will accept commands only from the virtual controls at the bottom of the screen.
Final words
It's not exactly scientific but the LG Cookie simply makes sense. Smart and confident, though never self-important, it doesn't seek to impress but is straightforward, credible and convincing. Great handling, attitude and a distinct identity are not guaranteed even in the high end, and that's something the LG KP500 Cookie should be proud of.
The price tag seems the all too convenient excuse for the middling spec sheet. We'll just go ahead and say the decent feature set could've been near impossible to resist with 3G data speeds. Wi-Fi is probably way beyond reasonable expectation in this price range. The interface may have its quirks here and there but the user experience is compelling enough.
Easily the most popular LG handset in our database recently, the KP500 Cookie is off to a flying start and looks fit to keep it up for quite a while. And with so little competition in the touchscreen mid-end things look good for LG, who don't need to fear too many hands in the jar.