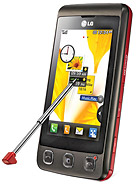 j
makes calls and lets u txt... and offering the benefits of a touch qwerty keyboard... At the right price point this phone wouldnt look too bad
l
Very good looking phone, but no flash, why. Could be better with 1GB internal memory. Good overall.
b
Video 12fps (what resolution ?), 3Mp fix focus, no flash....What is the point ? Just to be able to play with a touch screen...would get a 6220c any time over this one
L
Anonymous, 01 Jan 1970LG KP500 seems to be the first affordable touchscreen handset.Coming shortly after the 8 Megapixel KC910, the new KP500 is a cheaper copy of it, created to enable more consumers to enjoy the benefits of touchscreen technology.
The phone will feature a 3-inch TFT touchscreen display with handwriting recognition, a full QWERTY (virtual) keyboard, auto rotating sensor and motion sensor games. Quad-band GSM connectivity is present.
BY SN
Total of 5872 user reviews and opinions for LG KP500 Cookie.