The package
The tasteful box of LG KS20 brings all the essentials - charger, manual and a CD with software and drivers. In addition, you will find a USB cable and headphones with a remote control and 3.5mm jack.
A leather casing adds that final touch of style to the package.




The luxury casing completes the handset beautifully
LG KS20 360-degree spin
The compact LG KS20 ranks among the smallest PocketPCs, measuring the respectable 99.8mm in height, still keeping its slimness to 12.8mm, a millimeter thinner that the recent favorite HTC Touch. The 92.5 grams of weight are also more than welcome.
With conservative style and neat shape LG KS20 strives for a fusion of functionality with hi-end design flair. Ergonomics are commendable and working with the handset was a pleasure.
The power plant of LG KS20 is the medium-powered 400 MHz Qualcomm MSM7200 processor, the system utilizing 128MB of RAM and 256MB of ROM. The resources proved enough to work fast with different applications and even watch XViD videos at near-VGA videos.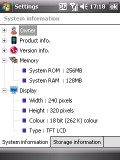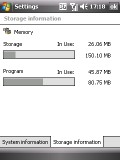 Some of the KS20 hardware specs, as reported by Windows Mobile