Display
LG KS20 has a large 2.8" 262K color touchscreen TFT display with QVGA (320x240 pixels) resolution.
Now, there are a lot of people out there grumbling about display colors, since 65K seems rather old school, right? Well, old it is, but it's really not that bad. 262K colors is not a native thing to a 32-bit processor with 8KB data cache and 16 KB instruction cache. Those processors prefer either 65K colors or 16M colors. However, displaying 16 million colors would certainly compromise performance (it's double the bits compared to 65K) - so it's a fair trade-off really.
Now LG are claiming their KS20 has s 262K color display, but that's all it has - a display. Even if it's a 262K-capable, it's still fed only with the same 65K colors everybody is grumbling about.
When we tested the KS20 in broad daylight the display remained visible with almost no negative impact on usability. However, when it comes to performance under direct sunlight, we've seen far better displays by Nokia and Sony Ericsson; even HTC MTeoR provided a bit better results in our comparative test. Under direct sunlight the display becomes noticeably dimmed.
In the dark the display performed very well and we were more than happy with the adjustable brightness levels that allowed for comfortable experience.




The display in indoor lighting and in total darkness
Comfort Dial
The Phone application is in charge of all call-related features. It has ample virtual keys that allow easy one-hand operation. In the upper right corner of the virtual keypad is the Backspace key, below it is the Speed dial key. The thing we like most about Windows Mobile devices is that you hardly ever need to open your phonebook in order to dial a contact.
You just open the Phone app and use its built-in Smart Dial feature. As soon as you've punched a few digits, it automatically filters the available contacts by their numbers… and their names. It uses the letters assigned to each number key for that - but unlike a feature phone, it checks all the available combinations (much like T9 when writing). Smart dial even searches in your list of recent calls.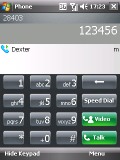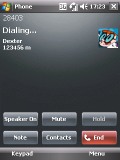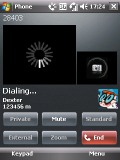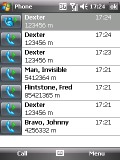 Dialing our friend Dexter • list of recent calls
Here is how KS20 stacks against some of the other handsets we've measured in our speakerphone loudness test. As you would see, it's midway on our loudness ladder. While most PocketPCs have loud and clear speakerphones, LG KS20 failed to justify this rule with its average performance. Since there is no dedicated speaker and the LG KS20 uses the earpiece speaker, the sound is You can find more information about the loudness test itself here.
| | | | | |
| --- | --- | --- | --- | --- |
| Speakerphone test | Voice, dB | Pink noise/ Music, dB | Ringing phone, dB | Overal score |
| LG KS20 | 66.1 | 70.6 | 64.9 | Average |
| HTC Touch | 75.7 | 75.7 | 85.5 | Excellent |
| Sony Ericsson K850 | 71.0 | 75.7 | 75.7 | Very good |
| Nokia N95 8GB | 75.7 | 66.2 | 70.5 | Good |
| Apple iPhone (firmware 1.1.1) | 67.2 | 60.2 | 66.6 | Below average |
PocketPC software extended
Microsoft Windows Mobile 6.0 Professional OS has been around enough for everyone interested in Pocket PC to have become familiar with it. To start with, all Windows Mobile devices are pretty much the same software-wise. Essentially, any PocketPC is just a software platform, which you can expand according to your needs - there are so many applications out there.
So, buying your Windows Mobile device is just the start - much like your desktop Windows. You hardly ever think of the built-in functions of your desktop OS, you just use it to run useful applications on it, right? We think that should've made the point. Anyways, we'll still give you something on the software part for people new to PocketPC.
There is also another trend - the companies implement their own applications and user interface for the devices to alter the standard look of the Windows Mobile interface. We saw a notable shift with the uMenu in Samsung i600 (or shall we go as far back as the Samsung i320 home screen layouts), and then there were the UI improvements in HTC Touch and HTC TyTN II. LG KS20 also sticks to this rule - there's a personal touch to the interface here, too.
The first thing you'll notice when you power up the phone is the custom home screen add-on that comes pre-installed. It's a really handy plug-in, as it offers access to most of the applications and phone options. Its main disadvantage is that the additional applications that you install will not feature in the LG interface menus and can be accessed via the standard WM interface only.
| | |
| --- | --- |
| "... However, when it comes to performance under direct sunlight, we've seen far better displays by Nokia and Sony Ericsson; even HTC MTeoR provided a bit better results in our comparative test. Under direct sunlight the display becomes noticeably dimmed ..." | ADVERTISEMENTS |
The home screen plug-in is displayed at the botomn of the screen and consists of 4 quick tabs: menu, phone, messaging, and the Vodafone tab (our test unit featured the Vodafone firmware version).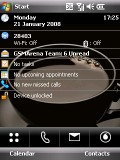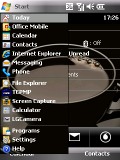 The home screen ad-on custom user interface
Pushing the first tab launches a cool menu with a 5-tab navigation bar on the right. The five tabs are: (1) phone related applications and messaging, (2) Vodafone menu, (3) camera and multimedia, (4) office software and other tools and, finally, (5) settings and connectivity. The selected icon is highlighted by a semi-transparent circle.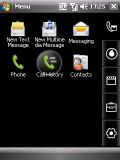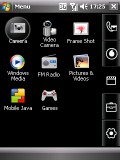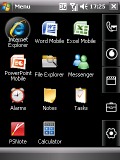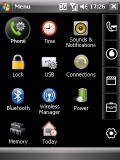 The cool LG UI is an eye-catcher
We appreciate the LG effort to make the UI much more pleasant to work with. Just to show you the striking difference with the standard WM UI, here are a couple of menu screenshots.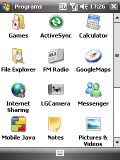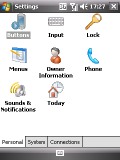 LG had to see about the plain WM UI
Windows Mobile traditionally offers customization through themes but they only change the color scheme. You can of course change the wallpaper on the Home screen too, but that's pretty much all you get. In order to apply some more advanced customization, you would need a third party application. Those kinds of applications however usually eat up your RAM.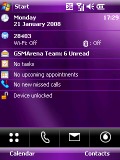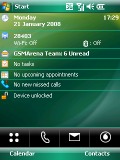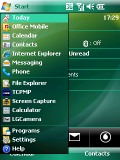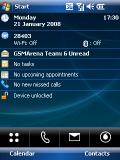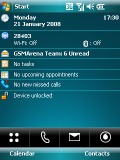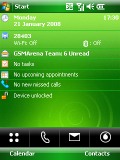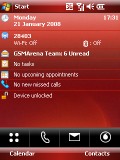 Playing around with themes doesn't really change the interface that much