Picture gallery is OK
The LG KT610 image gallery is accessed from the My Stuff icon in the main menu. It doesn't look as good as the 3D rotating gallery on the Nokia N-series devices but functionality is good enough.
The gallery allows viewing pictures in both normal and full screen mode. Once you pick a picture you can zoom on it for greater detail. The actual zooming is very fast for the first step and somewhat slower, but still acceptable, for the next steps. Panning is quite fast and isn't going to bother anyone.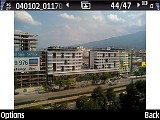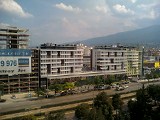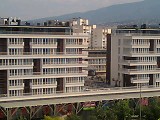 Looking at a picture in normall and fullscreen modes • zooming in on a photo
The LG KT610 gallery also offers adequate file-management allowing selection and sending of multiple files. In addition to that, the smartphone has the usual file manager that does a very good job itself. It allows filtering files according to the memory used as well as marking, moving, copying single or multiple files at a time.
Regretfully, the LG KT610 has no feature similar to the "Search" application we found on Nokia Symbian phones. This means you have to spend a little extra time organizing your files and applications, unless you want to end up in a mess. Anyways, there are a bunch of third-party applications available for download that are up to the task.
2 megapixel snapper
The camera of the LG KT610 is one of things indicating that it is supposed to be a business device before anything else. 2 megapixel snappers are nowadays considered rather low-end but, given that even the omnipresent E90 only pulls off 3 megapixels, we shouldn't be too particular.
The camera on KT610 however is really hard to operate. The outside screen is comfortable to use when shooting like you would with a regular bar phone. However the small external display shows only a part of the frame to be captured. It cuts about 2/3 of the frame and only displays its central area. Also worth pointing out is that you can't capture videos using the external display as a viewfinder.
When using the inside screen as a viewfinder you're facing other problems. For one, your finger tends to cover the lens when you hold the phone. You have to risk dropping it or hold it vertically and shoot in a really unnatural and awkward way.
On the positive side, the camera interface is rather nice and easy to work with. In fact it is the same as the one on Nokia 5320 and Nokia 6210 Navigator. It doesn't offer too many features but with a snapper like this they are more than enough.
The sequence and scene modes are all there and there is a really nice panorama mode where the handset can easily make panos with excellent stitching. However, this panorama mode produces photos of too low resolution, which are suitable for viewing on the phone screen only.
Unfortunately, much like on the Nokia 6210 Navigator, despite the built-in GPS receiver, the camera of the KT610 is not able to geotag your shapshots. Pity, indeed!
The picture quality is about average for a two megapixel camera. Color rendering is rarely on the spot but the amount of captured detail is decent. Noise levels are acceptable for the class. The image processing algorithm is good enough and there isn't much detail loss due to noise reduction or oversharpening.
Check out the sample pics to get an idea of how LG KT610 fares in imaging.
As far as video recoding is concerned, the LG KT610 is able to manage CIF resolution. Videos have a frame rate of 10fps and are saved in 3gp format. This makes them rather useless on most occasions but capturing videos isn't the selling point of KT610 anyway.
Connectivity: no Wi-Fi is a no-go
LG KT610 fares decently in terms of connectivity. The biggest absence is of course WLAN. Frankly, we would have proffered Wi-Fi support over GPS big time. After all, Wi-Fi is among the make-or-break smartphone features.
But first thing first - let's start with the wired connectivity capabilities of LG KT610. USB pairing is truly seamless, as with any other Symbian device. You can set a default connectivity mode when a cable is connected or you'll be prompted every time. The card slot is also an option with the good transfer rates card readers can offer.
In the wireless department you get Bluetooth v2.0. The network connectivity is also at the expected high level with GPRS, EDGE and 3G all covered. HSDPA is also on board to take network data transfers to top speed. We doubt it the lack of an Infrared port is going to make anyone change their mind.