Web browser is worth the praise
As you probably know, we do fancy Symbian web browsers. The LG KT610 makes no exception, plus on the landscape display pages look really great.
Browsing the internet with LG KT610 is a pleasure. No matter how elaborate the web page, it fits perfectly on the screen and is very easy to read and navigate. The virtual mouse cursor earns the handset another point. It is easy to control and generally works great.
A mini-map can be activated to help finding your way around large sites where lots of scrolling is required. The zoom level and font size are also adjustable at the expense of only a few key presses. This is where the landscape 2.4" screen gets much appreciated, as it makes the font readable even when downsized to only a few pixels height.
LG KT610 gets you organized
Organizing applications come by the dozen in Symbian handsets. Those are also very practical and usually quite user-friendly.
The LG KT610 calendar has three different types of view - monthly, weekly and daily, and four types of events available for scheduling - Meeting, Memo, Anniversary and To-do. Each event has its own unique fields and some allow an alarm to be activated at a preset time to act as a reminder.
The mobile office applications are reasonably well covered. The preinstalled applications are able to open Word and Excel and PowerPoint documents. However, the PowerPoint files took ages to load and managed to get on our nerves.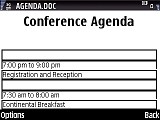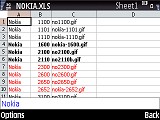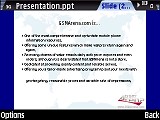 LG KT610 can open .doc .xls and .ppt files out of the box
Unluckily our unit of LG KT610 lacked the PDF reader and the ZIP manager we are used to seeing in most other Symbian handsets. Furthermore, the KT610 lacks support for editing documents. If you are to need this feature you will have to purchase the full version of the office application for a fee.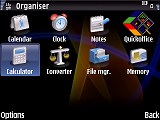 There was neither PDF reader nor ZIP manager preinstalled on our unit
Here are some of the other included organizing and time-management applications: a very capable unit converter and a decent calculator, as well as a Notes application. There is of course also a convenient voice recorder. As we've mentioned repeatedly, recording length is now up to an hour.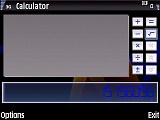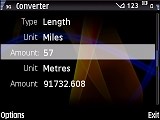 The calculator and the unit converter are well familiar
Finally, we come to the LG KT610 alarm application. You can set up a virtually unlimited number of alarms on your handset. Furthermore, each of these can have its own name, activation day and repeat pattern. You can also adjust the snooze time. In addition the clock offers to show you the time in any time zone of the world.
Thumbs up for the GPS
The final noteworthy feature of Samsung LG KT610 is the built-in GPS receiver. Its performance did manage to impress us with remarkable sensitivity. Even though A-GPS is nowhere in sight, the KT610 just nailed down that satellite lock in less than two minutes in cold start. The hot start time is only a few seconds.
The handset ships with Google Maps preinstalled which sadly doesn't offer turn-by-turn voice guided navigation. This means that a third party navigation software is your only option for using the KT610 as a GPS navigation system. Luckily there are plenty of those available on the market. Of course, you will have to give it some serious thought of how you are going to position the phone on your dashboard to use as an in-car navigation unit.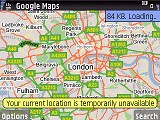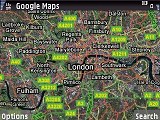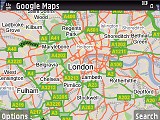 Google maps comes preinstalled on the KT610 but a third party application is needed for voice guided navigation
Games
The LG KT610 comes with two game trials - the official Shrek III game and Bubble Breaker. The demos run for a minute and a half and then automatically exit. The availability of demo versions only is quite in line with the business orientation of the device. Anyway, you are free to download more games to your LG KT610 or go on and purchase the full versions of those already available.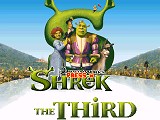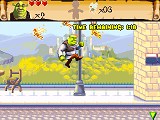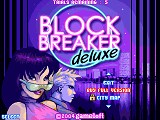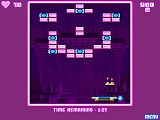 Only two game trials are to be found on the KT610
Final words
As a whole LG KT610 is a no-nonsense, neat performer. It has its shortfalls here and there but, having in mind the price gap to the next best thing in the class, those are understandable. Still the handset is simply ticking quick and neat, plus ergonomics are commendable.
The KT610 is a somewhat eccentric attempt by LG to enter the relatively small communicator niche. We can see the point of throwing in an unpredictable and rather low-key contender, instead of trying to beat the giants in their own game. We find LG KT610 quite well equipped for the campaign, save for one key absence: Wi-Fi. We would've gladly swapped it for the fishy GPS (brilliant chip, but questionable in-car usability).
So at this stage, we hope LG KT610 puts up a good fight for the favor of the almighty user. It's not about communicator top dogs feeling threatened but a neat performer finding a hard-earned spot of its own.