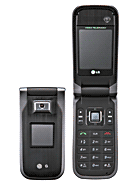 E
mhean, 07 Oct 2007i'm connecting my fone to my internet thru USB but this fone was not charging so the battery f... moreI make many images and photos with this mobile but i don't have necesary software to downloads these, so I really needthis. Can someone help me? My e-mail: edancau@rdfslink.ro or edancau@just.ro .
Thanks of lot and more respect, Emmy
m
i'm connecting my fone to my internet thru USB but this fone was not charging so the battery finish my connection will finished also so i need to charge again.why?
J
Great telephone but does anybody know where I can ger PC drivers for Win XP 64 bit OS
e
to Andrei(from Romania):
-do you have this phone?
-if you do pls mail me,I want to know if it'
s worth to buy it... thank's


A
This model is already available at "orange" Romania operator , in the promotional launch of the 3G services . It's available on silver colour scheme .
?
phone looks better but wont do better
lg should work on technological way
u
This is a replica of the samsung E870..why is it so hard to be original and not get tempted to copy designs?????
F
I think LG are lacking in tech 4 this fone. Cant they live up a little?
?
NICE! But, why logo LG is curves ... ?
Greetings @ll from POLAND :)
Total of 12 user reviews and opinions for LG KU730.