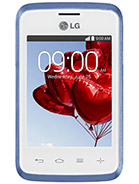 W665142
Bloody awful phone, the display is so pixelated, texting is a joke, camera is a joke I recycled mine after a week of using one to avoid.
E
This will surely spell the end of the feature phone to a large extent and will certainly make people think twice about buying a dedicated MP3 player when they can have the MP3 functionality in addition to smartphone capabilities in such an affordable package.
S
No accelerometer which makes texting very iffy as the screen response is erratic. A good basic smartphone but texting will be a pain due to the small keyboard in portrait only format.
d
I bought an Lg L20 and it has installed android 4.1.2..
I tried to update to android 4.4.2. but the answer was that the phone is using the latest version which is 4.1.2.. It is compatible with kit kat or not?
?
Looks like a very pretty and compact android phone, beautifully crafted, LG has some great and most unique designs
m
tolits, 02 Aug 2014lifes good still love my optimus gJust the thing I'm talking about!!!
:-)
Total of 51 user reviews and opinions for LG L20.