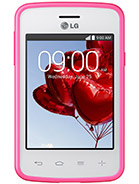 a
a band of non-touchable pixels has appeared on the screen of my LC30 sporty, immediately after warranty expiration / strictly not recommended to buy - pay a little bit more and avoid a crazy screenlock!
J
its a nice mobile. past 4 years im using it now also no problem... anyone take lg small type mobile please take this. it have 2gb internal... its camera was some small which that i can only find a problem which
n
its a cool mob
but when the memory space is being occupied though u have a memory card, the phone becomes laggy n slow
?
Great little phone for the price... but the screen locks constantly when in call (every few seconds) making it almost impossible to use the dialpad in call - necessary when calling places like call centres.
D
It is one of LG's cheapest devices and for it's price it is very fast and fluid, altough the screen resolution is pretty low. It has alot of functions and features such as the knock code!
?
screen keeps locking during call so hard to dial numbers when needed to choose from options
c
The battery is pretty large for the screen size and resolution. Still will stick with my moto g though
R
These phones look similar to the LG Optimus L1 II. Which was such a awful phone that I fully refunded it after 2 days of use.


Total of 10 user reviews and opinions for LG L30.