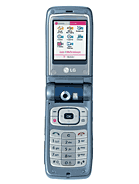 x
shime.. u can download the s/w from the net, else ur dealer could provide u the PC SUITE s/w
T
I have two L5100. Both have a fault. This is a round light blue coloured patch seen in the middle of the screen in both camara and video modes when used indoors. This 'blue patch'also cames out on the photos and videos taken.Anyone else had this.
m
LG...you did it again!Like the majority of the Asian phones...
Nice phone,great screen,camera,etc etc...BUT WHERE IS THE BLUETOOTH and why is it only a dualband?OH!And no email????
S
How can I transfer pics and ringtones to it? The software I got with it doesn't support that transfer HELP!!!!
j
i like this phone it is so cool its graphics programs its the best LG i admire
s
WHY LG WHY...WHYWHYWHYWHY......

You make a damn nice phone and it's a DUALBAND *headbang..bang..bang...bang"

This phone is wicked, nice screen good camera stylish looks, that I CAN'T use when travelling to the states...AAHHHHHH


Total of 54 user reviews and opinions for LG L5100.