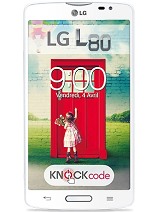 s
I have this phone from 2014 till now. battery works perfectly, except in cold :D now there is problem with location sometimes (hard to drive with waze) and smth wrong with camera... and speed of course, isnt as fast as it was 4 years ago.
now searching for better LG :)
l
hi my phone wifi keep blinking turning on but it gets stuck there it wont show any wifi signals . i tried factory reset and nothing any ideas
v
Its a good phone but specification says 8gb internal memory.. Mine have 2gb.. Is it upgradable???
?
8MP camera with just 480p video recording is major minus on this phone. There's phones with 5MP cameras that records 1080p. I know, quality of that videos is very low...but still, it's nice to have at least 720p video recording as an option.
Total of 12 user reviews and opinions for LG L80.