LG Electronics posted its Q3 2017 financial results and the trends from Q1 and Q2 2017 earning releases continue. The company keeps going strong, mainly thanks to the Home Appliance & Air Solution divisions, but the mobile communications branch is still unable to turn a profit.
Тhe company posted revenue of KRW15.22 trillion ($13.44 billion), which is a 15% increase from Q3 2016. The operating income almost doubled to KRW516.1 billion ($455.7 million).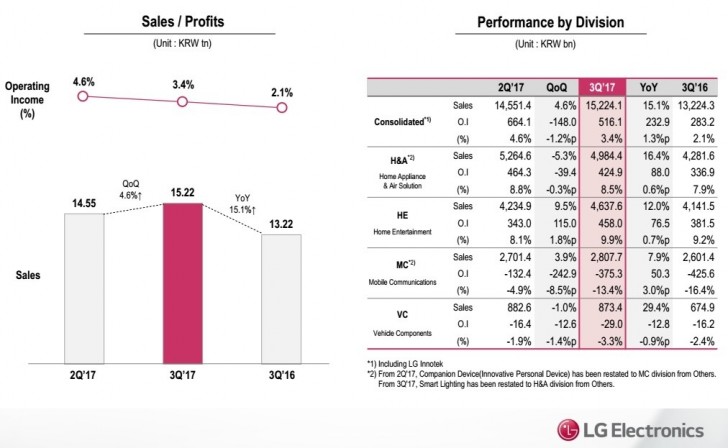 Mobile Communications posted revenue of KRW2.81 trillion ($2.48 billion). This results in an 8% increase over Q3 2016 and 4% higher than the April-June period of this year. The money comes mostly from the sales of the G6 flagship, along with some mid-tier devices like the LG Q6 and the LG K-series.
For a second consecutive quarter, the mobile business posted an operating loss, this time KRW375.3 billion ($331.37 million). It is the worst operating result of all four LG divisions, but at least it's not as bad as Q3 2016 when the loss was 13% worse or around KRW425 billion.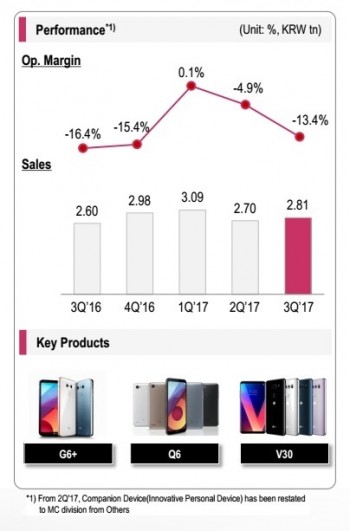 In the following quarter, LG says it will focus on the LG V30 and will increase sales of both the cameraphone and the mid-tier LG Q6. The company also optimized manufacturing profits and thus expects better results in Q4 2017.
The leader is once again the Home Appliance & Air Solution division. It accounted for one-third of the revenue - KRW4.98 trillion ($4.4 billion), which is a 16% increase YoY. Operating income also grew massively - 26% YoY.
s
After G4 scam, LG never again.
?
Not my recomendation. Especially if you are using an old and or cheap phone as your comparison wont be fair. However To each their own. You might like it or want to switch back over time. My one piece of advice. If you love it....Oh well. Then st...
K
SONY is a dying brand *music plays* "WE GOT A NEW CHALLENGER!"
ADVERTISEMENTS