Fans of LG smartphones, mark December 1, 2011 on your calendar. Because that's the day LG will be announcing a new smartphone, and it is rumored it will be the Nitro HD.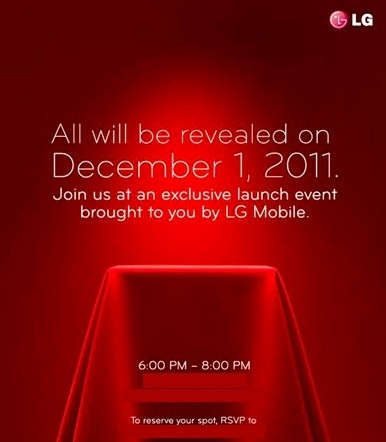 The image above is the press release the LG sent out for the event. As you can see there is no information regarding the device to be announced other than the fact that it will be an exclusive launch event. However, Engadget, from whom the above image is sourced from, mentions that the image was actually named LG Nitro, which, to us, is enough proof that this will in fact be about the Nitro HD.
As you may know, the LG Nitro HD is LG's next flagship device that will come with all the bells, whistles, clowns and flashing neon lights that you can think of. It will have a 4.5-inch, 1280 x 720 IPS-LCD, 1.5GHz dual-core Scorpion processor, 1GB RAM, 4GB storage space with microSD card slot, 8 megapixel camera with 1080p video recording, LTE connectivity and of course, Android 4.0 Ice Cream Sandwich.
The device is intended to launch on the AT&T network in the US but there could be a version for international markets. We will find out more next week.
?
i herd they r releasng new ifone apple r not having in the manafacture of many company instead 1 company, that is being lg lg fones are bettr than m,ost fone and ifone r bettr than all fone so it is making cents
i
i wanna buy ths mobile so plz tell me asap
P
What is Nitro HD for Other
ADVERTISEMENTS