MWC 2013
MWC 2013: LG Optimus G, Vu, F and L series hands-on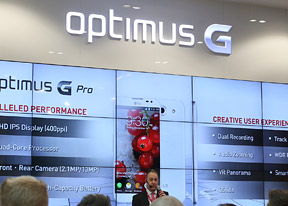 LG Optimus G Pro hands-on
The Optimus G Pro is LG's top dog and is one of the best Androids available at the moment. It's powered by the recently announced Snapdragon 600, which employs four Krait 300 CPUs plus an Adreno 320 GPU, all this generously garnished with 2GB of RAM (benchmarks coming soon).
The eye-catching 5.5" IPS display of Full HD resolution is definitely one of the smartphone's key features. LG is keen on making lots of noise about how the colors are rendered, pitting it against Samsung's AMOLED displays. Long story short, LG claims the Optimus G Pro's display shows 100% accurate colors, unlike AMOLED screens.
Of course, we took it for a test drive ourselves and we can safely confirm that the images indeed look great and colors pop, especially the reds. The display is impressively sharp too, thanks to the amazing pixel density of 400 ppi.
So, the screen junkies that we are, we decided to get out the Galaxy S III and put its Super AMOLED 720p screen next to the True HD-IPS+ 1080p LCD of the G Pro.
On paper these two screens are quite different. The LG smartphone has an LCD with a full RGB matrix, while the Galaxy S III's is Pentile AMOLED.
Pentile is old tech (we saw it on devices like the first Galaxy S) and doesn't feature the full set of subpixels – the green pixels are the complete set, but there're less red and blue pixels than an RGB. Still, at 1280 x 720 resolution the 4.8″ Super AMOLED has a pixel density of around 306, which is well into retina territory.
The screen of the LG Optimus G Pro is a handful – True HD-IPS+ LCD with a resolution of 1920 x 1080. Stretching across a 5.5″ diagonal, it produces around 401 pixels per inch – that's sharp!
Now that we have taken care of the formal introductions, it's time for these two to meet.



A head on image of the two screens
Looking at both screens head on you'll immediately notice the Super AMOLED's advantage. The class-leading contrast shows in the images. Colors are over-saturated compared to the LCD of the LG smartphone and generally look warmer and more pleasing.
However the Optimus G Pro screen has really punchy colors too, especially for an LCD. Plus, LG made big fuss about the color rendering being 100% accurate as opposed to the one of the Super AMOLED screen.




Check out the reflective surfaces and viewing angles
Then we come to viewing angles and reflectivity. Samsung's device has the upper hand here with the typically superb Super AMOLED viewing angles.
The LG Optimus G Pro screen is more reflective and there is contrast loss when you're looking at the screen at an angle – but it isn't Xperia Z bad, being an IPS unit.
Overall, the LG Optimus G Pro stays in line with the Optimus G with the obvious advantage of increased size and sharpness. We'd gladly recommend it to a friend.
The build quality is solid too and for a device this big bending is virtually non-existent. The great build quality aside, we are also very pleased with how well LG has managed to place the physical keys on the Optimus G Pro. We can't say the same thing for the HTC Butterfly, for example. The good news continue with the availability of a customizable shortcut button in the top left. You can use it to quickly launch apps when the device is unlocked.
An interesting addition to the Optimus G Pro is an IR blaster utilized by the QRemote app, which lets you control your TV and Blu-Ray player.
LG went for a full-plastic build for the Optimus G Pro, but still managed a premium, quality feel. The phone is agreeably light, too for a device of this size. In fact, it measures 150.2 x 76.1 x 9.4 mm and weighs 160 grams.
Especially for the MWC, LG is showcasing the LTE version of the G Pro, which features a specially designed back cover. It looks interesting, but imitates the Nexus 4's back pattern, and honestly, we're not very fond of it.






LG Optimus G Pro hands-on
As promised, we ran some benchmarks to see how the Optimus G Pro's four Krait 300 cores handle some stress testing.
AnTuTu and Quadrant are compound benchmarks, testing the overall performance. The Optimus G Pro is very close to the performance of the Xperia Z, which is surprising considering its newer Krait architecture.
AnTuTu
Higher is better
HTC One
22678
Sony Xperia Z
20794
LG Optimus G Pro
20056
Samsung Galaxy S III
15547
Oppo Find 5
15167
Huawei Ascend P2
13358
HTC Butterfly
12631
Quadrant
Higher is better
LG Optimus G Pro
12105
HTC One
11746
Sony Xperia Z
8075
HTC One X+
7632
LG Optimus G
7439
Oppo Find 5
7111
HTC One X
5952
Samsung Galaxy Note II
5916
Samsung Galaxy S III
5450
Meizu MX 4-core
5170
Huawei Ascend P2
4838
LG Optimus 4X HD
4814
Nexus 4
4567
SunSpider is all about pure JavaScript performance. Here, the Optimus G Pro failed to match the prowess of Windows Phones and the iPhone 5, but did well enough to be right on their tail.
SunSpider
Lower is better
Samsung Ativ S
891
Apple iPhone 5
915
Nokia Lumia 920
910
Lenovo K900
962
Samsung Galaxy Note II
972
HTC One X+
1001
LG Optimus G Pro
1011
Motorola RAZR i XT890
1059
HTC One
1124
Samsung Galaxy S III
1192
Meizu MX 4-core
1312
LG Optimus G
1353
HTC Butterfly
1433
Sony Xperia Z
1906

Nexus 4
1971
We also shot a quick hands-on video of the freshly updated Optimus UI running on the G Pro.