LG at MWC 2015
LG 2015: LG Watch Urbane, LG Magna, Spirit, Leon, Joy hands-on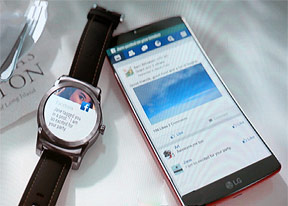 LG Leon hands-on
The LG Leon has LTE connectivity and continues the trend of placing the hardware buttons on the back, however, the back uses a regular matte plastic and the phone is flat. It sits lower on the food pyramid than the LG Spirit.
It's slightly smaller than the Spirit and has a 4.5" screen, but with a noticeably lower resolution. At 480 x 854px, it's in the lower 200ppi range and is generally unimpressive.
It's powered by a quad-core processor with 1GB of RAM and runs Lollipop. It comes with 8GB of storage out of the box.
Just like its curved cousin, the LG Leon has either an 8MP or a 5MP main camera, depending on your region, but the selfie camera has been further demoted to VGA.
LG Joy hands-on
The LG Joy is the smallest of the bunch with its 4" screen, but still offers LTE connectivity. This one has a classic design, no curves and no buttons on the back.
The screen has 480 x 800px, making for 233ppi pixel density. Above it is a basic VGA selfie camera, while the main camera is a 5MP shooter.
The LG Joy has more limited resources and comes in two versions - one with 1GB of RAM and 8GB of storage and another with just 512MB of RAM and 4GB storage.