LG 360 VR
Alongside the G5, LG also revealed a bunch of gadgets, which it dubbed friends of the G5. The first of those is a new VR headset called 360 VR. It is quite compact and very portable, and it doesn't require an attached handset to use its screen. you still need to plug your phone, mind you, so it powers the headset.
The 360 VR has a setup of dual 1.88" displays, each of 960 x 720 pixels. The 360 VR is compatible with Google's Cardboard app and YouTube 360 multimedia content.
We tried the 360 VR and it's indeed small and lightweight, but its metal bracket fitting the nose is uncomfortable and may render the headset unusable for some. Hopefully LG will fix this in the final design.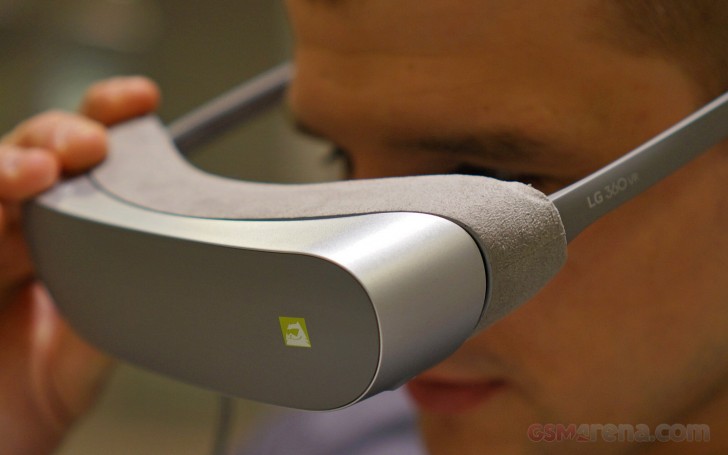 The two displays are far from spectacular, but we suspect LG is keeping the price low here, rather than searching for the highest quality, so it may indeed bring more people to the VR realm.
LG 360 CAM
The spherical LG 360 CAM is your 360 VR companion. If you want to create and share YouTube 360 videos, that's the thing you'll need. It's a tiny device with dual 13MP sensors, each with super-wide (200-degree) fisheye lens.
The 360 CAM supports up to 2K video, and the content can be viewed on any Cardboard and YouTube 360 compatible device. It has a 1,200mAh battery for up to 70 minutes of video recording. It supports Bluetooth and Wi-Fi pairing with the smartphone. Finally, this small cam weighs just 72 grams.
The LG 360 camera can also capture and upload multimedia content to Google Street View.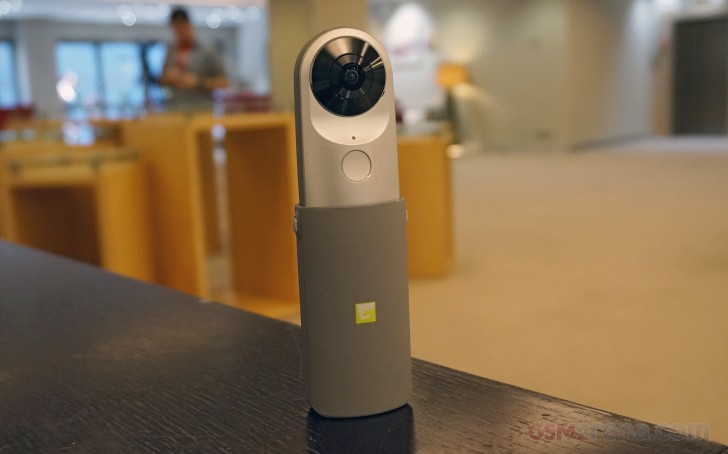 We are eager to learn the 360 CAM price and put this thing to the test.
LG Rolling Bot
We have to admit this little fella caught our attention. It's 20cm in diameter round robot, with an integrated 8MP camera (it can move up and down in 15-degrees), loudspeaker, a microphone, infra-red sensor, a couple of LEDs, and of course, the ability to move around your house all by itself.
The Rolling Bot can fully monitor your house and live stream everything that's happening real-time, with sound. There is a microSD card slot to record video and pictures, if you like.
Then it can control all of your appliances - TVs, sound systems, air conditioners, the lot. If something can be controlled via a remote, then the LG Rolling Bot should be able to operate it whether you are home or not.
Finally, this Rolling Bot, thanks to its camera, speaker, and mic, can help you interact with your pets even when you are at work. We thought it would have been nice if the Bot also featured a hologram projector, but we guess that's too much to ask right now.
LG Tone Platinum
LG Tone Platinum are new wireless headphones LG will be selling this spring. It is tuned by Harman Karmon "Platinum" sound grade and delivers 24-bit Hi-Fi audio through a Qualcomm aptX audio codec.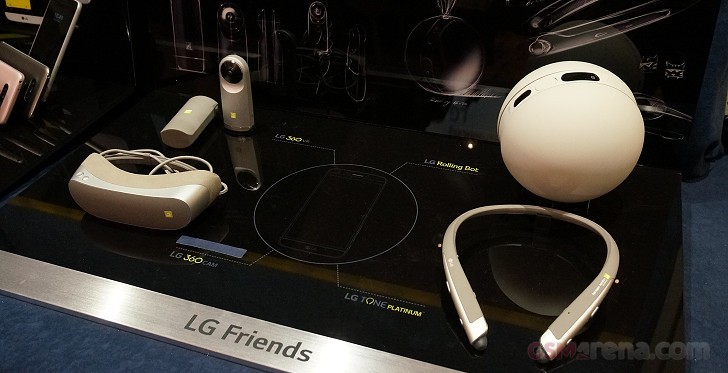 There is a dual setup of microphones for noise cancellation and voice commands.