Everyone and their grandmother is probably familiar with the LG-made next-gen Nexus device by now with all the information like pictures, camera samples, more pictures and even preliminary reviews popping up for days on end.
One of the last details we're in the dark on is the retail name of the LG E960. We came up with Optimus Nexus on our own, and we even had an alleged insider tip about Nexus HD, all the while the internet rumor mill has been referring to it merely as the LG Nexus phone.
Today however, we stumbled upon some LG Nexus camera samples on Picasa, where the EXIF data calls the devices LG Nexus 4.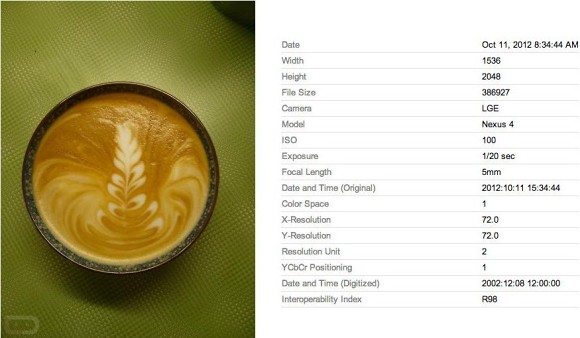 This embedded image information is very easy to fake or tweak, mind you, so we may see more developments on the subject of the next Nexus' name.
Just to clear the air the Nexus 4 packs a Snapdragon S4 Pro chipset with four ferocious Krait cores inside, an 8 MP snapper, 2 GB worth of RAM and a 4.7 True-HD IPS display of 768 x 1280 pixels resolution and most importantly, has Android 4.1.2 Jelly Bean on tap.
An unverified October 29 date has been pinpointed as the day Google will step forth and unleash the Nexus 4 to the world.
O
Gsm arena is a good site for serching mobile information..... LG nexus 4 is good .....
?
Well the nexus 7 still got some major drawbacks: 1-No 3G version 2-No sd card slot,only 8gb and 16gb variants. 3-no rear camera,some might find it useless on a tablet but some others do need it. But if google released a cheaply priced phone w...
J
My thought is Google considered all their proposal but most other manufacturers are not willing to give their top spec to avoid competition against their own flagship. However, LG needed the Nexus title more than they needed their flagship to outsell...
ADVERTISEMENTS