Google Now gets better
Google Now was first introduced back in Jelly Bean 4.1 and is definitely one of the most interesting aspects of the Android OS. Simply put, it's Google's version of a personal assistant. Google Now is in the same neck of the woods as Apple's Siri, but it learns constantly from your daily routines.
It's accessed by holding the home button (plus an upwards swipe), swiping to leftmost pane or just by saying "OK, Google". We found out that the Nexus 5 fires up Google Now on the first G of the command, so you can just say "OK, G" or "OK, Go" and that will be enough. For all it's worth, "OK, Jesus" and "OK, Grandpa" worked too.
Google Now gives you short overview of information it believes is relevant to you right now in the form of cards. Going to work in the morning? Google Now knows this and lets you know there's a big traffic jam on your usual way to the office, so it offers you a re-route.
It can interpret a lot of things from your search history as well. If you've been searching for, let's say, your favorite football team, Google Now will prepare a card showing you the next match the team is playing and will provide you score updates once the game begins.
Google Now, if you allow it, can scan your email for upcoming flights, deliveries or restaurant reservations and let you know when they are due. There are also numerous kinds of cards like birthdays (yours and those of your contacts) and what distance you've walked in a particular month. The last one could definitely feel creepy for some users, but it's easily turned off from the Google Now settings menu.
Google has also integrated Voice Actions into Now. They can handle stuff like sending messages (SMS or email), initiating a voice call, asking for directions, taking a note or opening a site. Google Now can also launch apps, check and manage your calendar and look for nearby places of interest and stuff like movie openings in theaters.
Google has added lots of more customization on Google Now in Android 4.4 KitKat. You can now set your default transportation method, you favorite sports teams, company stocks you are following, places you are interested to visit and more. Once you add items you want to keep an eye on Google Now will do this instead of you. It will automatically inform you for various changes, news and updates.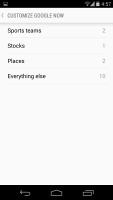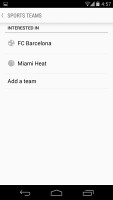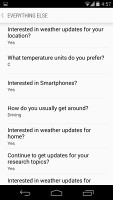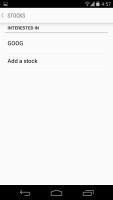 Customizing Google Now behavior
The More section of the customization will update automatically with topics you can choose from once you've start using Google Now search capabilities.
You can now set reminders straight from Google Now's UI. Just hit the bottom left icon (the palm with a stretched index finger). There you can add reminders or just check all the past, ongoing or upcoming reminders.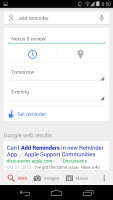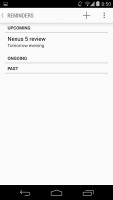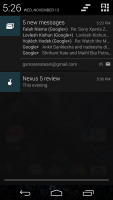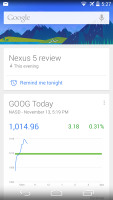 Adding a reminder manually • A reminder
One big advantage of Google Now is that the voice typing functionality doesn't require an internet connection to work. You can enter text by speaking anywhere you can use the on-screen keyboard - be it the Messaging app or a note taking app - without the need for a data connection as long as you have pre-downloaded the needed language packs (and those only take about 20-25MB of your storage per pack).
Making voice typing available offline also made it faster as it's not dependent on your connection. What's even more impressive is that the transition hasn't cost it anything in terms of accuracy.
Synthetic benchmarks
Hardware-wise the LG-made Nexus 5 is pretty much the same as the company's G2 flagship aside from the slightly smaller screen. The Nexus 5 runs on the same top of the line Snapdragon 800 chipset with a 2.27GHz quad-core Krait 400 processor, Adreno 330 graphics and 2GB of RAM.
Android 4.4 KitKat brings Project Svelte UI optimizations, the successor of Project Butter. Svelte allows even smoother performance and in the meantime lowers the Android hardware requirements down to 512MB RAM, which would open the doors to the latest Android build to budget devices!
You'd expect the Nexus 5 to perform the same as the rest of the Snapdragon 800 gang, but as far as synthetic benchmarks are concerned you'd be wrong. Unlike Samsung, LG or HTC, Google had no interest in boosting benchmarking scores and performance and so the stock Android 4.4 KitKat offers no optimizations in this direction. As the charts below will show you, the Nexus 5 benchmark results are much lower than the other Snapdragon 800 devices - the reason is probably sitting some way between the lack of cheating and the fact that the benchmarking apps aren't properly optimized for KitKat just yet.
As usual our first test is all about single-core performance. The Nexus 5 scores are quite similar to the Krait 300 CPU on the Snapdragon 600 platform, rather than those of its Snapdragon siblings. The Linpack results are even worse.
Benchmark Pi
Lower is better
Samsung Galaxy Note 3
99
LG G2
99
Sony Xperia Z1
115
Sony Xperia Z Ultra
115
Samsung Galaxy S4 Active
130
HTC One Max
131
Samsung Galaxy S4 (Octa)
132
Samsung Galaxy S4 (S600)
132
HTC Butterfly S
135
LG Nexus 5
146
LG Optimus G Pro
147
HTC One
151
Samsung Galaxy S4 mini
166
Sony Xperia Z
264
HTC Butterfly
266
Oppo Find 5
267
HTC One X+
280
LG Optimus G
285
HTC One mini
293
Samsung Galaxy Note II
305
Meizu MX3
307
HTC One X (Tegra 3)
330
LG Optimus 4X HD
350
Samsung Galaxy S III
359
Nexus 4
431
Linpack
Higher is better
Samsung Galaxy Note 3
1081
LG G2
1054
Sony Xperia Z Ultra
1034
Sony Xperia Z1
1004
Samsung Galaxy S4 Active
818
Samsung Galaxy S4 (Octa)
791
Samsung Galaxy S4 (S600)
788
LG Optimus G Pro
743
HTC One Max
723
HTC Butterfly S
669
HTC One
646
Sony Xperia Z
630
HTC Butterfly
624
LG Optimus G
608
Oppo Find 5
593
Samsung Galaxy S4 mini
413
LG Nexus 5
393
HTC One mini
320
Meizu MX3
289
Samsung Galaxy Note II
214.3
Nexus 4
213.5
HTC One X+
177.7
Samsung Galaxy S III
175.5
HTC One X
160.9
LG Optimus 4X HD
141.5
The Nexus 5 bounced back on the Geekbench 3 cross-platform benchmark, but it didn't quite manage to match the best.
Geekbench 3
Higher is better
Samsung Galaxy Note 3
2937
Nexus 5 Lollipop
2743
Sony Xperia Z Ultra
2670
Sony Xperia Z1
2638
Apple iPhone 5s
2561
LG Nexus 5
2453
LG G2
2243
HTC One
1972
HTC One Max
1899
Samsung Galaxy S4 (S600)
1869
LG Optimus G
1623
Meizu MX3
1579
Huawei Ascend P6
1315
LG Nexus 4
1288
HTC Butterfly
1257
Oppo R819
1047
HTC One mini
887
Moving on to compound benchmarks, AnTuTu and Quadrant. In AnTuTu Nexus 5 scored similar results to the previous generation Snapdragon 600 devices, while the Quadrant score was downright poor.
AnTuTu 4
Higher is better
Samsung Galaxy Note 3
31109
Sony Xperia Z1
30850
LG G2
30243
Sony Xperia Z Ultra
29185
Samsung Galaxy S4
27613
HTC One
26389
HTC One Max
26348
LG Nexus 5
25097
Meizu MX3
24391
LG Nexus 4
17006
Quadrant
Higher is better
Sony Xperia Z1
20388
Samsung Galaxy Note 3
20052
LG G2
19815
Sony Xperia Z Ultra
18177
HTC Butterfly S
13130
Samsung Galaxy S4 (Octa)
12446
Samsung Galaxy S4 (S600)
12376
LG Optimus G Pro
12105
HTC One Max
11914
HTC One
11746
Samsung Galaxy S4 Active
11346
LG Nexus 5
8844
Sony Xperia Z
8075
HTC One X+
7632
LG Optimus G
7439
Samsung Galaxy S4 mini
7153
Oppo Find 5
7111
Meizu MX3
6116
HTC One mini
6048
HTC One X
5952
Samsung Galaxy Note II
5916
Samsung Galaxy S III
5450
Nexus 4
4567
Now let's look at the GPU benchmarks. We ran GLBenchmark 2.5 and 2.7 in 1080p off-screen mode, which is also the native screen resolution for the current crop of Android flagships. The Nexus 5 matched the Snapdragon 800 competition on this test.
GLBenchmark 2.5 Egypt (1080p off-screen)
Higher is better
Samsung Galaxy Note 3
68
Sony Xperia Z1
60
Sony Xperia Z Ultra
60
LG Nexus 5
57
Apple iPhone 5s
56
LG G2
54
Samsung Galaxy S4 (Octa)
43
HTC Butterfly S
42
Meizu MX3
42
Samsung Galaxy S4 (S600)
41
Samsung Galaxy S4 Active
41
HTC One Max
41
HTC One
37
Oppo Find 5
32
Google Nexus 4
32
Sony Xperia Z
31
Sony Xperia ZL
31
Sony Xperia SP
31
Apple iPhone 5
30
LG Optimus G Pro
30
LG Optimus G
21
Samsung Galaxy Mega 6.3
17
Samsung Galaxy S4 mini
17
Samsung Galaxy Note II
17
HTC One mini
15
HTC One X
11
GLBenchmark 2.7 T-Rex (1080p off-screen)
Higher is better
Samsung Galaxy Note 3
26
LG Nexus 5
23
Sony Xperia Z1
23
Sony Xperia Z Ultra
23
Apple iPhone 5s
23
Nexus 5 Lollipop
22
LG G2
22
Samsung Galaxy S4 (S600)
17.1
Samsung Galaxy S4 (Octa)
17.1
Apple iPad 4
16.8
HTC Butterfly S
16
Samsung Galaxy S4 Active
16
HTC One Max
14
Google Nexus 10
13.9
LG Optimus G
13.9
Sony Xperia Z
13.5
Meizu MX3
13
Sony Xperia Tablet Z
13
Sony Xperia ZL
12.8
Samsung Galaxy S4 mini
6.4
Samsung Galaxy Mega 6.3
6.3
HTC One mini
5.6
Samsung Galaxy Note II
4.9
The Adreno 330 on the Nexus 5 did pretty well on the Epic Citadel, too. Its score is very close to Galaxy Note 3 and Xperia Z1.
Epic Citadel
Higher is better
Meizu MX3
58.8
Sony Xperia Z1
54.9
Sony Xperia Z Ultra
54.9
LG G2
51
LG Nexus 5
49.1
Samsung Galaxy Note 3
47.7
Samsung Galaxy S4 (S600)
37.2
HTC One
35.6
HTC One Max
34.9
HTC Butterfly
29.6
Finally, we come to JavaScript, which is a known Achilles heel of stock Android and its Chrome browser. Surprisingly, the Nexus 5 did a lot better than we expected, scoring the same as Sony's Xperia Z1 Chrome browser.
SunSpider
Lower is better
Apple iPhone 5s
403
Samsung Galaxy Note 3
587
Apple iPhone 5
694
Apple iPhone 5c
704
Sony Xperia Z Ultra
750
LG Nexus 5
827
Sony Xperia Z1
845
LG G2
908
Samsung Galaxy S4 (S600)
1046
Meizu MX3
1085
HTC One
1174
HTC One Max
1295
LG Optimus G
1293
HTC One mini
1375
LG Nexus 4
1379
HTC Butterfly
1397
Oppo R819
1423
The last benchmark we did was the BrowserMark 2, which tests the overall browsing performance. Google's Nexus 5 turned out to be among the best devices we've tested so far.
BrowserMark 2
Higher is better
Apple iPhone 5s
3549
Samsung Galaxy Note 3
3041
Apple iPhone 5
2825
Apple iPhone 5c
2799
LG Nexus 5
2745
LG G2
2718
LG Optimus G
2555
Samsung Galaxy S4 (S600)
2438
Sony Xperia Z Ultra
2419
Sony Xperia Z1
2398
HTC Butterfly S
2378
Samsung Galaxy S4 Active
2338
Samsung Galaxy S4 mini
2314
HTC One
2262
HTC One Max
2243
Sony Xperia Tablet Z
2170
HTC One mini
2164
Sony Xperia ZL
2107
Sony Xperia Z
2093
Meizu MX3
1832
LG Optimus G Pro
1801
Oppo Find 5
1797
Nexus 4
1794
Nokia Lumia 920
1774
Google Nexus 10
1773
HTC Butterfly
1475
Samsung Galaxy S III
1247
The stock Android 4.4 KitKat with its Project Svelte ran perfectly smooth on the Nexus 5. Even though the flagship scores lower than the competition on the benchmarks, the Nexus 5 is still among the smoothest and lag-free Android smartphone we've seen to date.
Everything is blazing fast, scrolling and app launch is really fast and fluid, the overall UI speed has been bumped too. It took Google a while to achieve what Apple has done with the iOS, but it is finally here - the lag-free, fast and buttery smooth Android OS is becoming the norm now.