Same phonebook
The phonebook is the stock Android app People, which hasn't been much changed since its major redesign last year with the introduction of Ice Cream Sandwich.
It's made up of three tabs that you can switch between with sideways swipes. The middle tab is the default one, listing all of your contacts. Contacts are listed with a name and a picture to the right. They can be sorted by first or last name, and viewed as first name or last name first.
There's a permanent scroll bar available that you can grab and jump straight to contacts starting with a certain letter. There's regular search as you type too.
The quick contacts feature triggers on tapping a contact image to bring up a tabbed popup window. The tabs are phone and email with a list of the available numbers or addresses. These tabs can be navigated with side swipes as well.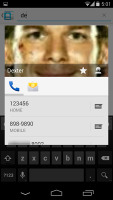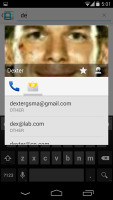 Quick contacts sport the same design as before
The single contact view displays the contact's name along with a star to mark a contact as favorite and a Settings button that lets you edit, share or delete a contact, as well assign custom ringtones to them or set the phone to redirect calls from that contact straight to voice mail.
Under that is a list of all contact info sorted by category - phone numbers, emails, events, notes and so on.
While editing a contact, you can add various new fields to fill in more info for the contact. You can link contacts too, if you've added the same person on multiple services.
The contacts that the phonebook displays can be filtered by service (e.g. hide all Facebook contacts) and even group (so you can hide all contacts that don't belong in a group, for example).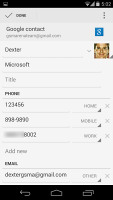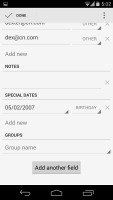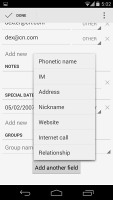 Editing a contact • Adding an extra field
The other two major tabs in the phonebook are Groups and Favorites. Groups are listed by service (e.g. your Gmail account), while favorites are a listed as a grid of large contact photos, which is readily thumbable.
Smart telephony
In-call quality with the Nexus 5 is great. Voices come out loud and clear and the device held on to signal without issues.
Android 4.4 KitKat brings a brand new and very smart phone app. Upon launch it brings you to its default dialing tab where you get a search field, the most recent dialed contact and a list of contacts you've dialed most often.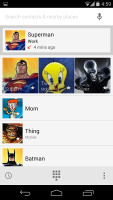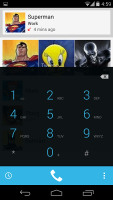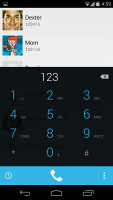 The new Phone app and its dialer
You can bring up or hide the dialer by its dedicated shortcut at the bottom. It supports smart dialing both by name and phone numbers.
The Search field on top of the page scans both your contacts and nearby places. For example, you can type Subway and you'll automatically get the nearest Subway phone number. It's really cool and saves you all those Googling, opening websites and searching for the contact information. You can turn the nearby search off from settings, of course.
There is also a standard History tab in the Phone app. It has two sub-tabs - All and Missed. There you get the complete history of all your phone calls.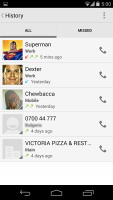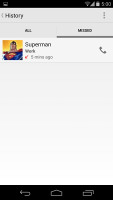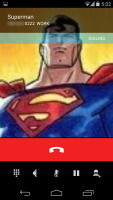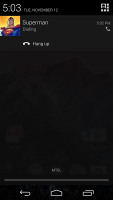 History • The in-call screen • The notification controls during a call
We also ran our traditional loudspeaker test on the Nexus 5. It scored a Below Average overall mark, so you should keep an eye on the device in noisier environments. More info on our loudspeaker test as well as other results can be found here.
| | | | | |
| --- | --- | --- | --- | --- |
| Speakerphone test | Voice, dB | Pink noise/ Music, dB | Ringing phone, dB | Overal score |
| Sony Xperia Z | 60.1 | 58.3 | 61.6 | Below Average |
| LG G2 | 65.7 | 62.2 | 66.2 | Below Average |
| LG Nexus 5 | 65.0 | 64.8 | 65.8 | Below Average |
| Meizu MX3 | 67.1 | 66.5 | 77.7 | Good |
| HTC One | 69.3 | 66.6 | 75.9 | Good |
| HTC One mini | 68.0 | 68.7 | 78.1 | Good |
| Samsung I9505 Galaxy S4 | 70.6 | 66.2 | 77.3 | Good |
| Samsung Galaxy Note 3 | 70.5 | 66.6 | 78.0 | Good |
| LG Nexus 4 | 71.0 | 66.6 | 78.8 | Good |
| Samsung Galaxy S4 Active | 72.7 | 66.6 | 78.1 | Good |
| LG Optimus G | 74.6 | 71.3 | 82.7 | Excellent |
Hangouts is now your messaging hub
Android 4.4 KitKat completely changes the messaging department. Google has decided to upgrade the Hangouts app with SMS/MMS messaging and retire the old Messages hub.
Hangouts has two pages - the first one shows all of your conversations, while the second lists the people you exchanged Hangouts with, plus suggested contacts and other contacts (a.k.a. from your phonebook).
There is a dedicated search field at the top of the contacts page. It searches through all of your phonebook contacts and then suggests you some people from Google+.
All conversations are organized into threads, just like before. The SMS/MMS threads are marked as such on their thumbs. You can start new SMS/MMS/Hangout from the virtual + at the top of the page. If you have started writing a new SMS message and then added some multimedia content, it will be automatically converted to an MMS message.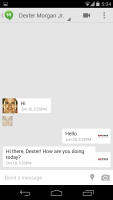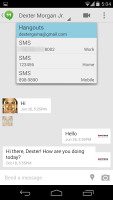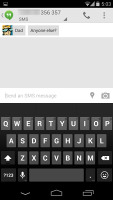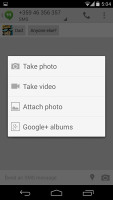 A conversation • Starting a new SMS conversation
The advanced settings of the Hangouts app offers you mood options, invites, notifications and access to the archived Hangouts.
It seems Google wanted to create something like the iOS Messaging app and its iMessage functionality. Since the ex-Gtalk, now Hangouts app, already offered free chats between Google users, the company just needed to combine the Hangouts app and the Messages app into one universal application. This way the new Hangouts app within Android 4 KitKat was born. It's awkward to look for your SMS under Hangouts at first, but you'll get used to it quickly.
Moving on to email, the Gmail app and the new generic Email app are now almost identical in both looks and functionality. They feature color coded sender images, based on the first letter of the sender's name. Both apps support multiple accounts, but the Unified Inbox is available only on the default Email client.
You can swipe left or right to move between messages in your inbox.
Text input
The Google keyboard has always been pleasure to use and is one of the most preferred Android keyboards out there. On this screen the keys are comfortably large in both portrait and landscape mode.
Gesture typing is available as usual - it works in a manner very similar to Swype -- you just swipe your finger over the letters one after the other, lifting your finger after each word is complete. Naturally, the Gesture Typing feature benefits from the already existing Android word prediction, so you can just click on the words the keyboard suggests.
A tap on the text area will reveal a "handle" attached to the text cursor - it's easy and more accurate, which makes correcting mistakes easier. A double tap will bring up the select options - Select word and Select All - with two handles to adjust the start and end of the selection.
If a word has a typo, it will be underlined in red and when you tap it, the phone will offer a number of suggested corrections along with options to add the word to the phone's dictionary or just delete it.
Voice input is available as well and it works great too. It doesn't even require internet connection if you download the specific language file and make it available for offline usage.