Telephony and phonebook
The LG Nexus 5X held on to a signal and voice quality was good. There's HD voice for improved audio quality, more and more networks and phones support it (and you need the network and both phones to support it, otherwise it's down to 2G audio quality).
Caller ID by Google is a way to tell who's calling, even when the number is not in your phonebook. It will show the names of people and businesses. By the way, you can opt out of your name/number being used by Caller ID in your Google Account settings.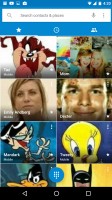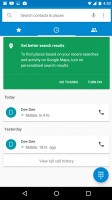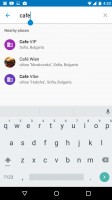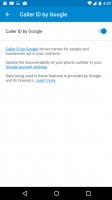 Favorite contacts • call log • searching numbers nearby • Caller ID setting
Another similar features takes your location into the equation (you can disable this too). It will search online for the numbers of nearby places you might want to call. The QWERTY keyboard pops up when you tap the search field and you can type, say, "cafe" to look for a local place to have a brew.
Loudspeaker performance
The single loudspeaker on the front proved rather quiet, even with our loudest ringtone. As for the music listening experience on the built-in speaker, let's just say you'd be better off sticking to headphones.
| | | | | |
| --- | --- | --- | --- | --- |
| Speakerphone test | Voice, dB | Pink noise/ Music, dB | Ringing phone, dB | Overall score |
| LG Nexus 5X | 61.2 | 65.8 | 61.7 | Below Average |
| Sony Xperia Z5 | 65.1 | 62.3 | 66.3 | Below Average |
| LG Nexus 5 | 65.0 | 64.8 | 65.8 | Below Average |
| HTC One A9 | 65.0 | 64.9 | 67.2 | Below Average |
| Samsung Galaxy S6 | 68.1 | 66.3 | 73.7 | Good |
| Xiaomi Redmi 2 | 70.8 | 70.9 | 77.4 | Very Good |
| OnePlus 2 | 75.7 | 73.5 | 80.7 | Excellent |
Messaging and text input
Messenger is the default app to handle SMS/MMS on the Nexus 5X, rather than Google Hangouts as you might expect from a Google phone.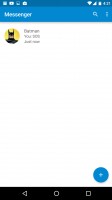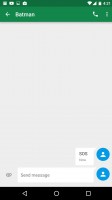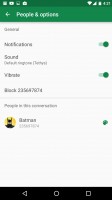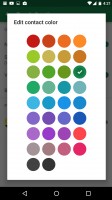 The Messenger • a conversation thread • thread settings • choosing a color for a contact
Messenger is a simple, Material design app that handles threaded conversation. Each conversation can have its own notification tone and if there are multiple people, you can assign different colors to them so it's easier to see who wrote what. There are backgrounds and speech bubble themes though.
You can archive messages for safe keeping or block numbers that bug you. You can take photos for MMS messages straight from the app - a viewfinder shows up below the text box and goes full screen when you rotate the phone to landscape. You can attach photos from the gallery, of course, plus audio and location.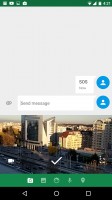 Snapping a photo to send over MMS happens right inside the app
Gmail has taken over email duties completely (unlike Hangouts). It handles both Gmail and other email providers (POP3 and IMAP) easily. The Priority inbox cuts through the noise and spam, collecting only the most important messages. Swipe gestures (either Archive or Delete) are a quick way to bring order too).
For text input there's the Google Keyboard. Its flat design should be familiar to you already, it's used by several makers as their default keyboard as it is quite good.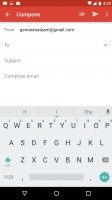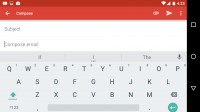 Google Keyboard in portrait • in landscape
It has advanced text correction (in multiple languages) and gesture typing (swiping instead of hitting keys). You can move between dark and light Material and Holo looks and switch between layouts (including a PC layout, which adds a numbers row).