The LG Nexus smartphone rumors are coming in thick and fast, with each one adding a new piece to the puzzle that is very close to being complete.
First off, there are couple of new pictures as seen below that show the phone in a better light. The back says 'with Google' that has raised a few questions, as Nexus phones usually have just the Google logo on the back. Then again, this is not a final product so the back could change by the time it releases. In fact, from what we have heard, the actual phone has a Nexus logo, with a big multi-colored 'X' in the middle.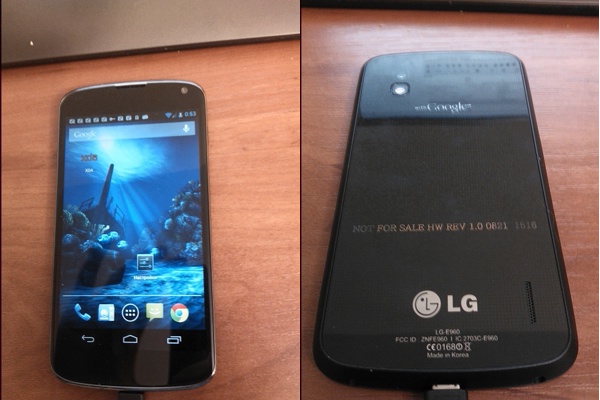 Next bit of rumor pegs the worldwide launch date on October 29. This bit of information comes from a French publication Le Figaro. They also say that France itself will get the phone around December.
The next bit of info comes from Carphone Warehouse's inventory listing, that suggests that the phone will be called the LG Nexus 4 (which, just for the record, is an infinitely better name than LG Optimus Nexus) and that it will be sold in black and white.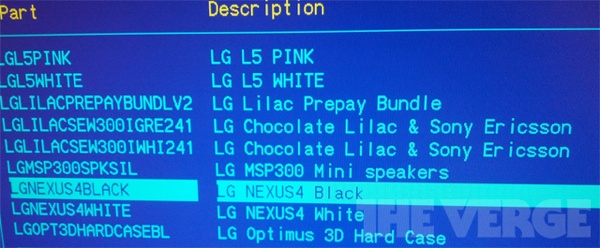 Lastly, there is some disappointing bit of information regarding the internal storage of the phone. It is being said that the phone only has 8GB internal memory and just like previous Nexus devices there is no microSD card slot. If true, it will be an absolutely appalling decision on Google/LG's part. 8GB is way too less for a handset that otherwise sports top notch specifications. We honestly doubt Google/LG will ship the phone with so little memory and think this specification could be changed by the time the phone is announced.
We'll continue to put our ears to the ground and report anything new learned about this device.
r
optimus nexus 360º view and sample shots from camera. http://tech.onliner.by/2012/10/11/google-nexus-4
D
The battery won't be removable
4
another garbage device! Just the idea of LG making this smartphone kills it for me let alone the crappy design.
ADVERTISEMENTS