The organizer is complete
The LG Nitro HD comes with the usual set of organizing apps and there's a preloaded document viewer and editor (well sort of).
The app in question is Polaris Office and it's one of the most feature advanced mobile editors we've seen. You can of course view documents – Word, Excel and PowerPoint documents and PDF files too.
Editing offers almost a full set of options – text style, justification, paragraph formatting, bullets, even creating tables (that's a first). If you're editing an Excel file, you get a formula wizard, resize rows/columns, border style, and merge cells and so on. Even creating a full PowerPoint presentation is possible.
You can do practically anything with the app – it's better than the other mobile editors we've tested, even better than the Windows Phone native one.
The app doubles as a file manager and also integrates with Box.net.
The calendar has four different types of view - daily, weekly, monthly and agenda. Adding a new event is quick and easy, and you can also set an alarm to act as a reminder.
The LG Nitro HD features an alarm clock application, which allows a lot of alarms to be set, each with its own start time and repeat pattern. World clock is at hand as well, along with a stopwatch and a countdown timer.
The organizer package also includes a voice recorder, which might be pretty useful for making audio notes and a nicely touch-optimized calculator.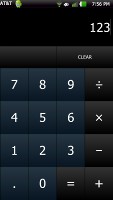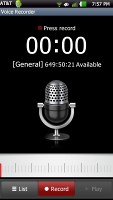 The calculator and the voice recorder
The Note Pad is self-explanatory – it allows you to take notes and stores them with date and time for you. Nothing fancy, but it can come handy at times.
Google Maps
Google Maps is a standard part of the Android package and we've covered it many times before. It offers voice-guided navigation in certain countries and falls back to a list of instructions elsewhere. You can plan routes, search for nearby POI and go into the always cool Street View.
The app uses vector maps, which are very data efficient and easy to cache. It will reroute you if you get off course, even without a data connection.
The latest version of Google Maps offers indoor navigation as well. So far, it is limited to large shopping centers, but we still found it very cool.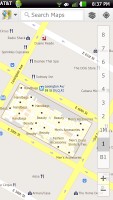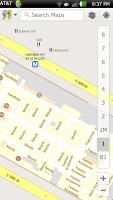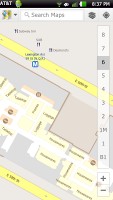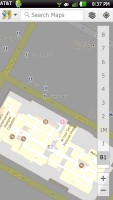 Google Maps can help you find your way while shopping too
Android Market has it all
With a 1.5GHz dual-core CPU and powerful new graphics, the LG Nitro HD can run every Android app designed for phones. The OS version is 2.3.5 so you won't have any problems on that account either.
After its recent major overhaul, the Android Market has become the place to go for not only apps and games, but also music, books, movies, etc. Its interface is simple and intuitive. The search function at the bottom right corner will assist you in finding anything you can possibly need.