LG's looking to start early in the octa-core chip race, and their processor has just been benchmarked by AnTuTu. The results are good, but not Snapdragon 800 good. It's quite on par with Samsung's octa-core Exynos chipset.
Nicknamed the LG Odin, LG's octa-core chip performed similarly to the quad-core Samsung Exynos 5410. This probably means that the Odin isn't a true octa-core processor, but that it only uses half of the cores at once for the real dirty work, and the other half for menial tasks.
It's also worth mentioning that the AnTuTu benchmark results revealed that the Odin was clocked at a low speed (100 MHz-1GHz). This probably bodes well for the actual every day use of LG's octa-core processor. One, because its performance was that good at these low speeds, and two, it will only get better if it's speed increased when the chip comes to market.
Graphical performance is expected to be great on LG's SoC, as its GPU will be the Power VR Series 6. So gamers interested in potentially getting a G3 in the future can rejoice.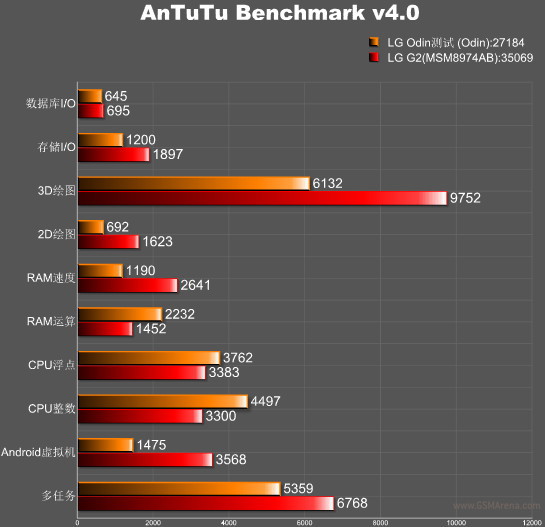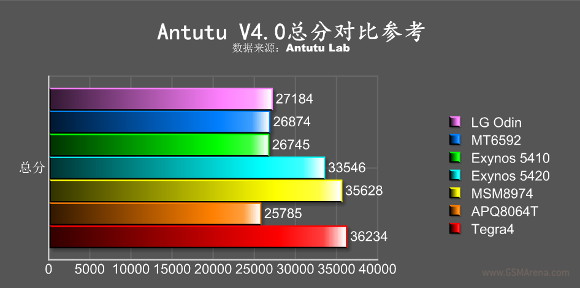 ?
Snapdragon 800 is a quad core and this Exynos is an octa core, yet the quad core trumps the so called octa core. Heck, even MediaTek MT6592 beats Exynos 5410 thumbs down. smart phone
D
The thing about A15 is that the more they are clocked up, the more power efficient they are, because DMIPS increases as much as CPU frequency. Up to 2.5 GHz and up to 4.01 DMIPS. To compare, S800 can achieve only 3.5 DMIPS.
D
Did i asked u about mediatek. Mediatek is true octa core. But lg is using big little same like samsung exynos 5, thats why i asked, is any one feeling lg is doing exactly what samsung is. Now a days lg phones feels like samsung phone with lg brand na...