LG has officially revealed a trio of new G Pad tablets. The G Pad 7.0, G Pad 8.0 and G Pad 10.1 will debut at the MedPi 2014 trade show in Monaco tomorrow.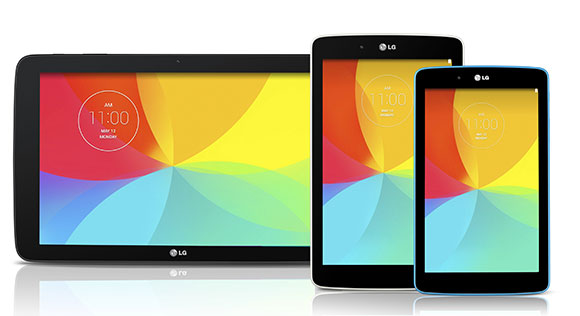 The company promises a full list of specifications for the slates then. For now, the company teases that the tablets will feature LG's latest Optimus UI with QPair 2.0 and Knock Code.
The expanding of the G Tab tablet line is to ensure that consumers have all the choice they want when picking up a tablet. "Customers tell us that they want a wider range of devices that offer sizable screens without compromising portability," said Dr. Jong-seok Park, president and CEO of LG Electronics Mobile Communications Company.

The LG G Tab 8.3 remains a part of the lineup and considering it's also available in a Google Play edition flavor, we wonder if the G Tab 10.1 isn't going to be the base for the Google Nexus 10 refresh everyone has been waiting for. The biggest member of the G Tab family doesn't sport front-facing speakers as the Nexus 10, though.
We'll have a lot more information tomorrow as LG fully uncovers the specifications of the tablets, so stay tuned.
M
Flooding ? They just covered all the formats: a small tablet 7", a mid size 8" and a full scale tablet of 10" It's not like Samsung producing two or three 8" devices and two or three 10"....
M
I'm waiting for a substitute for my nexus 7, but Optimus UI .... bleargh , it's the only UI worse than TouchWiz .... I hope in a GPE of the Lg G Pad 7.0
Z
Yup if it has the off the screen soft keys. I have the G PAD 8.3 and I hate the soft keys on the screen.
ADVERTISEMENTS