Double the potential
LG Optimus 2X review: Double the potential

Good connectivity with HDMI
The connectivity that the LG Optimus 2X has to offer is good and though it lacks buzzwords like Bluetooth 3.0 and 4G, you won't miss much (BT3.0 doesn't do much and "4G" is often misused while meaning HSPA+).
It has quad-band GSM/GPRS/EDGE for world-wide connectivity and dual-band 3G with 10.2Mbps/5.76Mbps for faster mobile Internet in areas with supported 3G bands.
The Optimus 2X has Wi-Fi b/g/n, Bluetooth 2.1 with A2DP and a microUSB port to offer for local data transfers. For multimedia connectivity, there's DLNA (which can play media from/to supported devices wirelessly) and a miniHDMI port for outputting HD video.
USB tethering and Wi-Fi hotspot options are available for sharing the phones data connection. You can secure the Wi-Fi hotspot using WPA2 or leave it open.
Using the SmartShare app you can control a DLNA network – you can play media from other devices (e.g. NAS) on your phone or play something from the phone on another device (e.g. DLNA-enabled TV).
The web browser is good, has Flash
The Android browser is one of the best available on a mobile device – put it on a powerful hardware like the LG Optimus 2X has and it provides flawless experience.
The user interface is completely minimalistic (it's the Google way). All you get on the screen is an address bar and +/- zoom buttons. The address bar is placed on top of the page, so scrolling down moves it out of view and the zoom controls auto-hide.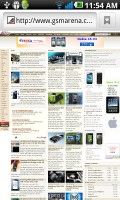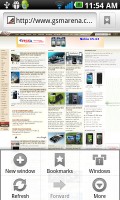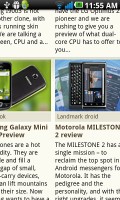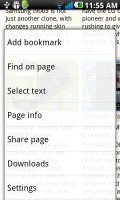 Browsing GSMArena.com on the Optimus 2X • page options
The interface is still very powerful – hit the menu key and six keys pop up. You can open a new tab, switch tabs, refresh the page, go forward, and open bookmarks. The final button reveals even more options (text copying, find on page, etc.).
The Optimus 2X supports double tap zoom and pinch zoom. There's text reflow too – it adjusts the columns of text to fit the screen width. If you've zoomed in using pinch zoom, you need to double tap the screen to make the browser reflow the text.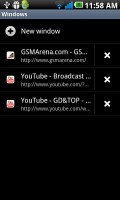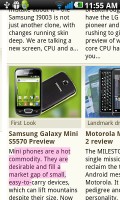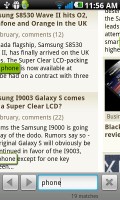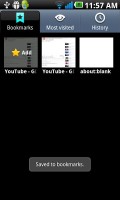 Tab management • text selection • search on page • bookmarks
The bookmark list shows a thumbnail of the bookmarked page and you also get a "most visited" list in addition to the history.
The whole browsing experience is excellent – there's no lagging and the 4" WVGA screen offers plenty of room even for complex web pages. Text remains crisp regardless of zoom level.
The Optimus 2X browser is Flash-enabled and everything ran very smoothly – from desktop YouTube (and other video sharing sites) to touch-oriented Flash games.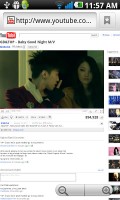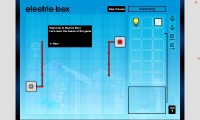 Desktop YouTube in the browser • Flash game in fullscreen, landscape mode
Brilliant office document editor, good organizer
The LG Optimus 2X comes with the usual set of organizing apps and there's a preloaded document viewer and editor (well sort of).
The app in question is Polaris Office and it's one of the most feature advanced mobile editors we've seen. You can of course view documents – Word, Excel and PowerPoint documents and PDF files too.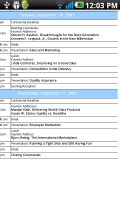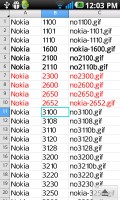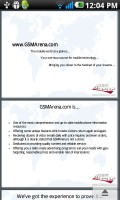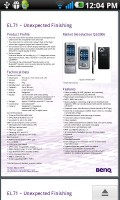 Polaris Office viewer and editor
Editing offers almost a full set of options – text style, justification, paragraph formatting, bullets, even creating tables (that's a first). If you're editing an Excel file, you get a formula wizard, resize rows/colums, border style, merge cells and so on. Even creating a full PowerPoint presentation is possible.
You can do practically anything with the app – it's better than the other mobile editors we've tested, even better than the Windows Phone 7 one (which had many editing limitations).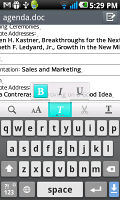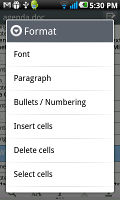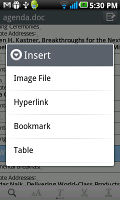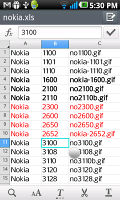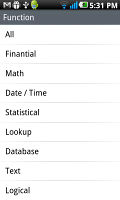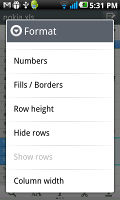 Editing Word and Excel documents in Document Master Office
The app doubles as a file manager and also integrates with Box.net.
The calendar has four different types of view - daily, weekly, monthly and agenda. Adding a new event is quick and easy, and you can also set an alarm to act as a reminder.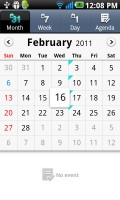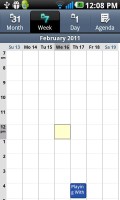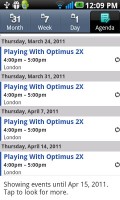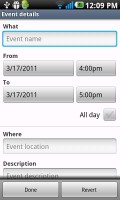 The calendar has the usual good functionality
The LG Optimus 2X features an alarm clock application, which allows a lot of alarms to be set, each with its own start time and repeat pattern.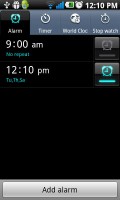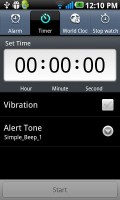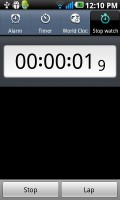 You can easily set up multiple alarms • Stopwatch • Timer
The organizer package also includes a voice recorder, which might be pretty useful for making audio notes and a nicely touch-optimized calculator.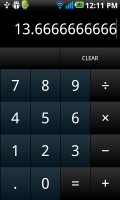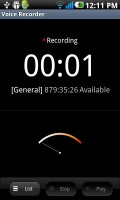 The calculator and the voice recorder
The LG Optimus 2X also comes with F-Secure Mobile antivirus app. It scans files for viruses (though there are very few mobile viruses) and also protects you while you browse the web. A more useful option is the anti-theft functionality – there's a device locator and also remote wipe/lock functions.
The pre-release Optimus 2X came with three games preinstalled – Shrek Karting, Spider-Man and Guitar Hero (the latter being a trial version). The games are not preinstalled on our retail unit, but they are still available for download through the Preloaded Apps app.