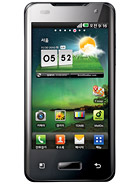 j
Mohamed Ali, 29 Mar 2011i want to know if this phone can work in USA? i have tmobileyes... this phone can be used in USA
D
This Phone launched in India. for 30,000Rs. i.e 681$ precise. Pretty cheap for the Specs tho.!
j
Does this support doc editing as well cause most of the times the site says view but the actual phone has editing also ..
r
I live and work in South Korea, and I purchases this phone last week. Everything in the reviews meets the hype..the vid quality is excellent...you can work on multiple apps at a time and switch and swap between them rapidly..only on this mode, the su660, the home button feels quite flimsy, like it is not going to out live the number of presses it gets.

There are 2 major draw backs. 1: the pre installed apps are second rate...one in particular i have to shut down each time i boot the phone, as it hogs about 40% of the battery..and i never use it..it is the LG Car Home app. The media music player is not intuative. The vid player is short on codecs.

The major upset with this phone is the battery life. If you really used it for what it is being promoted as, you will run the battery down in under 4 to 5 hours..easily. I keep my phones 3g off and wireless off until i want to use it..it is annoying to constant hit that button for on and off to check your e-mails. Otherwise...it is an awesome phone..it has freed me from the constant need to go to desk top to get more than 1 thing done at a time. For gaming though...until there is a much better battery/and power consumption..that is a red herring.
S
oh fantastic work! other companies should introduce this kind but the RAM, display and camera should be improved. ok i am waiting for this to come to india.
M
Another high end phone from the 3rd large cell phone company in the world.good job lg.
M4017285
But this is for South Korea only...
M4017285
Another cool smart phone. :X
Total of 230 user reviews and opinions for LG Optimus 2X SU660.