First look, in stereo
LG Optimus 3D preview: First look, in stereo

This article is outdated. We have already published a full review.
User interface
The 3D apps aside, the user experience that the LG Optimus 3D offers is hardly any different from what you'd get from the Optimus 2X. Still we'll go through the LG home-backed launcher in case you missed that review.
The sad part is that the LG smartphone portfolio is still stuck with Android 2.2 Froyo, despite the fact that 2.3 Gingerbread has been available for more than six months now. Now since Android 2.3 Gingerbread is not such a dramatic improvement we are willing to let it go for now as long as LG promises to step up its game and deliver the update quickly (minor or not it's always better to have the update).
There's now a view mode similar to the HTC Sense leap view, where you see all your homescreen panes in one place and pressing one of them zooms in on it.
This view mode is triggered by the familiar pinch zoom gesture.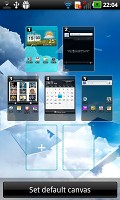 An overview of all homescreen panes appears when you pinch zoom out of any of them
The available number of homescreen panes can be customized too from that view mode with any number between 1 and 7. A set default button lets you select any of your homescreen panes as the default one.
There are four shortcuts docked at the bottom of the LG Optimus 2X screen and are visible on both the homescreen and in the app drawer. You get phone, contacts, messaging and a home/applications button.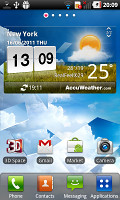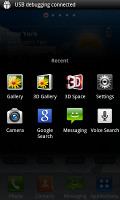 The 3D apps aside, the user experience is about identical to what you get with the Optimus 2X
The LG customizations continue with the app drawer. You get not one but three different options for its styling – a side scrollable horizontal grid, a vertical grid that you scroll upwards and downwards and List view. In vertical grid mode you get icons grouped by categories, which you are free to change however you please.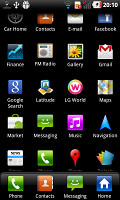 LG brought a custom app drawer too
The notification area, one of the Android strong points, has a few tweaks as well – it's got five switches that toggle Wi-Fi, Bluetooth, GPS, sound and auto screen rotation. There are also music player controls docked here.
Strangely enough though, the gesture controls we saw on the LG Optimus 2X were missing from our pre-release Optimus 3D. As turn-to-mute and turn-to snooze were still present, there's still hope that they can make it in time for the release though.
The general performance seemed pretty good to us even at those stages of the Optimus 3D development. There's no denying that the Optimus 3D oozes with calculating power so things are looking good.
And now we move on to what you really came for - the 3D Space app, which is the hub for all the stereoscopic action on the Optimus 3D.