This summer, in 3D
LG Optimus 3D review: This summer, in 3D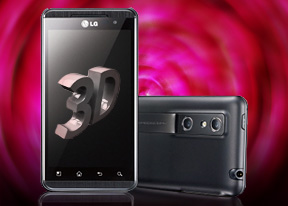 Image gallery and 3D gallery
The LG Optimus 3D comes with both the standard Android gallery and a custom 3D Gallery app.
The standard gallery is great and organizes every image and video into neat folders. It supports pinch zooming and sorting by date. There are tons of options for a picture – you can crop or rotate it directly in the gallery. The Send feature offers quick sharing via Facebook, Twitter, Picasa, Email apps or Bluetooth.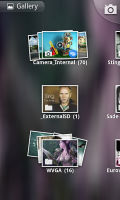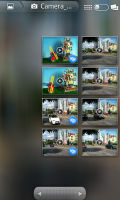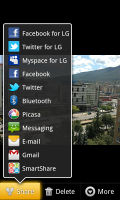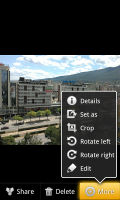 The gallery certainly is a looker • Looking at a single photo
Zooming and panning is fast and smooth, but there's a perceptible lag until the actual panning (or zooming) starts, which is slightly annoying.
Actually, there are some changes to the standard gallery - it recognizes which photos are 3D and puts a small "3D" logo on their thumbnails. It also sports a 3D toggle when viewing those images individually.
There's the 3D Gallery app, which was intended solely for viewing 3D photos and videos, so you'd better use that. It offers a couple of cool interface modes and it's certainly good looking and smoothly running, but it's not particularly functional. In fact, truth be told, it's there solely for the show-off. Besides that, it's a pain to navigate, especially since there's no way of sorting the content by date or type and even the simple, but useful grid view is missing.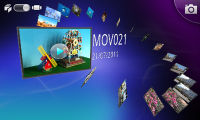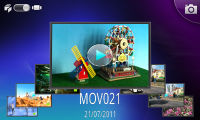 [3D screenshot] The 3D gallery offers a couple of view modes to pick from
A useful option when looking at a single image, is to choose the depth of the 3D effect. We didn't see the need to move it from its default maximum position but changing it might improve the viewing experience for others.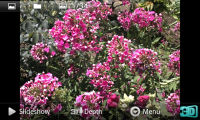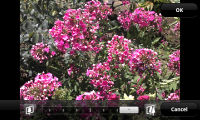 [3D screenshot] Checking out a single image
Eye-candy music player
The music player is the polished player we first got on the Optimus 2X. It can do the usual filtering by album and artist and you have alphabet search and regular search for finding songs quicker.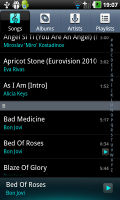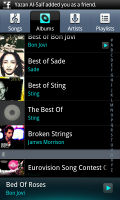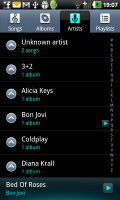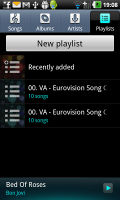 The music player
The Now playing interface places a big album art image in the center with controls above and below it. Swiping the album art left or right is the easiest way to skip a song or go back to the previous one.
A press and hold on the album art will bring up a menu to search – for the title, the artist or the album title. After that you can pick where to search – your music collection, YouTube or a general Internet search.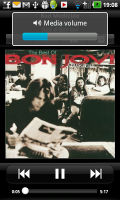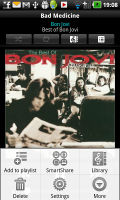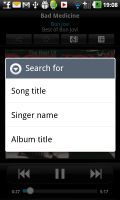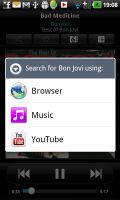 The "Now playing" screen • Searching
There are equalizer presets available, which work only with headphones. You can't create custom equalizers, but the selection of presets is very wide.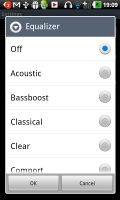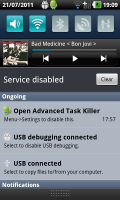 Equalizer • Music controls in the notification area
Flipping the phone on its side reveals a cool wall of all the albums you have in your music collection. Tap on an album and you'll see a list of all songs from it. There's an alphabet scroll at the bottom of the screen to make finding albums faster.
Uninspiring audio output
Unfortunately, the LG Optimus 3D didn't do much better in our audio quality test than the LG Optimus 2X before it. This means that it works well with an active external amplifier, but doesn't take headphones all too well.
So when you use the Optimus 3D with your car or home stereo you can rely on some impressively clean (though hardly the loudest) audio output. This is easy to see from the readings in the table below, which are just great.
When headphones come into play, however, the stereo crosstalk takes a really serious hit - it gets relegated from excellent to one of the worst we have seen. At least the rest of the readings (volume levels included) are almost unaffected, which is somewhat of a consolation. Still, we wouldn't rate the Optimus 3D anything higher than average on this occasion.
| | | | | | | |
| --- | --- | --- | --- | --- | --- | --- |
| Test | Frequency response | Noise level | Dynamic range | THD | IMD + Noise | Stereo crosstalk |
| LG Optimus 3D P920 | +0.11, -1.05 | -86.5 | 88.1 | 0.0047 | 0.013 | -87.4 |
| LG Optimus 3D P920 (headphones attached) | +0.16,-1.03 | -86.4 | 87.9 | 0.011 | 0.068 | -44.1 |
| LG Optimus 2X | +0.01, -0.03 | -90.1 | 90.1 | 0.011 | 0.016 | -89.2 |
| LG Optimus 2X (headphones attached) | +0.14,-0.04 | -89.8 | 89.9 | 0.0098 | 0.111 | -35.1 |
| HTC Sensation | +0.05, -0.34 | -90.2 | 90.2 | 0.012 | 0.021 | -91.1 |
| HTC Sensation (headphones attached) | +0.71, -0.15 | -89.1 | 90.1 | 0.019 | 0.522 | -70.6 |
| Samsung I9100 Galaxy S II | +0.04, -0.09 | -91.4 | 91.9 | 0.0042 | 0.066 | -89.7 |
| Samsung I9100 Galaxy S II (headphones attached) | +1.05, -0.22 | -90.0 | 90.2 | 0.013 | 0.647 | -49.4 |
| LG Optimus Black P970 | +0.21, -3.07 | -64.5 | 65.6 | 0.046 | 0.202 | -66.8 |
| LG Optimus Black P970 (headphones attached) | +0.22,-2.96 | -63.0 | 63.4 | 0.058 | 0.258 | -48.3 |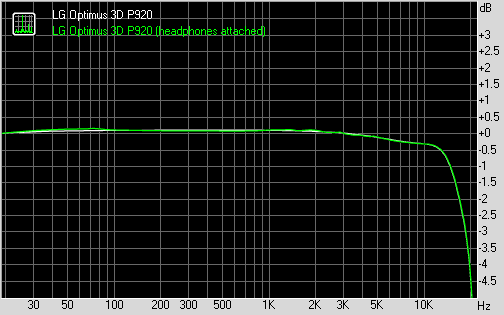 LG Optimus 3D P920 frequency response
You can learn more about the whole testing process here.
Portable movie theater near you, in 3D
The video player has a fairly simple interface – it's just a list of all the videos on the devices. There's an alphabet scroll to help users locate videos faster but that's about it. 3D videos are marked with a "3D" icon, to make them more apparent.
The interface during playback is nothing overcomplicated either – there's the scrubber to skip to some part of the video along with the play/pause button and next and previous buttons.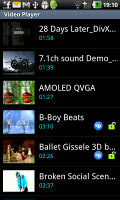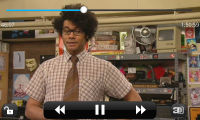 The Video player has a simple interface
There's an extra button to lock the screen during playback and there's a 3D toggle. While in 3D mode, there's an option to adjust the 3D depth, just like in the gallery. By the way, enabling 3D on a 2D video would enable software conversion, which creates a pretty passable 3D effect.
The LG Optimus 3D handled just about every video file we threw at it – the usual 3GP and MP4 stuff along with WMV and AVIs using DivX and XviD. 1080p videos played well too as did long files (nearly two hours) and large files too.
The Optimus 3D even played MKV files – a very common container for HD content, which really sold us on the video player.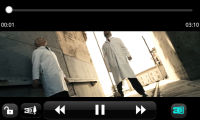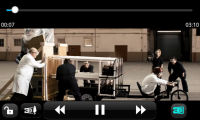 [3D screenshot] Watching a 3D movie
Subtitles worked fine too and you even have settings for font and size. You can toggle subtitles on and off, but there's no option to manually load subtitles (so the subtitle filename has to match the video filename).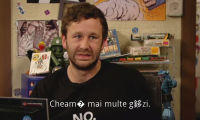 Non-Latin symbols in subtitles don't quite work
There are some issues that need to be addressed though – only English subtitles worked, any non-Latin characters would cause the subtitles to fail (even Spanish subtitles). Using UTF encoding didn't help either.
Also, to change the HDMI output resolution settings, you'll have to access the main Android settings - you can choose from 1080p, 720p and SD resolutions, so even old TVs (e.g. ones that support only up to 1080i) should work.