Nearly everyone at the time was aware of the arduous birth of the white iPhone 4 but making such top products whiter than white is anything but exclusive to the likes of Apple. Other top-end smartphones which have more recently been able to parade around in a white lick of paint include the Android powered Samsung Galaxy S II and the LG Optimus White (aka, the Optimus Black).
It now appears to be the LG Optimus 3D's turn to don the white however, as shots have cropped up from the back rooms of UK mobile retailer Phones 4u alongside its darker, more traditional twin.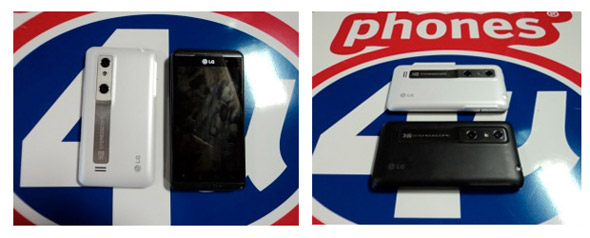 Both white and black Optimus 3D models are available right now from the Phone 4u website, however the white is only available on Orange, O2 and Vodafone, whereas the classic black 3D is also available on T-Mobile as well. This might change down the line but as it stands, there's no sign of the white stuff heading for the magenta 'T'.
The cheapest plan comes courtesy of Vodafone with a 2 year contract at £20.50 a month, excluding the £79 for the handset itself which isn't too bad for that phone's 3D goodness.
Incase you hadn't heard, the LG Optimus 3D is a 4.3" Android smartphone running Froyo 2.2 (upgradeable to Gingerbread 2.3 down the line). The display is a 3D touch screen that uses parallax barrier technology to offer glasses-free 3D to the masses. Specs also include a 1GHz dual-core ARM cortex A9 processor and to make the most of that unusual display, there's a set of dual 5MP cameras for taking 3D stills and film (at 3MP and only in 720p for 3D modes).
Check out the full review of the LG Optimus 3D to really get to grips with what it's all about here.
?
maybe you had a bad experience, but i've been to plenty of phones4u and the service has been brilliant, swings and roundabouts.
A
White phones are for Women and gays?What kind of backwards mentality is that?First off white is a great collor for a phone (tough it gets dirty easier) and if a guy wants a white phone or car or clothes that does not make him gay.If he wears pink may...
b
Im a hetrosexual male who happens not to be a metrosexual either and i think that white phones look great, i suppose you guys think your lady should be at home cooking and cleaning huh??
ADVERTISEMENTS