The UK's branch of LG has announced the Optimus 3D will be delayed at least until the end of June. Meanwhile various retailers have rescheduled their expected release dates for mid-July.
It was just yesterday we informed you about the expected release date in the UK for the Optimus 3D - 20 June. Unfortunately shortly after that, LG UK announced via its Twitter account the 3D smartphone's shipments will be delayed at least until the end of June. This means various retailers and carriers will get it as early as the beginning of July.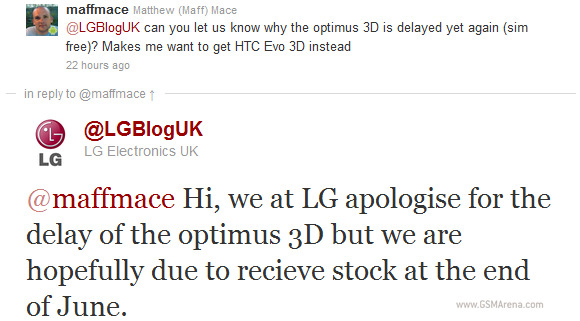 Meanwhile Clove UK (previously pointing at June) has changed the release date to 11 July, while Amazon's new UK date is 13 July.
C'mon, LG, bring that gadget already! By the time it is released, that Android Froyo inside will be no good anymore.
We already secured a pre-release Optimus 3D and we're hard at work on a preview. We'll keep you posted.
M
probably not the best idea to delay this phone. as so many people will want it. but these things do happen. but i agree quad core is on its way, this year. so all the dual core will out of date come december. shame.
?
The Evo 3D is coming to vodafone on July 11. I can see a lot of people just waiting for that now.
D
Honestly LG is foolish. NVidia's Kal-El will be available to manufacturer's by the end of the year. We will have quad-core phones upon us only months after the best dual-core phones finally release. SG2 and Optimus 3D are not being placed well, espec...
ADVERTISEMENTS