Firing on all fours
LG Optimus 4X HD P880 review: Firing on all fours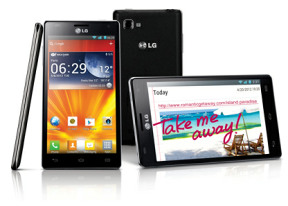 Optimus UI 3.0 at the front
The LG Optimus 4X HD is powered by Android 4.0.3 ICS with the custom Optimus UI 3.0 on top. We saw this setup in the recently-reviewed Optimus L7, but it feels much better on the snappier hardware on the LG flagship. The Koreans have treated Ice Cream Sandwich with their highly customized style but things look subtler than usual, tidy and uncluttered.
We like the mostly bright color themes and the white system menus look very nice on the HD screen. Many aspects of the phone's behavior can be customized, you can go to as small detail as the capacitive key backlight and the transition between homescreen panes.
LG has thrown in some neat tweaks and enhancements and those are by no means limited to the visuals. The MediaPlex is a set of advanced video player options, while the system-wide QuickMemo integration allows phoneblet-like experience.
The Android 4.0 interface is littered with some extra little touches that really make using the UI an enjoyable experience, particularly if you've seen ICS on other devices - small tweaks that pop up here and there will surprise you with their usefulness. We'll be sure to point them out to you as we go along. Now, let's get started with a video demo of the flagship Optimus 4X HD in action.
LG has implemented a cool swipe lockscreen, which lets you see what's "underneath" as you unlock the phone. You can also place up to four shortcuts that will unlock the phone straight into an app.
You can change the lockscreen clock style as well as the four icons at the bottom with whichever app you choose. That's how it should be done - in HTC's Sense for example, the lockscreen shortcuts always repeat the homescreen shortcuts.
While we're at it, the shortcut bar at the bottom of the homescreen is one of the major changes in the Optimus UI 3.0. It can now fit up to 6 shortcuts and that's one more than what TouchWiz offers on the Samsung Galaxy S III. You don't have to use all available slots though - you can only keep the App Drawer shortcut if you want.
As usual, the shortcuts are always visible on any of the homescreen panes. With the exception of the app drawer shortcut, you can rearrange, delete or replace any of these with shortcuts of your choosing, even folders.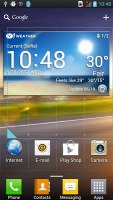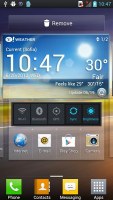 Reordering and resizing widgets
Adding stuff to the homescreen has been updated in this version of Android. A tap and hold on a blank area of a homescreen allows you to add various customizations to your phone. The tabs along the bottom let you select the appropriate app, widget or wallpaper, which you can add to the homescreen of your choice. Gridlines will appear when you hold and drag an app or widget, allowing you to easily place it on the homescreen. Ice Cream Sandwich also allows you to resize most widgets, if you want them to take up more or less space.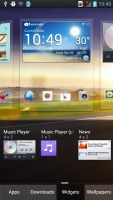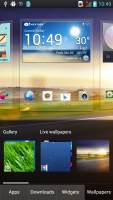 Placing widgets and changing the wallpaper
By default you get a seven homescreens to fill up with widgets and shortcuts, but you are free to delete any that you don't need to speed up navigation. . You can also set the default homescreen to any of the panes.
LG has also enabled a ton of other customization to the the homescreen looks and behavior. There's a dedicated setting for looped homescreen scrolling and the so-called screen effect changes the transition effect between homescreen panes. The good news is the lag we saw on the Optimus L7, when scrolling over from the last (or first) homescreen, is now gone.
The notification area contains one of LG's ICS customizations in the ability to rearrange the toggle buttons shown here and you can also add and remove toggles from the edit menu.
As usual, if you're playing something on the music player, quick controls will show up here. You can also drag notifications to the left or right to dismiss them.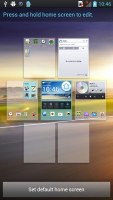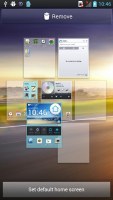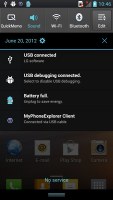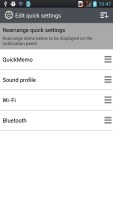 Homescreen preview • The notification area with reorderable settings
The task manager on board is of the new ICS variety, which shows you all of the currently running apps, and lets you stop them by swiping them to the left or right. It is accessed by holding down on the hardware home button.
If you prefer the traditional Gingerbread task manager, that is also available as an optional download in the Application Manager in the app drawer. Keep in mind, however, that this version will only be accessible from the app's icon, while a long press of the home button will still open the ICS task manager.
The app drawer lists all your available apps and widgets, with a dedicated tab for user downloads. There is a button in the top right corner, which triggers edit mode and lets you to easily reorder and uninstall applications.
The contextual menu, accessed from the bottom right capacitive key, gives you the option of fitting more applications on one screen.
LG has done a good job of its custom skin for Android ICS. It's nicely styled (if a little too colorful) and feature-rich abd yet quite tasteful and unobtrusive. We're impressed with the general speed of the phone too. Everything runs smooth as silk and we have no complaints regarding the quality of use. For those who still need to put a number to it, our dedicated Synthetic Benchmarks follow.
Synthetic benchmarks: a Tegra 3 tie with the HTC One X
Benchmark Pi is a simple single-threaded benchmark, so we know what we can expect from it. The Optimus 4X HD falls behind the Krait-powered One X (AT&T) and One S, but comes close to its Cortex-A9 CPU siblings - the Galaxy S III and the One X (international).
Benchmark Pi
Lower is better
HTC One X (Snapdragon S4)
279
HTC One S
306
HTC One X (Tegra 3)
338
Samsung Galaxy S III
344
LG Optimus 4X
350
Samsung Galaxy Note 10.1
351
Samsung Galaxy Nexus
408
Samsung Galaxy S II
452
Sony Xperia S
536
HTC Sensation XE
583
Linpack offers multithreaded benchmarking, making it essential for testing quad-core beasts. The Optimus 4X HD does better than the Tegra 3-based One X, but once again falls behind the Krait-based One S and AT&T One X.
Linpack
Higher is better
HTC One S
210
HTC One X (Snapdragon S4)
196
Samsung Galaxy S III
177.1
LG Optimus 4X
141.5
HTC One X (Tegra 3)
126.1
Samsung Galaxy Note 10.1
90
Sony Xperia S
86.4
Samsung Galaxy S II
77.6
Samsung Galaxy Nexus
77.1
HTC Sensation XE
50.4
Quadrant is a composite benchmark (it tests CPU, GPU and I/O). The LG Optimus 4X HD scored the same as the HTC One X, but was outrun by the One S, AT&T's One X and the Galaxy S III, which topped this chart.
Quadrant
Higher is better
Samsung Galaxy S III
5365
HTC One X (Snapdragon S4)
5146
HTC One S
5047
HTC One X (Tegra 3)
4842
LG Optimus 4X
4814
Samsung Galaxy Note
3531
Sony Xperia S
3173
Samsung Galaxy S II
3053
Samsung Galaxy Nexus
2316
The Optimus 4X HD uses NVIDIA's ULP GeForce GPU. It has a 720p screen to fill with pixels, so we were curious to find out how it fares.
NenaMark 2 shows better performance compared to the Tegra 3-powered One X, but falls behind the Galaxy S III and the US version of the HTC One X.
NenaMark 2
Higher is better
HTC One S
60.5
Samsung Galaxy S III
58.8
LG Optimus 4X
52.3
Samsung Galaxy S II
51.6
HTC One X (Snapdragon S4)
49.1
HTC One X (Tegra 3)
47.5
Samsung Galaxy Note 10.1
43.6
Sony Xperia S
37.5
Samsung Galaxy Nexus
24
HTC Sensation XE
23
GLBenchmark is available on iOS devices too, so it can give us some idea of how the Optimus 4X HD compares to the PowerVR SGX 543 GPUs. We're using the Egypt test in offscreen 720p mode so that results are directly comparable even though each device has a different screen resolution.
GLBenchmark Egypt (offscreen 720p)
Higher is better
New Apple iPad
140
Samsung Galaxy S III
103
Apple iPad 2
90
Apple iPhone 4S
73
HTC One X (Tegra 3)
63
Samsung Galaxy S II
62
LG Optimus 4X
61
HTC One S
56
HTC One X (Snapdragon S4)
55.7
The GPU is obviously as good as the other Tegra 3 contender - the international One X and the best-selling Galaxy S II.
SunSpider is a JavaScript benchmark and as such isn't strongly affected by the number of CPU cores - it mostly reflects the raw performance of a single core and how optimized the JavaScript engine itself is.
SunSpider
Lower is better
Samsung Galaxy S III
1447
HTC One S
1708
New Apple iPad
1722
HTC One X (Tegra 3)
1757
HTC One X (Snapdragon S4)
1834
LG Optimus 4X
1845
Samsung Galaxy S II
1849
Samsung Galaxy Nexus
1863
Samsung Galaxy Note 10.1
1891
Apple iPhone 4S
2217
Sony Xperia S
2587
HTC Sensation XE
4404
BrowserMark adds HTML to the equation - behind the scenes JavaScript computing won't do much if the web page can't update fast and smooth. The Optimus 4X HD easily takes the second place in the chart, beaten only by the Galaxy S III.
BrowserMark
Higher is better
Samsung Galaxy S III
169811
LG Optimus 4X
134036
Samsung Galaxy Note 10.1
113256
Samsung Galaxy S II
111853
Samsung Galaxy Nexus
103591
New Apple iPad
103264
HTC One S
98435
HTC One X (Tegra 3)
96803
HTC One X (Snapdragon S4)
92232
Apple iPhone 4S
88725
Sony Xperia S
74990
HTC Sensation XE
72498