Today LG unveiled its next flagship - the Android 2.2 Froyo-powered Optimus Black. It utilizes the LG's latest innovation - the 4-inch NOVA display - which is supposed to be the world's brightest screen.
LG are quite mum on the NOVA's technology, but it claims it's the "brightest, clearest and most readable" mobile screen out there with 700 nits of brightness. According to LG the NOVA display consumes 50% less energy than the regular LCDs indoors and the AMOLEDs at full white. These capabilities combined with the 1500 mAh battery should give us some impressive battery life.
The LG Optimus Black is another slim device with 9.2mm of thickness and 106 grams of weight. It packs a 2 megapixel front-facing camera and 5 or 8 megapixel rear one capable of HD video recording. The Android version ticking inside is Froyo masked with the Optimus UI 2.0, but it should get Gingerbread at some time.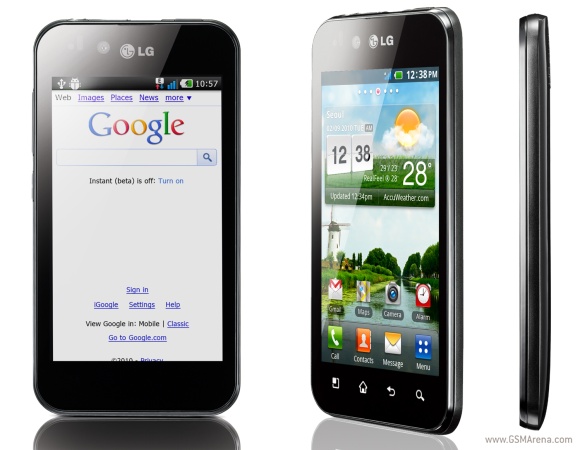 LG Optimus Black
It seems LG wasn't satisfied by the world's brightest screen and the first 2 megapixel video-call camera, so it's added another pioneer inside - the Wi-Fi Direct. LG Optimus Black has the innovative Wi-Fi direct feature that allows users to connect devices through Wi-Fi connections without the need of a Wi-Fi hotspot.
Unfortunately, the last claim is quite controversial since Samsung's I9000 Galaxy S has already been Wi-Fi Direct-certified and waits its enabling in the upcoming months.
More details on the LG Optimus Black are expected tomorrow, while the handset should become available in the first half of 2011.
Another thing that LG is preparing to present at CES 2011 is the world's first 4-inch 3D mobile display relying on the parallax barrier technology and does not require 3D glasses. LG promises brighter, smoother and cross-talk-free picture with wider viewing angles.
All this sounds good on paper, but we are waiting to see all this in some real action.
g
thus "innovation". they never claimed they invented it. They just innovated. They did really change the game for mobile computing.
t
your absolutely right. why does every icrap lover think apple is so innovative. when us knowlegeable peopl can see that other companies have been doing this stuff for a long time. apple just put their twist on existing designs and called it theirs!
j
This is really great phone from LG and its going to give tough fight to its competitors,but full specs of this phone is stll unknown. We still dont knw about its RAM,onboard memory, radio, primary camera, processor etc..... I think RAM on this thng w...
ADVERTISEMENTS