Double impact
LG Optimus G for AT&T and Sprint review: Double impact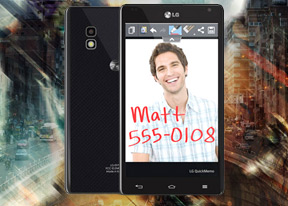 Introduction
With the dust barely settled after the Korean LG Optimus G's run around out review track, we have its LTE packing, US siblings on our hands. The LG Optimus G E970 for AT&T and its LS970 relative for Sprint are the two versions which are offered across the Atlantic. Thankfully, the wait for their arrival wasn't long at all - LG pulled off a launch which looked a lot like what Samsung did with the Galaxy SIII earlier this year.







LG Optimus G E970 and LS970 official photos
The LG Optimus G E970 and its LS970 relative are slightly different characters. The AT&T version comes with an 8MP camera and a microSD card slot. The Sprint-flavored Optimus G on the other hand, is practically identical to the Korean version, which we have reviewed already. This means that users will enjoy a larger, 13MP camera sensor, but will have to settle for 32GB on non-expandable memory.
Most importantly however, both smartphones come with the headline grabbing Qualcomm Snapdragon S4 Pro chipset and two gigs of RAM, which means that, regardless which one they pick, potential users will get to enjoy the most powerful Android hardware around.
Here goes the full list of talents which the US LG Optimus G duo has to offer.
Key features
Quad-band GSM/GPRS/EDGE support
3G with HSPA; LTE
CDMA network support (Sprint Wireless version only)
4.7" 16M-color WXGA True HD IPS Plus (768 x 1280 pixels) capacitive touchscreen, Gorilla Glass
Android OS v4.0.4 Ice Cream Sandwich, planned upgrade to 4.1 Jelly Bean, LG Optimus UI 3.0
Quad-core 1.5 GHz Krait CPU, 2 GB RAM, Adreno 320 GPU, Qualcomm Snapdragon S4 Pro chipset
13 MP autofocus camera with LED flash and geotagging, image stabilization, Time catch shot, smart shutter (Sprint version)
8 MP autofocus camera with LED (AT&T version)
1080p video recording @ 30fps with continuous autofocus and stereo sound
1.3 MP front-facing camera, 720p video recording
Wi-Fi a/b/g/n, Wi-Fi Direct and DLNA
GPS with A-GPS, GLONASS
32GB of built-in storage (Sprint version)
16GB of built-in storage; microSD card slot with 16GB card preinstalled (AT&T version)
MHL-enabled microUSB port, USB host support
Bluetooth v4.0
Standard 3.5 mm audio jack
Voice dialing
Two app overlay mode for multi-tasking (Q Slide)
Independent multimedia content output through MHL (Dual Screen Dual Play)
Accelerometer and proximity sensor
Active noise cancellation with dedicated mic
Main disadvantages
No microSD card slot on the Sprint version
No Jelly Bean at launch
Screens have mediocre sunlight legibility
Non user-replaceable battery
There is hardly a box left unchecked by the LG Optimus G duo. Both devices offer impressive hardware and gorgeous screens. Even the software is a massive improvement over LG smartphones of old.
Of course, the long list of features can do anything for a smartphone but guarantee its success. This is particularly the case in the US market, where the LG Optimus G has to face incredibly stiff competition.





LG Optimus G E970 and LS970 live shots
We are going to kick the review off with a quick unboxing, followed by a design and build quality inspection of both the LG Optimus G for AT&T and Sprint Wireless. The dedicated camera section on the other hand, will closely examine and compare LG's 13MP and 8MP camera sensors' performance.
Editorial: You might notice that this review is shorter than usual and doesn't include all of our proprietary tests. The reason is it has been prepared and written far away from our office and test lab. The LG Optimus G for AT&T and Sprint are US-only phones, so they will probably never get to the shores of the Old Continent. Still, we think we've captured the essence of the phones in the same precise, informative and detailed way that's become our trademark. Enjoy the good read!
h
I have lg e970 ....When I call on Skype it stops and come to main screen Can I use Skype on this cellphone Anyone help me !
M
I've had the LG Optimus LS-970 for 9 months,till about 2 weks ago I loved it,my husband has an i-phone,& he is always stealing mine to browse the web.Says mine is better than his. Heres my problem,itwon't hold a charge,takes 8-10 hours to charge....
n
To the person complaining about having to take the phone back after a week, did you buy a phone case with a magnet? The same thing happend to my phone after 4 days of buying it i brought a phone case with a magnet thinking nothing of it but after a f...