Proceed to checkout
LG Optimus G Pro review: Proceed to checkout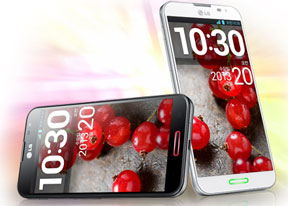 Display
The eye-catching 5.5" True HD IPS Plus display of Full HD resolution is definitely one of the LG Optimus G Pro's key selling points. LG is keen on making lots of noise about how the colors are rendered, pitting it against Samsung's AMOLED displays. Long story short, LG claims the Optimus G Pro's display shows 100% accurate colors, unlike AMOLED screens.
Here's what the screen looks like through the eyes of our digital microscope: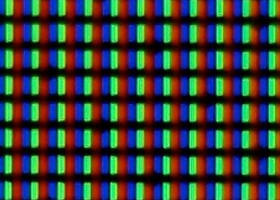 LG Optimus G Pro screen up close
Of course, we took it for a test drive ourselves and we can safely confirm that the images indeed look great and colors pop, especially the reds. The display is impressively sharp too, thanks to the amazing pixel density of 400 ppi.
So, the screen junkies that we are, we decided to take out the Galaxy S III and put its Super AMOLED 720p screen next to the True HD-IPS+ 1080p LCD of the G Pro. The S III has better contrast and oversaturated colors (which is plus or a minus, depending on who you ask).



A head on image of the two screens
The LG Optimus G Pro's screen is more reflective and there is contrast loss when you're looking at the screen at an angle. It's a minor thing though, the G Pro screen is excellent overall.




Check out the reflective surfaces and viewing angles
We also compared the Optimus G Pro to the regular Optimus G. The smaller phone has a screen of 318ppi and, while you can't quite see individual pixels, you can still notice jaggies on curves and diagonals.
The Optimus G Pro's screen has about the same contrast though it's brighter. It has a noticeable advantage in viewing angles, the Optimus G screen starts showing a shift in contrast earlier and the effect is much stronger. The Optimus G Pro screen is a bit more reflective though and it's sunlight legibility is worse.
Display test
50% brightness
100% brightness
Black, cd/m2
White, cd/m2
Contrast ratio
Black, cd/m2
White, cd/m2
Contrast ratio
LG Optimus G Pro
-
-
-
0.41
611
1489
Samsung I8730 Galaxy Express
0
201
∞
0
364
∞
HTC Butterfly
0.14
173
1200
0.45
501
1104
Sony Xperia Z
-
-
-
0.70
492
705
Oppo Find 5
0.17
176
1123
0.51
565
1107
LG Optimus G
0.14
197
1445
0.33
417
1438
Samsung I9300 Galaxy S III
0
174
∞
0
330
∞
Nokia Lumia 920
-
-
-
0.48
513
1065
Apple iPhone 5
0.13
200
1490
0.48
640
1320
Nexus 4
0.22
314
1447
0.45
608
1341
HTC One X
0.15
200
1375
0.39
550
1410
Sunlight contrast ratio
Nokia 808 PureView
4.698
Samsung I9300 Galaxy S III
3.419
Samsung Omnia W
3.301
Samsung Galaxy S
3.155
Nokia N9
3.069
Samsung Galaxy Note
2.970
HTC One S
2.901
Samsung Galaxy Express
2.861
Samsung Galaxy S II
2.832
Samsung Galaxy S II Plus
2.801
Huawei Ascend P1
2.655
Nokia Lumia 900
2.562
Sony Xperia Z
2.462
Samsung Galaxy S III mini
2.422
Motorola RAZR i
2.366
Apple iPhone 4S
2.269
HTC One X
2.158
Nokia N8
2.144
Oppo Find 5
2.088
BlackBerry Z10
2.051
Apple iPhone 4
2.016
Sony Ericsson Xperia ray
1.955
Samsung Galaxy Camera
1.938
HTC Butterfly
1.873
Sony Xperia V
1.792
Sony Xperia U
1.758
LG Optimus G
1.753
LG Optimus 4X HD
1.691
HTC One V
1.685
LG Optimus Vu
1.680
HTC Desire V
1.646
Samsung Galaxy Xcover 2
1.632
LG Optimus G Pro
1.552
LG Optimus 3D
1.542
Nokia Asha 302
1.537
Nokia Lumia 610
1.432
Gigabyte GSmart G1355
1.361
Samsung Galaxy Grand
1.321
HTC Desire C
1.300
LG Optimus L7
1.269
LG Optimus L9
1.227
Meizu MX
1.221
Sony Xperia E dual
1.203
Samsung Galaxy Pocket
1.180
Sony Xperia tipo
1.166
Samsung Galaxy mini 2
1.114
The capacitive sensor on the screen is very sensitive and will detect touches even if you're wearing gloves, using a long fingernail or an improvised stylus (like keys, some pens, etc.). Unfortunately, there was also a fair number of accidental taps as the screen is a bit too receptive.
We should note something we ran across during benchmarking the Optimus G Pro. After an intensive benchmark the screen refused to go over 92% brightness due to "temperature restrictions". The back of the device was warm, but not unpleasantly hot. It cooled off pretty quickly and the screen went back to full brightness, but it's something to keep in mind when running intensive games.