Proceed to checkout
LG Optimus G Pro review: Proceed to checkout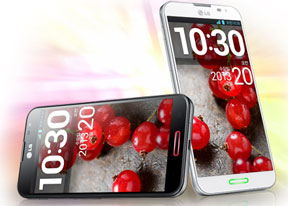 Google Now shows what virtual assistants should be like
Google Now was first introduced in Jelly Bean 4.1 and is definitely one of the most interesting additions to the OS. Simply put, it's Google's version of a personal assistant. Google Now is in the same neck of the woods as Apple's Siri, but it learns constantly from your use patterns.
It's accessed by swiping up on any of the on-screen controls and gives you a short overview of information it believes is relevant to you. Going to work the same route every morning? Google Now will let you know there's a big traffic jam on your usual way to the office and will offer an alternative route.
It can interpret a lot of things from your search history as well. If you've been searching for, let's say, your favorite football team, Google Now will prepare a card showing you the next match the team is playing and will provide you with score updates once the game begins.
Google constantly updates Google Now and in its latest version has become even smarter. If you allow it, the service can scan your email for upcoming flights, deliveries or restaurant reservations and let you know when they are due. There are also numerous kinds of cards like birthdays (yours and those of your contacts and friends in the Google+ social network) and what distance you've walked in a particular month.
Google has also integrated Voice Actions. They can handle stuff like sending messages (SMS or email), initiating a voice call, asking for directions, taking a note or opening a site. Google Now can also launch apps, check and manage your calendar and look for nearby places of interest and stuff like movie openings in theaters.
One big advantage of Google's Jelly Bean is that the voice typing functionality doesn't require an internet connection to work. You can enter text by speaking anywhere you can use the on-screen keyboard - be it the Messaging app or a note taking app - without the need for a data connection as long as you have pre-downloaded the needed language packs (and those only take about 20-25MB of your storage per pack).
Making voice typing available offline also made things faster as it's not dependent on the speed of your data connection. What's even more impressive is that the transition hasn't cost it anything in regards to accuracy.
Synthetic benchmarks
The LG Optimus G Pro boasts a Snapdragon 600 chipset with four Krait 300 cores clocked at 1.7GHz, 2GB of RAM and the Adreno 320 GPU. With specs like that you would expect the phablet to be a real benchmark champion and luckily it delivers.
The Optimus G Pro managed to top the Benchmark Pi and Linpack tests, which are meant to judge single and multi-core performance respectively.
Benchmark Pi
Lower is better
LG Optimus G Pro
147
HTC One
151
Sony Xperia Z
264
HTC Butterfly
266
Oppo Find 5
267
HTC One X+
280
LG Optimus G
285
Samsung Galaxy Note II
305
HTC One X (Tegra 3)
330
LG Optimus 4X HD
350
Samsung Galaxy S III
359
Meizu MX 4-core
362
Nexus 4
431
Linpack
Higher is better
LG Optimus G Pro
743
HTC One
646
Sony Xperia Z
630
HTC Butterfly
624
LG Optimus G
608
Oppo Find 5
593
Samsung Galaxy Note II
214.3
Nexus 4
213.5
Meizu MX 4-core
189.1
HTC One X+
177.7
Samsung Galaxy S III
175.5
HTC One X
160.9
LG Optimus 4X HD
141.5
The 5.5" LG flagship had excellent performance in the two compound benchmarks we run, too. At Antutu it didn't quite manage to come on top, but it still posted a great score of over 20,000 points, while Quadrant saw the LG Optimus G Pro score another victory.
AnTuTu
Higher is better
HTC One
22678
Sony Xperia Z
20794
LG Optimus G Pro
20056
Samsung Galaxy S III
15547
Oppo Find 5
15167
HTC Butterfly
12631
Quadrant
Higher is better
LG Optimus G Pro
12105
HTC One
11746
Sony Xperia Z
8075
HTC One X+
7632
LG Optimus G
7439
Oppo Find 5
7111
HTC One X
5952
Samsung Galaxy Note II
5916
Samsung Galaxy S III
5450
Meizu MX 4-core
5170
LG Optimus 4X HD
4814
Nexus 4
4567
We ran GLBenchmark off-screen, which means we're testing at a fixed resolution, which lets us test the raw GPU power. The Optimus G Pro didn't disappoint, but failed to beat the HTC One. Still, it scored as much as the less powerful Xperia Z, and a tad better than the iPhone 5.
GLBenchmark 2.5 Egypt (1080p offscreen)
Higher is better
HTC One
34
Asus Padfone 2
31
Oppo Find 5
30
LG Optimus G Pro
29
Sony Xperia Z
29
LG Optimus G
29
Apple iPhone 5
27
Nexus 4
26
Samsung Galaxy Note II
17
Samsung Galaxy S III
15
HTC One X+
12
HTC One X
9
But most games will probably want to run at native resolution, so we're including Epic Citadel, which uses Unreal Engine 3. Unreal Engine is popular with mobile game makers, so it's a pretty important test. The benchmark was run at the High Quality setting and yet the Optimus G Pro posted a great result and is breathing in the Xperia Z's neck pushing the 60fps limitation.
Epic Citadel
Higher is better
Sony Xperia Z
55.6
LG Optimus G Pro
54.2
Nexus 4
53.9
Asus Padfone 2
53.4
LG Optimus G
52.6
Samsung Galaxy S III
41.3
Oppo Find 5
38.6
SunSpider is all about pure JavaScript performance. Here, the Optimus G Pro only got a mid-table finish, but the truth is the difference is hard to perceive in real-life scenarios.
SunSpider
Lower is better
Samsung Ativ S
891
Apple iPhone 5
915
Nokia Lumia 920
910
Samsung Galaxy Note II
972
HTC One X+
1001
LG Optimus G Pro
1011
Motorola RAZR i XT890
1059
HTC One
1124
Samsung Galaxy S III
1192
Meizu MX 4-core
1312
LG Optimus G
1353
HTC Butterfly
1433
Sony Xperia Z
1906
Nexus 4
1971
Oppo Find 5
2045
BrowserMark 2
Higher is better
LG Optimus G
2555
HTC One
2262
Sony Xperia Z
1865
LG Optimus G Pro
1801
Oppo Find 5
1797
Nexus 4
1794
Nokia Lumia 920
1774
Nokia Lumia 820
1760
Samsung Omnia W
1632
HTC Butterfly
1475
Samsung Galaxy S III
1247
Overall, the Snapdragon 600 platform proved itself to be an excellent choice for the full HD Optimus G Pro, turning it into an excellent performer. UI navigation is fluid and smooth with apps launching more than swifly.