Sumo wrestling
LG Optimus G Pro vs. Samsung Galaxy Note II: Sumo wrestling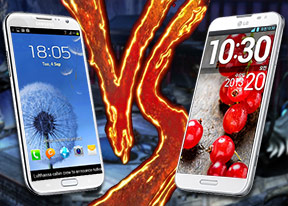 Synthetic benchmarks
The Samsung Galaxy Note II is powered by a Samsung-made Exynos 4412 Quad chipset with four Cortex-A9 cores clocked at 1.6GHz, 2GB of RAM and a Mali-400 GPU. In 2012 that was one of the fastest chipset available, but now it shows its age when compared directly to the Optimus G Pro.
Speaking of which, LG's offering boasts the brand new Snapdragon 600 chipset with four Krait 300 cores clocked at 1.7GHz, 2GB of RAM and the Adreno 320 GPU. With specs like that you would expect the phablet to wipe the floor with its competitor and that's pretty much what you'll get.
The Optimus G Pro came on top on the Benchmark Pi and Linpack tests, which are meant to judge single and multi-core performance respectively. The Galaxy Note II couldn't come close to its rival in either test.
Benchmark Pi
Lower is better
LG Optimus G Pro
147
HTC One
151
Sony Xperia Z
264
HTC Butterfly
266
Oppo Find 5
267
HTC One X+
280
LG Optimus G
285
Samsung Galaxy Note II
305
HTC One X (Tegra 3)
330
LG Optimus 4X HD
350
Samsung Galaxy S III
359
Meizu MX 4-core
362
Nexus 4
431
Linpack
Higher is better
LG Optimus G Pro
743
HTC One
646
Sony Xperia Z
630
HTC Butterfly
624
LG Optimus G
608
Oppo Find 5
593
Samsung Galaxy Note II
214.3
Nexus 4
213.5
Meizu MX 4-core
189.1
HTC One X+
177.7
Samsung Galaxy S III
175.5
HTC One X
160.9
LG Optimus 4X HD
141.5
The 5.5" LG flagship had excellent performance in the Quadrant compound benchmarks we ran, too.
AnTuTu
Higher is better
HTC One
22678
Sony Xperia Z
20794
LG Optimus G Pro
20056
Samsung Galaxy S III
15547
Oppo Find 5
15167
HTC Butterfly
12631
Quadrant
Higher is better
LG Optimus G Pro
12105
HTC One
11746
Sony Xperia Z
8075
HTC One X+
7632
LG Optimus G
7439
Oppo Find 5
7111
HTC One X
5952
Samsung Galaxy Note II
5916
Samsung Galaxy S III
5450
Meizu MX 4-core
5170
LG Optimus 4X HD
4814
Nexus 4
4567
We ran GLBenchmark off-screen, which means we're testing at a fixed resolution, which lets us test the raw GPU power. The Optimus G Pro and the Adreno 320 GPU residing in it didn't disappoint and offered nearly twice the raw power of the the Mali-400 GPU in the Note II. The again, given that the Galaxy Note II has less than half the pixels of its opponent, the real-life gaming performance is quite on par on those two (of course you'll be getting more detailed graphics on the Optimus G Pro).
GLBenchmark 2.5 Egypt (1080p offscreen)
Higher is better
HTC One
34
Asus Padfone 2
31
Oppo Find 5
30
LG Optimus G Pro
29
Sony Xperia Z
29
LG Optimus G
29
Apple iPhone 5
27
Nexus 4
26
Samsung Galaxy Note II
17
Samsung Galaxy S III
15
HTC One X+
12
HTC One X
9
Next up are browser benchmarks, where the Samsung optimizations helped the Note II make up some ground. SunSpider is all about pure JavaScript performance and the Samsung phablet managed to beat its rival, scoring its first victory for the day.
SunSpider
Lower is better
Samsung Ativ S
891
Apple iPhone 5
915
Nokia Lumia 920
910
Samsung Galaxy Note II
972
HTC One X+
1001
LG Optimus G Pro
1011
Motorola RAZR i XT890
1059
HTC One
1124
Samsung Galaxy S III
1192
Meizu MX 4-core
1312
LG Optimus G
1353
HTC Butterfly
1433
Sony Xperia Z
1906
Nexus 4
1971
Oppo Find 5
2045
Winner: LG Optimus G Pro. The Snapdragon 600 platform is way newer than the Samsung-made Exynos 4410, which has been around for more than a year now, and it clearly shows in the benchmark scores of the two. It is commendable, though, that the Galaxy Note II was able to successfully stand its ground in terms of JavaScript and graphics performance (the latter - thanks to its lower resolution).