Beast wars
LG Optimus G v Samsung Galaxy S III: Beast wars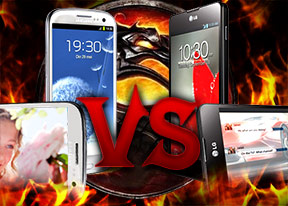 Synthetic benchmarks
We keep calling the Snapdragon S4 Pro chipset a monster, but how fast is it really? The Exynos 4 Quad chipset was the fastest on the market just five months ago, so how big a difference can a generation in CPU architectures make?
Well, we turn to synthetic benchmarks to answer these questions. The Samsung Galaxy S III does have the advantage of running Jelly Bean (which offers a faster web browser and other optimizations, but consumes more GPU power). The LG Optimus G has an extra disadvantage (besides the older OS) in that the S4 Pro chipset is still new and the drivers for it aren't fully mature yet.
BenchmarkPi and Linpack show that the Krait cores have an advantage in both single and multi-threaded performance. They are a special case as they measure raw CPU power.
Benchmark Pi
Lower is better
LG Optimus G
285
Samsung Galaxy Note II
305
HTC One X (Tegra 3)
330
LG Optimus 4X HD
350
Samsung Galaxy S III
359
Meizu MX 4-core
362
Linpack
Higher is better
LG Optimus G
608
Samsung Galaxy Note II
214.3
Meizu MX 4-core
189.1
Samsung Galaxy S III
175.5
HTC One X (Tegra 3)
160.9
LG Optimus 4X HD
141.5
Geekbench, AnTuTu and Quadrant try to give compound scores testing CPU, RAM, GPU and I/O. Geekbench and AnTuTu give the win to the Galaxy S III, while Quadrant prefers the Optimus G (it should be noted that the Quadrant benchmark is made by Qualcomm). We suspect the Optimus G performance will improve as the software matures, but at the moment, it's not a decisive victory.
Geekbench
Higher is better
Samsung Galaxy Note II
2000
Samsung Galaxy S III
1748
LG Optimus G
1723
LG Optimus 4X HD
1661
HTC One X (Tegra 3)
1634
Apple iPhone 5
1601
AnTuTu
Higher is better
Samsung Galaxy Note II
13562
Samsung Galaxy S III
12288
Meizu MX 4-core
11820
LG Optimus 4X HD
11735
HTC One X (Tegra 3)
11633
LG Optimus G
11226
Quadrant
Higher is better
LG Optimus G
7439
HTC One X (Tegra 3)
5952
Samsung Galaxy Note II
5916
Samsung Galaxy S III
5375
Meizu MX 4-core
5170
LG Optimus 4X HD
4814
Let's turn to GLBenchmark and see what those GPUs can do. NenaMark 2 can't stress them enough, so they run into the 60fps software-imposed limit.. GLBenchmark was tested using the offscreen mode, which sidesteps software fps limits and differences in hardware screen resolution.
Anyway, going up to 1080p showed a clear difference. The Adreno 320 in the LG Optimus G offered nearly double the framerate (and it's a playable framerate too) compared to the Mali-400 in the Samsung Galaxy S III. Sure, neither phone has a 1080p screen, but this shows that the Optimus will offer more playable framerates with games are heavier than GLBenchmark.
GLBenchmark 2.1 Egypt (720p offscreen)
Higher is better
LG Optimus G
113
Samsung Galaxy Note II
105
Samsung Galaxy S III
99
Meizu MX 4-core
80
HTC One X (Tegra 3)
64
LG Optimus 4X HD
61
GLBenchmark 2.5 Egypt (1080p offscreen)
Higher is better
LG Optimus G
29
Apple iPhone 5
27
Samsung Galaxy Note II
17
Samsung Galaxy S III
15
HTC One X (Tegra 3)
9
Web browsing proved to be the Achilles heel of the LG Optimus G. It loses on all three benchmarks we ran, but more worryingly, it lost two rounds to the Tegra 3-powered Optimus 4X HD (which also runs ICS).
SunSpider
Lower is better
Apple iPhone 5
915
Samsung Galaxy Note II
972
Motorola RAZR i XT890
1059
Samsung Galaxy S III
1192
Meizu MX 4-core
1312
LG Optimus G
1353
LG Optimus 4X HD
1446
HTC One X (Tegra 3)
1468
BrowserMark
Higher is better
Apple iPhone 5
189937
Samsung Galaxy Note II
185034
Meizu MX 4-core
158404
Samsung Galaxy S III
157176
Motorola RAZR i XT890
149038
LG Optimus 4X HD
147582
HTC One X (Tegra 3)
140270
LG Optimus G
118126
Vellamo
Higher is better
Samsung Galaxy Note II
2418
HTC One X (Tegra 3)
2078
Samsung Galaxy S III
1641
LG Optimus 4X HD
1568
LG Optimus G
1522
Meizu MX 4-core
1468
See what we mean about software maturity? The LG Optimus G has the hardware to come out the undisputed winner in this chapter, but it only managed to comprehensively outdo its rival in graphics power and got tripped up by software elsewhere. Qualcomm's Mobile Developer Platform with Snapdragon S4 Pro (CPUs clocked at 1.5GHz) benchmarked better than what we're seeing from the Optimus G.