Beast wars
LG Optimus G v Samsung Galaxy S III: Beast wars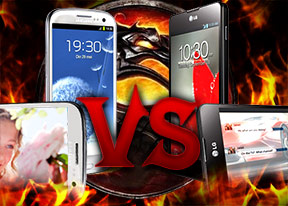 Still camera comparison
Comparing a 13MP camera and an 8MP camera might seem like comparing apples to oranges, but higher resolution doesn't necessarily mean better image quality.
Both phones use customized camera interfaces, but the look and functionality has converged to the point where there isn't much difference. Both UI feature a column of customizable shortcuts on the left, for example.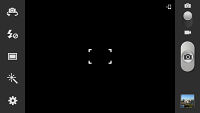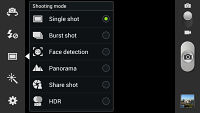 Samsung Galaxy S III camera UI
Both the LG Optimus G and the Samsung Galaxy S III can shoot panoramas, HDR photos, burst shots, and take photos during video capture. They also offer face detection and voice-powered shutter.
The Optimus G has that humpback volume rocker that can be used as a hardware shutter key.
A cool option that LG has added is the so-called Time machine camera. It continuously snaps photos in the background, waiting for you to press the shutter. And when you do, it saves several of the photos captured before you pressed the shutter and several after. This way you can capture the moment even if you don't have cat-like reflexes.
The LG Optimus G may have an extra 5MP resolution, but in terms of image quality it doesn't really pull ahead. Photos are grainy (it's easy to spot it in the sky) and the noise reduction that tries to fight the effect takes away a good deal of the fine detail. So, while the Samsung Galaxy S III has fewer pixels to work with, it resolves about the same amount of detail (and even more on some occasions).
In terms of color accuracy, both phones are fairly good, but the Optimus G photos have a yellowish tint, while the Galaxy S III boosts the green channel, so neither is perfect.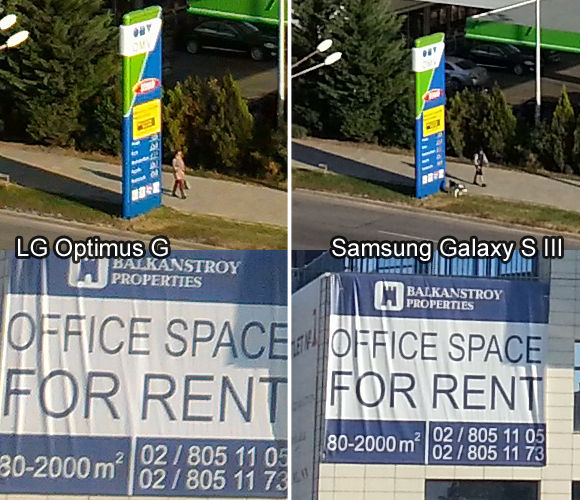 In the crops below you can see just how much the noise reduction takes away from the Optimus G photos (most visible in the foliage) and you'll spot the subsequent sharpening to try and bring the detail back (the fence against the blue sky).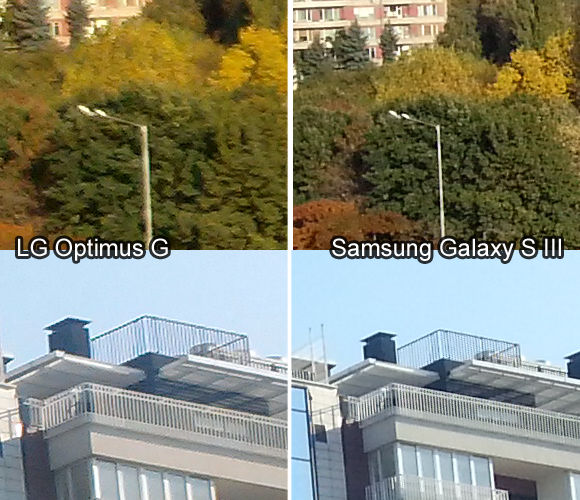 Here are the full resolution camera samples if you want to take a look a better look and do some pixel peeping yourself.





Samsung Galaxy S III camera samples
We should note that both cameras have virtually the same field of view and that the macro shots were taken from the closest possible distance (The Galaxy S III was able to focus from slightly closer range). They were shot under artificial lighting, where the Optimus G continues to exhibit a yellowish tint.
Pixel peepers can aslo head over to our Photo compare tool. Take a close look at the synthetic resolution chart (the first one), it tries to gauge the captured resolution for cameras.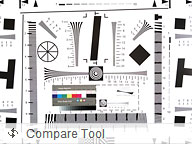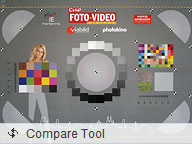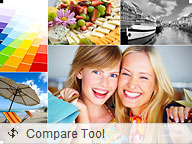 LG Optimus G vs. Samsung Galaxy S III in our Photo compare tool
We have a crop of the relevant areas. The LG Optimus G has a slight advantage, but it's no nearly as great as the resolution difference suggests.