Final words
Summing things up, the LG Optimus GJ has a spectacular screen, a really capable chipsetand all sorts of nifty connectivity features. It lacks the last Android release and update schedule is never clear with LG, but it's still relatively up-to-date (it has Jelly Bean) and it's feature-rich with several proprietary software perks of its own. Its camera capabilities may not be high-end, but it's a good snapper nonetheless.
Its biggest usability flaw is that under heavy load, it tends to heat up pretty quickly and the automatic underclocking takes away a bit of its performance edge.
Indeed, the LG Optimus GJ is an intriguing offer. This, however, is not because of its software package (the Android 4.1.2 build on the Optimus G Pro is more robust), its hardware (it's virtually identical to the Optimus G), or even its IPX7 water resistance. With the Optimus GJ, it's the market segment placement that's crucial to its success.
As we stated at the start of our review, LG is mere weeks away from releasing its next flagship, the G2. This will effectively move the Optimus G (and, in turn, the GJ) firmly into midrange territory. The GJ will then no longer have to compete with the more robust flagship waterproof offerings from Sony and Samsung - namely the Xperia Z and Galaxy S4 Active - but instead moves into the relatively barren upper-midrange market of submersible smartphones.
With most manufacturers looking at their flagship lineup, few are thinking about providing IP-certified devices below that price point. Few doesn't mean none, however, as although the waterproof bandwagon hasn't come full force to all market segments, Sony has just released what is shaping up to be the Optimus GJ's main competitor, the Xperia ZR.
Featuring a notably more compact and lighter (but thicker) construction, the Sony Xperia ZR shares the same 720p display resolution, slightly smaller 4.55" screen, quad-core Krait CPU, 2GB of RAM, and even a 13MP camera. You'll be giving up some storage space and the front-facer only has VGA recording, but Sony has managed to squeeze in LTE, NFC and FM radio antennas - all of which are missing on the Optimus GJ.
Sony also has a couple of older waterproof offerings that could give the Optimus GJ a run for your money, depending on what you're looking for. The Sony Xperia V and the Xperia acro S both feature 4.3-inch 720p displays, although neither has the horsepower to content with the GJ in the processing department. Both devices are notably more compact than the GJ as well, and have the aforementioned antenna support that the LG device lacks.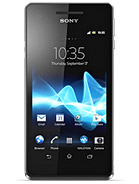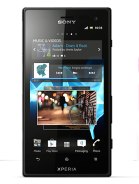 Sony Xperia V • Sony Xperia acro S
Finally, if water resistance is not that critical to you, the original Optimus G may be a better option. Its 4.7-inch True HD-IPS + display has Gorilla Glass 2 protection, plus you get NFC, FM radio, and LTE support. The software package is identical, although you'll have to make do with the limited 25 GB of user-available memory as there is no microSD card slot. Also, the smaller 2100 mAh is non-removable.
Whether or not the trend of IP certified devices - being pushed most heavily by Sony at the moment - will end up as more than a fad remains to be seen. If it does take off, however, devices like the LG Optimus GJ will be the prime beneficiaries. Although its lack of connectivity options detract slightly from its appeal, the robust processor and capable software package make it an attractive midranger.