Google Now gets it done
Google Now was first introduced in Jelly Bean 4.1 and is constantly being updated by Google to be smarter than ever.
It's accessed by swiping up on any of the on-screen controls and gives you a short overview of information it believes is relevant to you. Going to work the same route every morning? Google Now will let you know there's a big traffic jam on your usual way to the office and will offer an alternative route.
It can interpret a lot of things from your search history as well. If you've been searching for, let's say, your favorite football team, Google Now will prepare a card showing you the next match the team is playing and will provide you with score updates once the game begins.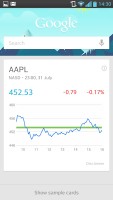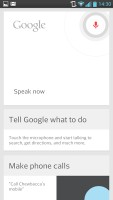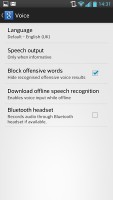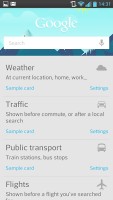 Google Now is always improving
If you allow it, the service can also scan your email for upcoming flights, deliveries or restaurant reservations and let you know when they are due. There are also numerous kinds of cards like birthdays (yours and those of your contacts and friends in the Google+ social network) and what distance you've walked in a particular month.
Google has also integrated Voice Actions. They can handle stuff like sending messages (SMS or email), initiating a voice call, asking for directions, taking a note or opening a site. Google Now can also launch apps, check and manage your calendar and look for nearby places of interest and stuff like movie theater listings.
Synthetic benchmarks
The LG Optimus GJ boasts a quad-core Krait CPU cores clocked in at 1.5GHz, 2GB of RAM and the Adreno 320 GPU. Although this configuration is the same as the one found on the somewhat dated Optimus G, it's still robust enough to hold its own under most circumstances.
There are superior quad-core processors around - the Snapdragon 600 chipset is a fine example, powering the likes of the Galaxy S4 and the Optimus G Pro, and so is the Cortex-A15 on the Samsung Galaxy S4, so the GJ isn't going to rival those top flagships.
In Benchmark Pi (which is all about single-threaded performance), the Optimus GJ scored right around the Xperia Z flagship and its variants. Linpack adds multi-core performance into the equation, and again the GJ comes in alongside the Xperia Z devices.
Benchmark Pi
Lower is better
Samsung Galaxy S4
132
LG Optimus G Pro
147
HTC One
151
Sony Xperia SP
184
Sony Xperia ZR
264
Sony Xperia ZL
264
Sony Xperia Z
264
LG Optimus GJ
266
HTC Butterfly
266
Oppo Find 5
267
HTC One X+
280
LG Optimus G
285
Samsung Galaxy Note II
305
HTC One X (Tegra 3)
330
LG Optimus 4X HD
350
Samsung Galaxy S III
359
Meizu MX 4-core
362
Nexus 4
431
Sony Xperia L
435
Linpack
Higher is better
Samsung Galaxy S4
788
LG Optimus G Pro
743
HTC One
646
LG Optimus GJ
638
Sony Xperia ZL
631
Sony Xperia Z
630
Sony Xperia ZR
627
HTC Butterfly
624
LG Optimus G
608
Oppo Find 5
593
Sony Xperia SP
348
Samsung Galaxy Note II
214
Nexus 4
213
Sony Xperia L
191
Meizu MX 4-core
189
HTC One X+
177
Samsung Galaxy S III
175
HTC One X
160
LG Optimus 4X HD
141
AnTuTu, Quadrant and Geekbench 2 are all compound performance benchmarks, all of which test the system as a whole. The GJ posted some very respectable results considering its pedigree. Although it was outclassed by some of the newer flagships, it isn't expected to compete with them directly.
AnTuTu
Higher is better
Samsung Galaxy S4
24716
HTC One
22678
Sony Xperia Z
20794
Sony Xperia ZL
20743
LG Optimus G Pro
20056
HTC Butterfly
19513
LG Optimus GJ
19396
Sony Xperia ZR
18288
Sony Xperia SP
15874
Samsung Galaxy S III
15547
Oppo Find 5
15167
Sony Xperia L
9746
Quadrant
Higher is better
Samsung Galaxy S4
12376
LG Optimus G Pro
12105
HTC One
11746
Sony Xperia Z
8075
Sony Xperia ZR
8073
Sony Xperia ZL
7912
Sony Xperia SP
7897
HTC One X+
7632
LG Optimus G
7439
Oppo Find 5
7111
LG Optimus GJ
6714
HTC One X
5952
Samsung Galaxy Note II
5916
Samsung Galaxy S III
5450
Meizu MX 4-core
5170
Nexus 4
4567
Sony Xperia L
4279
Geekbench 2
Higher is better
Samsung Galaxy S4
3227
LG Optimus G Pro
3040
HTC One
2708
Sony Xperia Z
2173
HTC Butterfly
2143
Sony Xperia SP
2105
LG Optimus GJ
2319
Sony Xperia ZR
2071
Sony Xperia ZL
1995
Samsung Galaxy S III
1845
LG Optimus G
1723
LG Optimus 4X HD
1661
iPhone 5
1601
Sony Xperia SL
1073
We ran both of the GLBenchmark benchmarks in off-screen mode at a fixed resolution, which lets us test raw GPU power. The Optimus GJ didn't disappoint, scoring as towards the middle of the pack with some respectable numbers.
GLBenchmark 2.5 Egypt (1080p off-screen)
Higher is better
Samsung I9500 Galaxy S4
43
Samsung I9505 Galaxy S4
41
HTC One GPE
41
HTC One
37
Samsung Galaxy S4 GPE
33
LG Optimus GJ
33
Google Nexus 4
32
Sony Xperia ZR
32
Sony Xperia Z
31
Sony Xperia ZL
31
Sony Xperia SP
31
Apple iPhone 5
30
LG Optimus G Pro
30
LG Optimus G
21
Samsung Galaxy Note II
17
HTC One X
11
GLBenchmark 2.7 T-Rex (1080p off-screen)
Higher is better
Samsung I9505 Galaxy S4
17.1
Samsung I9500 Galaxy S4
17.1
Apple iPad 4
16.8
Samsung Galaxy S4 Active
16
Samsung Galaxy S4 GPE
15
LG Optimus GJ
14
HTC One GPE
13.9
LG Optimus G
13.9
Sony Xperia Z
13.5
Sony Xperia Tablet Z
13
Sony Xperia ZR
13
Sony Xperia ZL
12.8
Samsung Galaxy Note II
4.9
But most games will probably want to run at native resolution, so we're including Epic Citadel, which uses the Unreal Engine 3. Unreal Engine is popular with mobile game makers, so it's a pretty important test. The benchmark was run at the highest quality setting and yet the LG Optimus GJ did as well as the rest of the flagships in our chart.
Epic Citadel
Higher is better
Sony Xperia ZR
57.2
Samsung I9505 Galaxy S4
57.1
HTC One
56.4
Samsung Galaxy S4 GPE
55.8
Sony Xperia Z
55.6
HTC One GPE
54.2
Nexus 4
53.9
Asus Padfone 2
53.4
LG Optimus G
52.6
LG Optimus GJ
52.5
Samsung Galaxy S III
41.3
Oppo Find 5
38.6
Our browsing benchmarks have the GJ in the middle of the pack again, with Vellamo and Browsermark 2 throwing HTML 5 into the equation.
SunSpider
Lower is better
Samsung Galaxy S4
810
Samsung Ativ S
891
Apple iPhone 5
915
Nokia Lumia 920
910
Samsung Galaxy Note II
972
HTC One X+
1001
LG Optimus G Pro
1011
Motorola RAZR i XT890
1059
Sony Xperia SP
1116
HTC One
1124
LG Optimus GJ
1139
Samsung Galaxy S III
1192
Sony Xperia ZL
1290
Meizu MX 4-core
1312
Sony Xperia ZR
1310
Sony Xperia Z
1336
LG Optimus G
1353
HTC Butterfly
1433
Nexus 4
1971
Oppo Find 5
2045
Sony Xperia L
2539
BrowserMark 2
Higher is better
LG Optimus G
2555
Samsung Galaxy S4
2438
Sony Xperia SP
2263
HTC One
2262
LG Optimus GJ
2190
Sony Xperia ZL
2107
Sony Xperia Z
2093
Sony Xperia ZR
1831
Sony Xperia L
1809
LG Optimus G Pro
1801
Oppo Find 5
1797
Nexus 4
1794
Nokia Lumia 920
1774
Nokia Lumia 820
1760
Samsung Omnia W
1632
HTC Butterfly
1475
Samsung Galaxy S III
1247
Vellamo
Higher is better
Sony Xperia SP
2497
Samsung Galaxy Note II
2418
HTC One
2382
Sony Xperia ZR
2253
Sony Xperia Z
2189
Sony Xperia ZL
2186
HTC One X (Tegra 3)
2078
Samsung Galaxy S4
2060
LG Optimus GJ
1947
HTC Butterfly
1866
Oppo Find 5
1658
Samsung Galaxy S III
1641
Sony Xperia L
1640
LG Optimus 4X HD
1568
LG Optimus G
1522
Meizu MX 4-core
1468
Nexus 4
1310
The Optimus GJ provides some great performance, but with one important caveat: the device tends to overheat quickly, likely due to its watertight chassis. LG combat this by automatically underclocking the processor and lowering the screen brightness whenever the temperature reaches a certain threshold. There is no way to adjust or disable this feature.
This results in performance which doesn't accurately reflect the above benchmark results - many of the benchmarks scores dropped by 10-15% after just several minutes of usage.